Our web service and research
World Laparoscopy Hospital, Cyber City, DLF Phase II, Gurugram, 122 002, India
India's first super specialised centre of laparoscopic surgery

---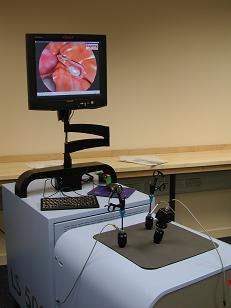 World Laparoscopy Hospital is dedicated to research in the field of laparoscopic surgery. We have invented novel instrument for two port cholecystectomy instead of conventional four port technique. We also keep on improving better ergonomics and sequential task analysis for all major laparoscopic procedures. We regularly update new methods of laparoscopic online training through our website to educate surgeons and gynaecologists. We are one of the few in the world to offer online training for laparoscopic surgeons once they are our member and successfully finished our practical training. Our website is the most updated resource for laparoscopic education and has been short listed by Royal College of Edinburgh.
The importance of internet in education is a well recognized fact. A wealth of resources and techniques now exist which serve the purpose of teaching. Internet technology allow teachers and students keep up with their minds. It let them try their ideas as soon as they come up with them. In surgery learning is the act of developing skill. Modern web based interactive learning provides the means for changing fundamentally the way in which instruction is delivered to medical students. Multimedia learning resources combined with CD-ROMs and workbooks attempt to explore the essential concepts of a course by using the full pedagogical power of multimedia. Our web site portrays features such as monthly laparoscopic journal, interactive examples, animation, video, narrative and written text, interactive online quizzes. This website is designed to provide students with a "self-help" learning resource to complement a traditional textbook.
We offer free online CME of 1 year and life membership to online training scheme through the internet after successful completion of Essential or Advanced training in World Laparoscopy Hospital.
Download this introductory video about services of WLH
Our research on introduction of laparoscopic shadow to enhance task performance
Click here to see video of our original research of introduction of laparoscopic shadow to enhance task performance. (7 MB)
Click here to see article of same research.

Key features of our website
We regularly publish article related to Minimal Access Surgery written by leading laparoscopic surgeons of India and abroad.
We provide study material on our website for the benefit of surgeons as well as medical students in the form of :

Online reply of questions related to laparoscopic surgery from surgeons, medical students and general public.
Since we maintain database of all our patients, we can provide online help when needed and provide statistical data for research purposes.
Overall Goals and Objective
This educational web site of World Laparoscopy Hospital is designed to provide the learner with access to current, interactive and clinically relevant activities that foster the effective management of patients requiring laparoscopic surgery. The website utilizes a combination of text, video, and still imagery in an Internet-based format.
Upon completion of the educational activities within the World Laparoscopy Hospital website, the surgeons and gynaecologists should be able to:
Describe the indications, contraindications, and proposed outcomes for specific disease entities that are managed through laparoscopic surgery.
Identify the current standards of care for the management of patients undergoing minimal access surgery for specific disease entities.
Describe the current minimal access surgical approaches including equipment, pre-operative, and post-operative management for identified disease conditions.
Our Campus store is dedicated to provide our trainee doctors quality instruments on affordable cost. Please logon to www.laparoscopy.biz to see the online trading of laparoscopic instruments.
Download Free Laparoscopic study Material