Congratulations ! Be Ready For "Hands On" Training In Gurugram, NCR Delhi India or Dubai, UAE.
Once you are selected for "Hands On" training at World Laparoscopy Hospital and you are preparing yourself and buying ticket to reach us, you will Get our "Interactive Mobile Application" to learn Laparoscopic surgery by watching hundreds of Laparoscopic Videos Lectures and thousands of live laparoscopic surgery videos online on your smartphone, so before you join the "Hands On" training a solid foundation in laparoscopy has already been developed inside you, which will help you to develop your skill faster.
Click here for laparoscopic training faq
What VIPs of India say about our University
There are two categories of Doctors who are enrolled for training:
Category (A) International Candidates:
International Candidates includes the following:
Foreign Candidates: Doctors holding passports issued by foreign countries. 50% of seats are reserved for overseas candidate.
Non Resident Indians (NRI): Doctors of Indian origin who are presently working or residing in foreign country
Category (B) Indian Candidates:
Students who are Indian Nationals and are residing in India for the past 3 years are ONLY qualified for the payment of subsidized tuition fees and will have to sign an affidavit to this effect that they are serving in India.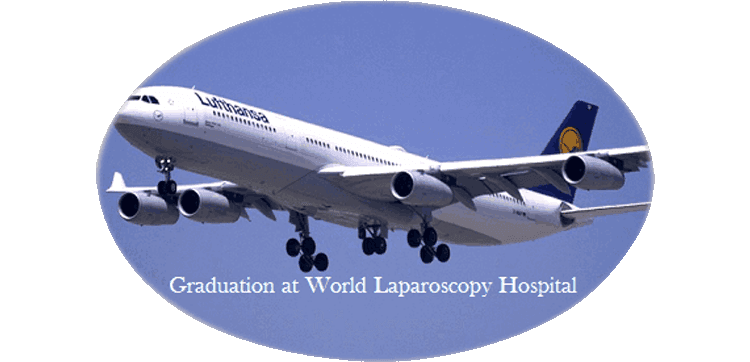 Lufthansa, understand that today's surgeons and gynecologists who want higher education training are more mobile than ever before and travel the world in search of the highest quality education available. In order to make education-related travel more affordable, Lufthansa is proud to partner with World Laparoscopy Hospital, Which is internationally recognized institutions of higher education from around the world to offer registered students, faculty and staff discounts off Economy and Business Class fares when traveling for educational purposes. So as a prospective student of World Laparoscopy Hospital go ahead, sign up for that overseas program and let Lufthansa's network that connects over 200 cities in more than 80 countries help you reach your final destination… of graduation at World Laparoscopy Hospital.
Please reserve your seat in advance to avoid online admission test!