Please select operating system of your smart phone and install WLH Mobile Application!


Learn About Mobile Operating System and Mobile Application: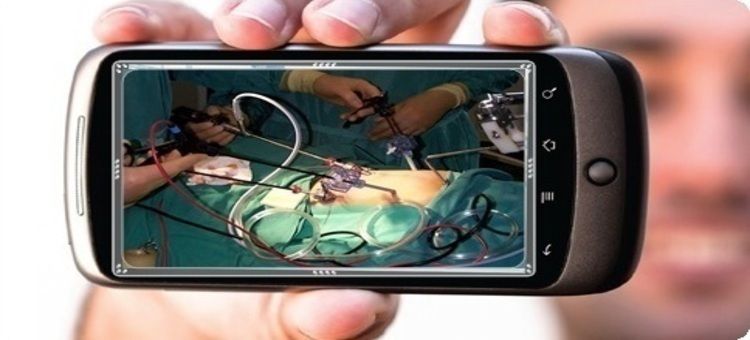 A mobile application to learn laparoscopic and da Vinci robotic surgery has been launched by World Laparoscopy Hospital in Gurugram, India. This unique laparoscopic surgery mobile application was developed by a team of software personnel and surgeons with WLH which is useful for surgeons, urologists or gynecologists who want to learn laparoscopic and robotic surgery. The "Laparoscopic Mobile Application" can be found easily by a Google search and can be downloaded within a minute by going to the Apple Store or Google Play. This mobile application of laparoscopic surgery will allow the trainee surgeon to see the laparoscopic and robotic surgery step by step in video format. The surgical community would benefit from a scientific training module of laparoscopic and robotic surgery including guidelines for training and credentialing.
The World Laparoscopy Hospital in Gurugram, India has been providing laparoscopic training for surgeons and gynecologists since 2001 and is considered as a center of excellence for laparoscopic and robotic surgery training. According to Dr. R.K. Mishra, Director of World Laparoscopy Hospital, "This unique Laparoscopic Mobile Application is very useful for general surgeons, gynecologists, urologists, and bariatric surgeons who want to learn the technique of laparoscopic surgery." It is available as a free downloadable application on every mobile application platform, like the Apple store, Windows phone store, Blackberry store and Google Play. Now the doctors who use this application do not need to record video and integrate it with their laparoscopic cameras and mobile devices. Additionally, playing back the laparoscopic video on this mobile application will allow surgeons and gynecologists to see what they will learn after the "Hands On" part of the course at World Laparoscopy Hospital. Trainee doctors can access the laparoscopic articles, laparoscopic lectures and surgery videos and images through this application which will be uploaded by the faculty of World Laparoscopy Hospital.
Video Chat With Admission Counselor
Doctors can learn surgical operative techniques directly from their mobile devices using the appropriate media-specific software. This mobile application will help doctors track and manage the progress of CME, from turning in Fellowship and Diploma in Minimal Access Surgery assignments to reminders to pick up the CME certificate. The laparoscopic surgery mobile application will allow minimal access surgeons to mark when they started a CME, when it is in progress in a learning curve, and when one surgical task is complete. On this application instructors can post the news related to laparoscopic and da Vinci robotic surgery. Trainee surgeons and gynecologists have instant, on-the-go access to the latest announcements. Users can read and comment on articles in the World Journal of Laparoscopic Surgery. Both students and WLH instructors can comment on the journals.
The World Journal of Laparoscopic Surgery is the quarterly peer reviewed official publication of the World Association of Laparoscopic Surgeons. This application can be used on any mobile device of choice. Doctors can quickly search, read, and compose emails; review documents; manage contacts and schedule meetings with colleagues. An optimal user interface minimizes training requirements and IT intervention becomes a thing of the past. Mobile applications of World Laparoscopy Hospital can sync with lecture video files from WLH. If this is the case, any slides that surgeons have on the desktop will be able to be shown on the mobile version as well. The mobile application of the World Laparoscopy Hospital can easily sync the news and laparoscopic blog RSS; surgeons can get all the latest news of Laparoscopic and Robotic Surgery on their Palm Top. The World Laparoscopy Hospital Mobile application is a useful tool for surgeons or gynecologists that don't want to miss anything important happening in the field of Minimal Access Surgery. Using this laparoscopic mobile application, trainee doctors can watch master class lectures, laparoscopic videos, master class lectures and operative procedures of laparoscopic surgery anywhere they want.
This laparoscopic mobile application also brings the laparoscopic news from around the globe. According to the consensus application of SAGES, repeated viewing of any laparoscopic procedure helps minimal access surgeon to memorize the task analysis of any surgery. Mobile apps have one clear advantage in general, a well-made app can provide a far better user experience than even the best websites are capable of right now. In fact, most people prefer an application for their smartphones or tablets rather than accessing the website. More and more interaction online occurs on mobile devices. Over five billion mobile subscribers (that is about 77% of the world's population) are online. This new type of simple access for consumers is catching on with a staggering amount of smartphone owners purchasing goods and services from their phone. This is reported in a survey by Chadwick Martin Bailey in 2011. The mobile applications provides better overall user experience on a smartphone than the website.
According to Dr. R. K. Mishra, "The World Laparoscopy Hospital mobile application is free and anyone can start laparoscopic training experience on their smartphone or their tablet on the go." One of the most fantastic things about this application is that the majority of the resources of WLH mobile applications are free for anyone who will download it. Only 10% of the resources can only be used by the surgeons and gynecologists who have taken training at World Laparoscopy Hospital. This app is recommended to every surgeon and gynecologists who want to improve their laparoscopic skills. According to Dr. J. S. Chowhan, Associate Director of WLH, "In the future this mobile application is going to broadcast all the live surgeries from the operating room of World Laparoscopy Hospital." In the next version of this app user will also have the opportunity of taking video of their live surgery while they are operating and they can share their surgical skill with other colleagues of remote proctoring and remote mentoring will be possible. The future is now definitely of smart phones and handheld devices. In the future many new applications will launch for minimal access surgeons.