Start date: 17th to 20th of Every month (Open day on 17th)
Duration: 4 days Fellowship of International College of Robotic Surgeons
Level: Beginner and Intermediate, General Surgeon, Pediatric Surgeon, Gynecologist and Urologist
Course Director and Chief Trainer: Prof. Dr. R.K. Mishra. Master of Minimal Access Surgery
Course Fee: 3500 USD for overseas candidate and Rupees 1,75,000 only for Indian Doctors, Including Study Material, Working Lunch and Local Transport
Location: Campus, World Laparoscopy Hospital, Delhi, India
World Laparoscopy Hospital is first private hospital in India to start da Vinci robotic surgery for patients and first in Asia to offer state of the art da Vinci robotic surgery training for surgeons and gynecologist. World Laparoscopy Hospital provide Fellowship of International College of Robotic Surgeons and allow the trainee surgeons to work on real high definition surgical robot. The Robotic Surgery course will focus on the challenges unique to working with a robotic surgical set up and system. This course will consist of a hands-on training on the da Vinci surgical Robot in which participants will receive instruction by experts in various robotic su
Download Prospectus of F.I.C.R.S
rgery techniques and procedures, including foregut, bariatic, renal, colorectal, hepato-biliary, solid-organ, and revisional surgery.
The da Vinci Surgical System allows surgeons to perform complex procedures with small learning curve using a robotic minimally invasive approach routinely and with confidence; surgeon can perform most of the robotic surgery. The da Vinci Robotic Surgery System retains and builds on the core robotoc technology of advanced 3D HD visualization with up to 25x magnification and an immersive view of the operative field with endo wrist instrumentation with dexterity and range of motion far greater than even the human hand. Intuitive Motion da Vinci technology, which replicates the experience of open surgery by preserving natural eye-hand-instrument alignment and intuitive robotic instrument control.
The core objectives of this robotic surgery training course are:
To become familiar with the function and operation of the da Vinci® Surgical System
To become familiar with the ergonomics of the da Vinci® Surgical System robot and the available robotic instrumentation
To understand the selection process for patient position, da Vinci surgical team position and robotic surgical approaches
To become familiar with the technique of robotic surgery intracorporeal suturing and knot tying
To learn "tricks of the trade" to make robotic surgical procedures more efficient without much complication.
To learn robotic tissue dissection techniques using monopolar bipolar, harmonic and plasma kinetic energy in robotic surgery.
To learn intracorporeal suturing and knotting to perform robotic surgery
To learn scientific port position to do proper docking during robotic surgery
To learn baseball diamond concept of port position of robotic surgery
To learn ergonomic principle of robotic surgery for proper and trouble free surgery.
To learn bowel anastomosis and tremor free pyeloplasty and cardiac bypass using da Vinci robot
Robotic Fellowship Course is Every Month From 17h to 20th
Watch the Album of Previous Robotic Surgeons Trained at World Laparoscopy Hospital
Overview of Robotic Surgery Training
All participants of da Vinci robotic surgery training will be trained in the following:
How to do proper operative room setup of da Vinci robot
How to do patient preparation and positioning in robotic surgery
Fundamentals of da Vinci® Surgical System components and instrumentation
Training of intra-corporeal suturing and knot tying by da Vinci robot
Learn micro dissection by robotis surgical system
Learn "tricks of the trade" tips for efficient robotic surgery
Certification of fellowship in robotic surgery

Certificate of Fellowship of International College of Robotic Surgeons (FICRS) will be awarded by International College of Robotic Surgeons and World Association of Laparoscopic Surgeon
There is initial registration charge of 200 USD or 10000 rupees. Rest of the fee will be payable at the time of joining the course. This initial Registration charge will be deducted from the total fee. Accommodation at a Unit of Delhi Laoaroscopy Hospital Pvt. Ltd. Charges are not included in fee.
Course Fee of Robotic Surgery Training:
Course fee is 3500 USD for Overseas candidate and 175,000 Rupees for Indians.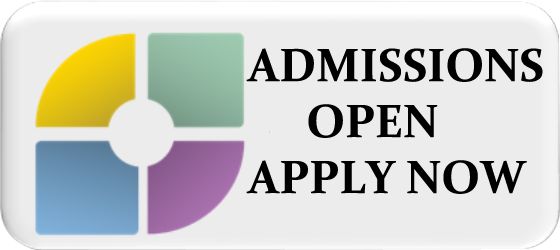 Time Table of Fellowship Program:
DAY 1 (17TH) OF EVERY MONTH
Registration Program overview/objectives of Robotic Training
Introduction of Robotic Surgery its Advantage and Disadvantage, Patient selection, Indication and Contraindication.
Ergonomics, Explanation of Patient Cart,Vision Cart and Master Console,Instrument designing and Working Principles of da Vinci® Surgical System
Ergonomics, optical 3 D HD designing and Working Principles of Robotic Remote Sensor Technology,and Docking of the Canula with the Robotic Arm of da Vinci® Surgical System.Insertion and change of the instruments.
DAY 2 (18TH) OF EVERY MONTH
Baseball Diamond Concept of Port Position used in Robotic Surgery and Docking Principle of da Vinci Robot for various surgery
Hands On practice of Intracorporeal Robotic Surgeons Knot on da Vinci Robot
Hands On practice of Iintracorporeal Robotic Tumble Square Knot, Robotic Dundee Jamming Knot, Robotic Continuous Suturing and Robotic Aberdeen Termination Suturing Practice.
DAY 3 (19TH) OF EVERY MONTH**
Hands on Live Surgery Practice for Surgeons and Gynecologists according to specialty of Surgeon, Gynecologist, Urologist and Cardiothoracic Surgeon
Hands on Live Surgery Practice for Surgeons and Gynecologists according to specialty of Surgeon, Gynecologist, Urologist and Cardiothoracic Surgeon - OT Session
Hands on Live Surgery Practice for Surgeons and Gynecologists according to specialty of Surgeon, Gynecologist, Urologist and Cardiothoracic Surgeon - OT Session
DAY 4 (20TH) OF EVERY MONTH**
Fellowship Examination and Discussion of Paper. Software Demonstration of Davinci Robotic Surgery
Farewell Lunch and Certification of Fellowship of International College of Robotic Surgeons
Operative Procedures Covered in Robotic Surgery Training at World Laparoscopy Hospital**
For Urologist:
Prostaectomy, Nephrectomy, Partial nephractomy, Pyeloplasty, Cystectomy, Donor nephrectomy, Ureterolithotomy, Pelvic lymphadenectomy, Adrenalectomy, Cystocele repair, Excision of renal cyst, Lymphadenectomy, Testicular resection, Renal cyst decortication, Ureteral transplant, Nephropexy, Ureterectomy, Rectocele repair, Varicocele, Ureteroplasty, Ureteral implantation, Vasovasostomy
For General Surgeon:
Gastric Bypass, Nissen/Toupet Fundoplication, Heller Myotomy, Gastrectomy, Coln Resection, Thyroidectomy, Arteroivenous FistulaS, Pancreatectomy, Adrenalectomy, Hemi-Colectomy, Sigmoidectomy, Splenectomy, Pyloroplasty, Gastroplasty, Appendectomy, Intra-rectal Surgery, Bowel Resection, Lumbar Sympathectomy, Liver Resection, Cholecystectomy, Hernia Repair
For Gynecologist:
Hysterectomy, Myomectomy, Sacrocolpopexy, Pelvic lymphadenectomy, Tubal reanastomosis, Vaginal prolapse repair, Dermoid cyst, Endometrial ablation, Oophorocystectomy, Oophorectomy, Ovarian cystectomy, Ovarian transposition, Salpingectomy, Salpingo-Oophorectomy, Colposuspension (Burch), Tubal ligation, Tuboplasty
For Cardiotharacic Surgeon:
Mitral Valve Repair & Replacement, Single Vessel Beating Heart Bypass, Multi-Vessel Beating Heart Bypass, Single Vessel Arrested Bypass, Multi-Vessel Arrested Heart Bypass, IMA Harvesting, Coronary Anastomosis, Atrial Septum Aneurysm, Atrial Septal Defect Repair, Tricuspid Valve Repair, Thrombectomy, Thymectomy, Esophagectomy, Pericardial Window, Lobectomy, Pneumonectomy, Pacemaker Lead Implantation, Mediastinal Resection, Pulmonary Wedge Resection
Course Director:
The faculty Prof. R. K. Mishra is the Master Minimal Access Surgeon (M.MAS) from Ninewells Hospital and Medical School, United Kingdom, and Trained in Robotic Surgery from Harvard Medical School, Boston, USA. With extensive experience in robotic-assisted laparoscopic reconstructive and extirpative procedures, at World Laparoscopy Hospital he is conducting live operations and running didactic and laboratory sessions to teach advanced Robotic Surgery. A hands-on state of the art HD wet operating room laboratory session will help participants of different domains of surgery to practice and adapt these highly advanced robotic principles to their area of surgical expertise. This robotic surgery training is designed in such a way that at the end of training, surgeon can perform robotic surgery on their patient with confidence. The candidates will have to pass in a written examination at the end of the training to qualify for the award of Fellowship of International College of Robotic Surgeons (FICRS).
The da Vinci ® Surgical System is an enhanced computer which offers the surgeon high-definition 3D vision, greater precision and dexterity, and superior ergonomics, allowing the surgeon to perform beyond the limitations of human performance. Most of the standard laparoscopic procedures may be performed more quickly and easily using the da Vinci Surgical System. This is because the da Vinci System delivers improved surgical outcomes while maintaining the same "look and feel" of open surgery. World Laparoscopy Hospital, Gurugram provide "Hands On" robotic surgery training on real da Vinci® high definition four arm most advanced surgical robot. This course will introduce safe robotic surgical practice to robotic surgeons, including gynecologists, general or colorectal surgeons, senior surgical residents, and MIS or colorectal and cardiothoracic fellows.
It is the right time now for every laparoscopic surgeon and gynecologist to make themselves ready for this extraordinary highly skilled robotic surgery. Within the next few years robotic surgery is going to completely replace the conventional surgery, due to fact that high precision possible with robotic surgery is beyond the reach of human hand. The techniques demonstrated are applicable to various surgical fields such as pediatric surgery, Urology, gynecology and general surgery. The training is based on didactic lectures, videos, surgery observation and hands-on state of the art HD wet operating room laboratory sessions. This training program is designed for laparoscopic surgeons and gynecologists. Basic laparoscopic skills are highly recommended before this course. For surgeons who have been previously trained on da Vinci ®, and would like to improve on their technique, we offer a procedure refinement course on a porcine model. We also offer an advanced GYN, Urologic and General Surgery Super Users Course for advancing your technique. This course includes didactics lectures, and a live procedure with our advanced robotic surgeon. For pleasant memorable stay of trainee doctors we have hostel accommodation available at very nominal cost. Hospital has its own transport facility to pick up and drop the trainee doctors to the hostel.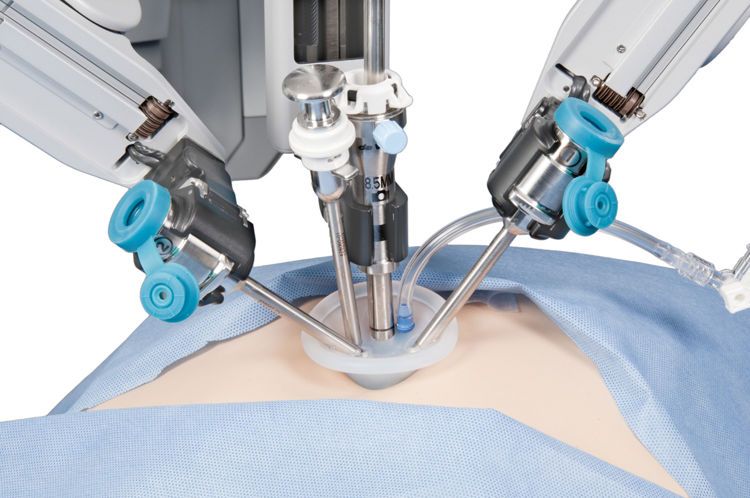 Robotic Surgery Training in Gynecology
da Vinci training is reacquired in gynecology because it is among the fastest growing fields of robotic surgery. This includes using the da Vinci surgical system in benign gynecology and gynecologic oncology. Robotic surgery can be used to treat fibroids, abnormal periods, endometriosis, ovarian tumors, pelvic prolapse, and female cancers. Using the robotic system, gynecologists can perform hysterectomies, myomectomies, and lymph node biopsies. The requirement for large abdominal incisions is virtually eliminated. Robot assisted hysterectomies and cancer staging are being performed using da Vinci robotic system.Traditional open gynecologic surgery, using a large incision for access to the uterus and surrounding anatomy, has for many years been the standard method of many gynecologic procedures. Yet with open surgery can come significant pain, trauma, an extended process of recovery and threat to surrounding organs and nerves.
For patients facing gynecologic surgery, the time of pain, discomfort and extended time from normal day to day activities that always follows traditional surgery can understandably cause significant anxiety. After good gynecological robotic surgery training some gynecologic procedures enable surgeons to access the target anatomy for complex hysterectomies and other gynecologic procedures, robot-assisted surgery with the da Vinci® Surgical System may be the most effective, least invasive treatment option. Through tiny, 1-2 cm incisions, surgeons using the da Vinci System can operate with greater precision and control, minimizing the pain and risk associated with large incisions while helping the likelihood of a quick recovery and ideal clinical outcomes.