Director and Chief Surgeon World Laparoscopy Hospital, Gurugram, Delhi, India
Professor and Chairperson, World Laparoscopy Training Institute, Dubai, UAE
Professor and Chairperson, World Laparoscopy Training Institute, Florida, USA
Professor and Head of Minimal Access Surgery, TGO University
First University Qualified Master Minimal Access Surgeon of India (M.MAS)
Editor in Chief World Journal of Laparoscopic Surgery (WJOLS)
General Secretary World Association of Laparoscopic Surgeon (WALS)
General Secretary International College of Robotic Surgeons (ICRS)
Member European Association for Endoscopic Surgery (EAES)
Member European Association for Transluminal Surgery (EATS)
Member Society of American Gastrointestinal and Endoscopic Surgeons (SAGES)
Member Society of Laparoendoscopic Surgeons (SLS)
Member Society of Robotic Surgery (SRS)
Member Clinical Robotic Surgery Association (CRSA)
Fellow of International Medical Sciences Academy (IMSA)
Member Indian Association of Gastrointestinal Endosurgeons (IAGES)
Member Association of Surgeons of India (ASI)
Member Indian Medical Association (IMA)
GET HASSLE-FREE VIDEO CONSULTATION FROM DR. MISHRA AT HOME
Prof. Dr. R.K. Mishra is an internationally recognized pioneer laparoscopic surgeon. He has 25 years of experience in laparoscopic surgery and 12 years of experience in performing da Vinci robotic Surgeries. Prof. (Dr.). Mishra is internationally renowned for his work in Laparoscopic and Robotic surgery and has performed over 12,000 laparoscopic and robotic surgeries. With his vast experience of laparoscopic surgery, Dr. Mishra has established his internationally recognized institutes of Minimal Access Surgery in the USA, UAE, and India. He is a Professor, Scientist and, Prolific author, who has written many books on Minimal Access Surgery and more than 28 chapters in different international coauthored books of Minimal Access Surgery. Dr, Mishra has written hundreds of articles on various topics on Minimal access surgery in different international journals. He is the editor-in-chief of the World Journal of Laparoscopic Surgery for the last 15 years. Dr. Mishra is an active member and reviewer of the member selection committee of the Society of Gastrointestinal endoscopic surgeon (SAGES). He is one of the most experienced professors in laparoscopic and robotic surgery. He has alone trained more than 11,000 surgeons, urologists, pediatric surgeons, and gynecologists from more than 138 countries in laparoscopic surgery and more than 2000 in Da vinci Robotic Surgery. He has vast experience in teaching laparoscopic and da Vinci robotic surgery. He is a Professor of Minimal Access Surgery, and his endeavor of starting a unique university program started in Ninewells Hospital and Medical School, U. K., with Professor Sir Alfred Cuschieri. He has completed his surgical residency and Master's degree in Minimal Access Surgery (M.MAS) from Ninewells Hospital and Medical School, University of Dundee, United Kingdom.
Dr. Mishra is among the few fortunate who has been conferred the degree of Master in Minimal Access Surgery by Sir James Whyte Black (Nobel Prize Winner in Medicine) and the most prestigious Chancellor in the history of the University of Dundee, United Kingdom. After mastering Laparoscopic Surgery, Dr. Mishra has further refined his robotic surgery training at Harvard Medical School, Boston, USA. Dr. Mishra has taken his Diploma in Laparoscopic Surgery from the University of Strasbourg, France.
After returning to India from the UK in the year 2001 he worked at Indraprastha Apollo Hospital. New Delhi. Dr. Mishra could feel the pain and concern about high-cost laparoscopic surgery to Indian people and he started performing free laparoscopic surgery for the needy. Due to his charity work, he received Super Idol Award from Being Human Foundation, a registered charitable trust of Salman Khan. He also felt the commercialization of half-cooked fractured laparoscopic training available in India. These training programs were in the hand of the industry that makes laparoscopic instruments.
Keeping in mind the need for time and being the first qualified Master Minimal Access Surgeon, he started giving training in Minimal Access Surgery. Dr. R.K. Mishra's way of providing real laparoscopic training had no parallel in the whole world and that convinced majority of the international organization of minimal access surgery that real laparoscopic training to young and practicing surgeons is possible if like-minded people join hands and work towards achieving this goal. According to Dr. Mishra if you have to make the community of Minimal Access Surgeons then catch them young. Due to his dedication, World Laparoscopy Hospital is the center of excellence in minimal access surgery.
Featured Published Articles of Prof. (Dr.) R.K. Mishra in International Journals: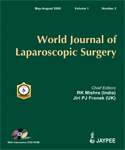 Prof. Mishra is a prolific author who has published his research findings in journal articles, abstracts, textbooks, book chapters, and in editorials. In addition to publishing his own research, he is much in demand as an editor for scientific publications. Prof. Mishra is editor in chief of World Journal of Laparoscopic Surgery, an international peer reviewed publication of minimal access surgery. His dozens of article published in various laparoscopic journals all over world including of the recent article published in Annals of Surgery, Surgical Endoscopy, Current Medical Journal of India, Journal of Minimal Access Surgery of India and World Journal of Laparoscopic Surgery. His recent article about Complications of Laparoscopic Surgery has brought to light many errors commonly overlooked during surgery. The World Journal of Laparoscopic Surgery now appears in a combined print / online format and one of the most popular laparoscopic journal of world. The World Journal of Laparoscopic Surgery is available online at www.worldjls.org It is dedicated to publishing worthy scientific and clinical articles and informing issues significant to the surgical profession. The popularity of World Journal of Laparoscopic Surgery can be imagined that at present there are 3000 subscriber of this journal from ever corner of the world. Reflecting on the activities of World Association of Laparoscopic Surgeons, surgeons and gynecologists of all over World are privileged to experience in the past from this excellent journal of World Association of Laparoscopic Surgeons. Throughout his career Dr. Mishra has also contributed to numerous chapters in undergraduate and postgraduate books and published over forty original articles in major peer review journals.
Prof. Mishra is author of many of the best-seller books in Laparoscopy and the most popular is Text Book of Practical Laparoscopic Surgery. This book is now available in its 3rdedition and globally with the ISSN (International Standard Book Number 81-8448-241-8. This book is published by World's leading Medical Publisher McGraw-Hill Education - Europe. This is best-seller book of laparoscopic surgery in more than 52 countries. This handsome book in laparoscopic surgery, gives a full description of all tricks and tips in performing a variety laparoscopic procedures. This book contain all colored plastic finish 602 Pages, 1500 color Illustrations. Four DVD's with 20 Power point's and 206 laparoscopic Videos are with this book. This book provides an invaluable study aid for all general surgeons, pediatric surgeon and gynecologists who wants to learn art and science of laparoscopic surgery. Concisely written overviews of each topic covered on the minimal access surgery combined with the illustration and videos with a new and innovative approach is surprising. Textbook of Practical Laparoscopic Surgery is an excellent source of practical laparoscopy for all practitioners, especially those who are involved in any surgical field related to Minimal Access Surgery.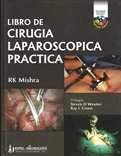 First time in the World as a single author Dr Mishra has published minimal access surgery lectures as master classes of laparoscopic endoscopic and da Vinci robotic surgery for surgeons and gynecologists. This master class of 600+ hours of full HD videos on the fundamental skill & operative procedures of laparoscopic surgery is one of the important teaching recourse in medical school all over World. This 600 hour recording is live lectures of Prof. Mishra recorded live in full HD format while he was teaching his students. This entire master class video lectures are on a 500 GB hard disk separate for surgeon and gynecologist and published by Ascott publisher.
Textbook of Laparoscopic Surgery is translated in many languages and now available in 1200 book stores all over World. Prof. Mishra who mentors surgeons and Gynecologists from across the globe has received Spanish Golden Eagle award from The Republican Society of Spain for his Textbook of Laparoscopic Surgery now published in Spanish Language. The Foreword of this book is written by world leader of laparoscopic surgery Prof. Steven D. Wexner (USA), past president of SAGES and by Dr. Ray L. Green President of World Association of Laparoscopic Surgeons, USA. The Publisher of book of first edition was J.P Brothers Pvt. Ltd. and international publisher of third edition of this book is McGraw-Hill. This book is one of the best-seller book available in laparoscopic surgery through America's largest online book seller AMAZON and WHEELERS. Another best-seller book written by Prof. Mishra is Mastering the technique of Laparoscopic suturing and knotting. Mishra Knot was published in World Journal of Laparoscopic Surgery in 2007 and since then hundreds of surgeon all over world is using Mishra's Knot.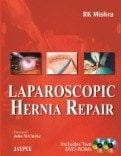 His book Mastering Laparoscopic Suturing and knotting is available globally with the ISSN (International Standard Book Number 81-8448-562-X. This book is also published by India's leading Medical Publisher Jaypee Brothers Medical Publishers (P) Ltd. This is best-seller book of laparoscopic suturing and knotting techniques and is available in more than 96 countries, worldwide. Laparoscopic Intra corporeal and Extra corporeal knot tying in minimal access surgery is an advanced skill. Mastering this skill is a difficult process with a long learning curve under the supervision of expert laparoscopic surgeon. Intra corporeal as well as extracorporeal suturing and knotting is essential to advanced laparoscopy and is a rate-limiting step in many procedures. This book is supplemented by very high quality DVD which shows all the important clinical aspect of laparoscopic knotting and suturing in video. After watching this video and carefully going through the text of principle of laparoscopic suturing and knotting, every surgeon will realized how much easy this skill is if tied with keeping in mind all the principles. World Laparoscopy Hospital is one of the pioneer institution of the world where Single Incision cholecystectomy and ventral hernia repair and SILS TLH is being frequently performed.

Another popular book Prof. Mishra is "Laparoscopic Hernia Repair". This book provides information that will be extremely useful in the performance of routine and advanced laparoscopic hernia surgery, as well as when particular situations or difficult moments are encountered during minimal access surgical hernia repair procedures in day to day clinical practice. All types of hernia (TEP. TAPP, Diaphragmatic and Hiatus hernia) is described in this book. This book of laparoscopic hernia repair is complete in all respects. It will give the perfect understanding of the laparoscopic hernia surgery to the practicing surgeons, proper solutions of technical difficulties and above all confidence to face the complication. Unique chapter on hernia surgery with the help of fibrin glue and da Vinci robotic hernia Surgery is included which has comprehensive coverage on da Vinci surgical Systems, Robot control, and Robot applications in cases of advanced surgery. Extensively illustrated with high resolution photographs which are self-explanatory and greatly enhance the understanding of various techniques of laparoscopic hernia surgery. This book is very useful for any laparoscopic surgeon who wants to perform hernia surgery with confidence. Two DVD's with many Power point's and laparoscopic hernia surgery Videos are with this book.

The Volume 1 is Essential for both surgeon and gynecologist. Volume 2 is dedicated for General Surgery and Volume 3 is dedicated for gynecologists who want to learn laparoscopic surgery in depth. In that DVD there is recorded golden live lectures, video demonstration, case presentation and demonstration of operative technique with high quality videos of world's one of the most talented Professor of Minimal Access Surgery and made it available for you on a set of 36 DVD's. The live recording of Laparoscopic Lecture/Demonstration and Video presentation is available in three volumes.

Another great production of Dr. Mishra is Jaypee's Video Atlas of Laparoscopic Surgery in three volumes. Set I contains Jaypee's Video Atlas of Laparoscopic Surgery (Essential Surgery for Surgeons, Gynecologists, Pediatric Surgeons and Urologists) Many hundreds of surgeon and gynecologists have now already benefited from almost two hundred hours of detailed study and original teaching material on DVD / video. Prof. Mishra's personal and easy-to-follow step by step style makes this probably the most effective laparoscopic teaching method available as high quality video DVD. DVD Album I contain all the Essential skills of Minimal Access Surgery. Laparoscopic Live Lecture with detail step wise presentation by Power point's, Video Demonstration of real laparoscopic surgery and Case Presentation of complications, indications and contra indications of all minimal access surgical procedures on 36 High quality DVD's Volumes.
Jaypee's Video Atlas of Laparoscopic Surgery in three volume Set II contains Jaypee's Video Atlas of Laparoscopic Surgery for general surgeon, Pediatric Surgeon and Urologist. The content of this video atlas comprises of all the analytical and technical information that would teach a Fellowship and Diploma Candidate of Laparoscopic Surgery at World Laparoscopy Hospital, over a period during surgical residency program. It is not presented in a referenced didactic form. Rather the style is a more personal explanation of the thought process and surgical principle that Dr. Mishra uses in his day to day practice. After viewing the videos, one will quickly note the commitment to make this album highly scientific. The clean atlas format and videos are in Power Point form with its numerous illustrations and figures with citations in systematic step by- step manner. The high quality video was deliberate choice of a concession to the busy surgeons and gynecologists and it is highly acclaimed by the scholars of minimal access surgery. The DVD with its introductory "booklet" will allow readers and viewers to go directly to that part of the operative technique that interests them.
In DVD set III of Jaypee's Video Atlas of Laparoscopic Surgery, Prof. Mishra has attempted to present all major laparoscopic procedures in Gynecological specialty including Hysteroscopy and urogynecology. Some of the less frequently performed laparoscopic procedures are not illustrated owing to the lack of material or space. In addition to the commonly performed major minimal access surgical procedures, Prof. Mishra has also illustrated many advanced procedures currently performed only at specialized centers throughout the world. He has tried to highlight important technical points for each step of the procedures in order to steer the reader away from potential complications. Prof Mishra has attempted to design this video album in a high-quality, comprehensive Atlas and hope that the reader appreciates its distinctiveness and merit.
These Video atlas has been designed for the purpose of providing a detailed overview of the major procedures performed by the minimal access surgeons including surgeon, gynecologist, pediatric surgeon and urologist, using full color video DVD of live surgical footage with spoken commentary. Creating the basis of this video atlas exclusively from actual surgical procedures, offers the reader a vantage point similar to that seen by the operating surgeon.
Another book written by Prof. Dr. R. K. Mishra is " Essentials of Laparoscopy " . This is one of the essential book for every surgeon and gynecologist. However, the price is reasonable given the hundreds of surgical drawings. Practicing gynecologist and surgeons will probably consider it to be a good review of familiar techniques. For medical students and house staff, the book will serve as an excellent reference for a quick read the night before laparoscopic surgery. Readers looking for a more in-depth discussion of surgical treatment of endometriosis, pelvic organ prolapse, and urinary incontinence, however, will find it necessary to invest in a supplementary book.
He has presented his scientific findings in society papers and exhibits at professional national and international meetings. Prof. Mishra is one of the very first surgeons who has started NOTES (Natural orifices trans luminal endoscopic surgery) in India. He is the member of European Association of Transluminal Surgery. He was the invited faculty during India's largest conference on NOTES, PSG Surgeon 2008 which was organized by PSG hospital at Coimbatore. The reputation of World Laparoscopy Hospital places this unique institute among the top laparoscopic training facilities in the world to start Fellowship course in da Vinci Robotic Surgery and Single Incision Laparoscopic Surgery.
Prof. Mishra's is expert in software programming. He has in depth knowledge of Visual Basics, C++, HTML, Dot NET, SQL database systems, PHP and Java. Prof Mishra has developed a unique Laparoscopic Prescription writing software and it is so easy to learn and use that any qualified surgeon or gynecologist can quickly be able to generate legible patient consent, Postoperative note, discharge card and medication prescriptions by only few clicks. This software can generate Laparoscopic Prescriptions with as few as three keystrokes. Most of the O. T. Note, postoperative general advice, dietary advice and medications with life style interaction will be pre-defined, with the ability to add on-the-fly. In this outstanding software developed by Prof. Mishra. Prescription Renewals can be quickly generated from previous prescriptions or from previously prescribed medications. Status of patient preoperative and postoperative tests are automatically available. The Drug Integration and Safety of Drugs are also automatically decided by this unique software. This software is one of the best-seller and present in almost all the famous medical library of the world. This software indicates which laparoscopic management recommendations are supported by clinical evidence, so you can implement them with total confidence.
Prof. Mishra has started first time in the history of UAE, 10 days fully recognized Laparoscopic Training course with 70 hours CME recognized by Department of Health and medical services Government of Dubai and European Union of Medical Specialists. He is also faculty of Ethicon Institute Of Surgical Education, New Delhi. He is the visiting faculty and Honorary Professor of many leading institution of the world like Iranian Medical University, Tehran, Iran, King Abdulaziz Medical City, Jeddah, Kingdom of Saudi Arabia, Iranian Hospital, Dubai; Aljela Hospital, Tripoli, Libya, Gulu Independent Hospital, University of Gulu, Uganda. King and Edward Hospital, Kenya, Istanbul Goztepe Education and research hospital, Istanbul, Turkey . Prof. Mishra has been an invited faculty at over 200 local, National and International meetings and has been actively involved in teaching Minimal Access surgery techniques to other surgeons both in the India and abroad since 2001.
Dr. R.K. Mishra is recipient of hundreds of awards. He is recipient of Super Idol award for his achievement which will truly inspire others at life with an appreciative paradigm. The award of Super Idol adheres to a unique process of selection where the Network18 Editorial Board drawn from the editorial masterminds of CNN-IBN, IBN7, IBN-Lokmat deliberate to icons, keeping in mind their sterling contribution to humanity. Dr RK Mishra, has been named the recipient of the Global Laparoscopic Trainer award, an annual international award that recognizes one surgeon in the world whose career exemplifies the outstanding performance in Minimal Access Surgery. As an innovative surgeon and researcher this award and prize of Gold medal was given to Prof. Dr. R. K. Mishra He is also recipient of Global Medical Education Award by vice-chancellors of eight apex universities during National Open and Distance Education Summit 2007 in the presence of Honorable Shri P.R. Kyndiah, Union Minister for tribal affairs, Government of India. Dr R K Mishra has received Lord Ashdown Award on 12th March 2001, while pursuing his Master Degree in Minimal Access Surgery from Ninewells Hospital and Medical School, University of Dundee. Prof. Mishra who mentors surgeons has received Spanish Golden Eagle award from The Republican Society of Spain for his Textbook of Laparoscopic Surgery. He is recipient of Lord Ashdown award for his valuable teaching contribution in the field of Minimal Access Surgery. For his dedicated service in the field of laparoscopic surgery LIONS CLUB ANNAMAMALAINAGAR has honored Prof. Mishra with "THE LIFE TIME ACHIEVEMENT AWARD and BEST DOCTOR AWARD." For his outstanding work for the underprivileged section of society and extraordinary efforts in promoting the health needs of the India, Dr. Mishra has received Purvanchal Gaurav Award by Prvanchal Ekta Manch, New Delhi.
Prof. Mishra was the organizing secretary of four International conferences on recent advances in minimal access surgery organized by World Association of Laparoscopic Surgeons. He is a highly-esteemed and respected professional in this field, and his advances in this discipline have benefitted an incalculable number of people. All his international conference on Minimal Access Surgery was approved by ministry of health and family welfare, Government of India and financially supported by medical council of India. More than five hundred delegates from 65 countries were present in these international conferences. These International conferences were unique in whole world because it was covering seven subspecialty of Laparoscopic Surgery from all across the globe.
Dr. Mishra lives in Gurugram, India with his two sons, one daughter, and his lovely wife Sadhana. Tenacious, hardworking, and completely devoted, Dr. Mishra life work has been to practice, research, study, and drive innovation and excellence in his chosen field of Minimal Access Surgery and Laparoscopy. He has hobby of driving and at present he is President of Rolls Royce Indian Owners Club. He is musician also and has a great passion to play keyboard. He is a good billiard player and he is a member of World Pool-Billiard Association.