Start date: 1st of Every month in Delhi (Gurugram) and 25th of every month in Dubai, UAE
Duration: 2 week Fellowship in Minimal Access Surgery in India or 1 week Fellowship in Minimal Access Surgery in Dubai
Level: Beginner and intermediate. Course is for General Surgeon, Gynecologist, Urologist or Pediatric surgeon
Location: Campus, World Laparoscopy Hospital, Delhi or World Laparoscopy Hospital, Dubai
The fellowship in Minimal Access Surgery (F.MAS) Training course for General Surgeons, Gynecologists, Pediatric Surgeons and Urologists is for two weeks start every month from the first of the month. World Laparoscopy Hospital provides this opportunities and resources for dedicated surgeon and gynecologists to realize their dreams of becoming skilled laparoscopic surgeon.
It's been 17 years since World Laparoscopy Hospital is conducting Fellowship in Laparoscopic surgery program and more than 7000 surgeons and gynecologists from more than 108 countries has already been awarded Fellowship in Minimal Access Surgery. At this center of excellence laparoscopic institute there is an ample opportunity to learn and do all practical laparoscopic surgeries in one of the most modern laparoscopic wet lab, followed by live exposure of live Laparoscopic procedures in operation theatre with our expert consultants.
Admission is on first come first serve basis but if the applicant are more for same month candidate has to take Online entrance exam. Laparoscopic Courses of World Laparoscopy Hospital are university recognized and recognized by World Association of Laparoscopic Surgeons.
Small class sizes favor a variety of teaching methods other than large group didactics, such as small group sessions, clinical case discussions, simulations and hands-on laboratory and patient experience. The advanced patient-care facilities at World Laparoscopy Hospital afford students clinical experience in the most current methods and minimal access technologies of treatment.
The first step in F.MAS course is to cover the ESSENTIAL component of Laparoscopy. It is important to remember that F.MAS (Fellowship in Minimal Access Surgery) includes all the ESSENTIAL laparoscopic procedures and "HANDS ON". By concentrating on essential skills, all trainees develop the necessary fundamentals of laparoscopy, which enable them to learn laparoscopic techniques covered in this course.
The course starts with learning laparoscopic access techniques, Safe Trocar insertion, pneumoperitoneum, suturing and knotting, dissection techniques, tissue retrieval techniques, principle of baseball diamond concept of port position, principles of safe use of various energy sources and every essential skills which the surgeon must master to perform complex laparoscopic operations and laparoscopic reconstructions. Laparoscopic surgeons after attending this course, should be able to perform all the taught procedures themselves on their patient, with confidence. This course aims at imparting the necessary theoretical knowledge (supported with videos) along with practice in highly advanced HD laparoscopic skill lab. Each lecture taken by our expert surgeon in the course is complemented with structured exercises under the watchful eyes of the faculty. This ensures that the participants get adequate theoretical knowledge along with correct experience at hand eye camera coordination.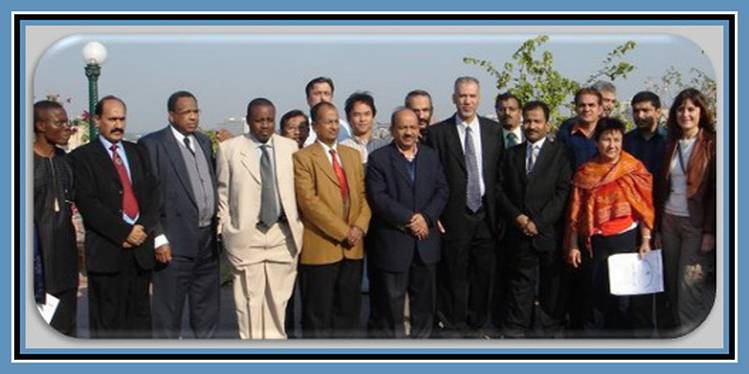 F.MAS Batch with Dr. Harsh Vardhan the honorable minister of Science and Technology (India)
This course is totally candidate centered and aims at imparting basic as well as advanced theoretical and practical knowledge in minimal access surgery to the young and experiences surgeons in a structured manner. Emphasis is on day to day practical problems that a Laparoscopic Surgeon faces.
This course is a must for anyone who wishes to pursue his/her career in the field of laparoscopic surgery in any discipline. Thus colleagues from the disciplines of surgery, gynecology, urology, pediatric surgery will stand to gain immensely from it. F.MAS laparoscopic training courses takes into account a broad range of students. There is the young resident who grew up in the video age and who possesses an ability to easily translate two dimensional images into three dimensional maneuvers, but at the other end of the spectrum is the established surgeon or ever professors with years of clinical experience who may find that the "feel" of an open technique is lost with laparoscopic maneuvers and who may have difficulties at first adapting to the lack of depth perception in a two dimensional field. When the surgeon is comfortable with the equipment, training in procedures with experimental state of the art HD wet operating room session will start.
The practicals of this course is ideal for a number of practice tasks, such as Cholecystectomy, Appendectomy, Hernia repair, Common Bile Duct Exploration, D.U Perforation repair, Salpingostomy for Ectopic Pregnancy, followed by Salpingectomy, LAVH, TLH, Bowel re­section, Lymphadenectomy, Vagotomy, Varicocelectomy, Nephrectomy, Orchiopexy, Retroperitoneoscopic and Thoracoscopic and other essential as well as advanced procedures.
Complete "Hands on Training of Laparoscopic Suturing and Knotting will be given. Before the surgeon can learn the subtleties of a new type of operation, the surgeon is reminded of the basics of the indications and contraindications for a given laparoscopic operation; the pertinent anatomy with regard to both an open technique and to a laparoscopic approach; the appropriate instrumentation; the technical plan, especially regarding trocar position, patient position, and the method to allow adequate exposure using traction and counter traction; the possible optional plans; and the possible associated complications, so the pitfalls can be recognized and avoided.
Suture repair and omental patching of a perforated Duodenal ulcer is readily simulated by creating an anterior duodenal perforation with the electrocautery probe. Truncal vagotomy, Posterior truncal vagotomy and Anterior Seromyotomy can then be practiced to learn the definitive acid reducing procedure. Other procedures such as liver biopsy, gastroesophageal reflux maneuvers, extra-peritoneal dissection, TEP and TAPP herniorrhaphy and Nephrectomy is also be performed, Gastric Banding can be reproduced in the animal model very nicely along with all colonic surgery. For surgeons to perform laparoscopic operations on human patients, they must practice the procedures and must become thoroughly familiar with the subtleties of each maneuver.
Surgeons & Urologists should be competent to perform following surgery after F.MAS:
Diagnostic Laparoscopy, Diagnostic Thoracoscopy
Laparoscopic Cholecystectomy
Laparoscopic Appendectomy
Laparoscopic Repair of Inguinal Hernia (TAPP and TEP)
Laparoscopic Repair of Para umbilical Hernia
Laparoscopic Repair of Incisional Hernia
Laparoscopic Repair of Duodenal Perforation
Techniques to do laparoscopy on an abdomen with previous abdominal scar
Procedures for Prolapse and Piles
Suturing and Knotting of any visceral injury
Simple Thoracoscopic Procedures
Laparoscopic Management of Undescended Testes
Laparoscopic Management of Varicocele
Retroperitoneoscopic Nephrectomy
Retroperitoneoscopic Ureterolithotomy
Gynaecologists should be competent to perform following surgery after F.MAS:
Diagnostic Laparoscopy and Laparoscopic Sterilization
Laparoscopic Management of Ovarian Cyst
Laparoscopic Salpingo-Oophorectomy
Laparoscopic Management of Tubal Pregnancy
Laparoscopic Assisted Vaginal Hysterectomy
Laparoscopic Total Hysterectomy and Laparoscopic Cervical Circlage
Supracervical Laparoscopic Hysterectomy
Laparoscopic Re-canalization Surgery
Diagnostic Hysteroscopy

Surgeons can learn the gynecological procedures also if they are interested.
Laparoscopic surgery training comprises of the rigorous 6 hours daily Hands On training of all essential and advanced laparoscopic general surgery, gynecological and urological endoscopic procedures. This course is scientifically designed according to international protocol of laparoscopic education proven to learn Minimal Access Surgery. Our minimally invasive surgical training will not end just imparting hands on skill but post training Online support is also provided through world's largest and most updated Online library of laparoscopic study material (Videos, Articles, Power Point presentations, eBooks) kept for members only on our dedicated server. We provide Laparoscopic Study Materials of Worth 3000 USD Completely Free of Cost during course. Free laparoscopic study material to complement practical knowledge is provided with the course.
| Course | Certificate | Duration | Course Date and Total Seat |
| --- | --- | --- | --- |
| Fellowship | F.MAS | Two Week | 1st of every month / 30 seats |
| Fellowship and Diploma | F.MAS + D.MAS | Four Week | 1st of every month / 20 seats |
| Master Degree | M.S (MAS) | One year | Every third month / 5 seats |
The course fee for F.MAS is 1,35,000 Rupees for Indian surgeons and 4,500 USD for overseas surgeon and NRI. The Course fee for Integrated Diploma in Minimal Access Surgery and Fellowship in Minimal Access Surgery (D.MAS) is 7,800 USD for overseas candidate and Rupees 2,46,000 only for Indian Doctors. Accommodation is available and the Tariff is subsidized. Hospital has its own deluxe bus to bring surgeons to hospital. Please note that living expenses (Food, Travel, Stationary, and Laundry etc.) are not covered in the course fee but working lunch, snacks tea and coffee will be provided whole day during course, free of cost. There is no extra charge to utilize hospital resources like Internet, laparoscopic instruments, O. T. Dress, Library, Videos, CDs. Learn more about the accommodation.
Admission is on first come first serve basis but if the applicant are more for same month candidate has to take Online entrance exam. Candidates must hold M.B; B.S or equivalent and at least 3 years post-registration experience in General surgery or Gynecology or degree of M.S or M.D for Indian candidates.
Doctors should have valid medical registration.
Overseas Doctor should have equivalent qualification.
Exam of Fellowship and Diploma has to be cleared.
CLICK HERE TO LEARN MORE ABOUT WORLD LAPAROSCOPY TRAINING INSTITUTE (DUBAI, UAE)
CLICK HERE TO COMPARE CONTENT OF FELLOWSHIP COURSE OF DUBAI AND DELHI