Veterinary Endoscopic Fellowship Start date: 23rd to 24th of February, June and October at World Laparoscopy Hospital, Gurugram, Delhi, India
Veterinary Fellowship in Endoscopy Duration: 2 days Hands - On Comprehensive University Recognized Course of Veterinary Endoscopy
Specialty: For Veterinary Doctors and PG students who inspire to become expert endoscopist
Course Director and Chief Trainer: Dr. R.K. Mishra. Master of Minimal Access Surgery
Course Fee: Rs 30,000 only for Indian Doctors and 700 USD for Overseas Doctors and Rs 20,000 only for PG or PhD students (Including Study Material, Working Lunch, Lab Expenses, OT Dress and Local Transport). Candidate should pay the registration fee 5000 rupees at the time of application of course remaining fee ot the course on the first day at the time of joining the course.
Location: World Laparoscopy Hospital, DLF Phase II, Cyber City, Gurgaon, NCR Delhi, India
Accommodation: Tariff is Rs 1500/day at WLH premises and Rs 2200/day at Pacific Hotel (Owned by WLH).
Fellowship in Veterinary Endoscopy (F.Endo) Training course for Veterinary Doctors at World Laparoscopy Hospital India is 2 days condensed Hands on Course. World Laparoscopy Hospital provides this opportunities and resources for dedicated veterinarian to realize their dreams of becoming skilled sndoscopist.
It's been 23 Years since World Laparoscopy Hospital is conducting Fellowship in Laparoscopic surgery program and more than 15000 surgeons and gynecologists from more than 138 countries has already been successfully awarded Fellowship in Minimal Access Surgery and Endoscopy. Laparoscopic and Endoscopic Courses of World Laparoscopy Hospital are University recognized and also internationally recognized by World Association of Laparoscopic Surgeons. This is a newly developed intensive 2-day course focusing on essential skills and procedures required for safe upper and lower GI endoscopy can be performed and implemented in different veterinary practice areas. The course has been carefully designed to maximise hands on experience for better understanding about this highly specialised field.
For veterinary doctors to perform diagnostic as well as theurapetic endoscopy on animals, they must practice the procedures and must become thoroughly familiar with the subtleties of each maneuver.
COURSE STRUCTURE
This technique helps in thorough examination and evaluation of an area of interest and also required for obtaining tissue for histopathologic evaluation. Endoscopy can be implemented for foreign body removal, PEG tube placement or GI biopsy. The endoscopy can be a beneficial tool with many therapeutic applications including foreign body retrieval, stone removal, or feeding tube placement. This is a highly sophisticated technique which requires extensive training and skills and can be learned over time. This training will be helpful for the veterinarians in acquiring knowledge and practical exposure to implement in their day-to-day practice to be an important component of veterinary practice.
Complete Hands on Endoscopic Training will be provided under supervision of Prof. R. K. Mishra. Before the surgeon can learn the subtleties of a new type of endoscopic procedures, the veterinary surgeon is reminded of the basics of the indications and contraindications for a given laparoscopic operation; the applied anatomy of animal with regard to both an open technique and to a laparoscopic approach; the appropriate instrumentation; the ergonomical plan, especially regarding trocar position and the method to allow adequate exposure using traction and counter traction; the possible surgical task analysis; and the possible associated complications, so the pitfalls can be recognized and avoided.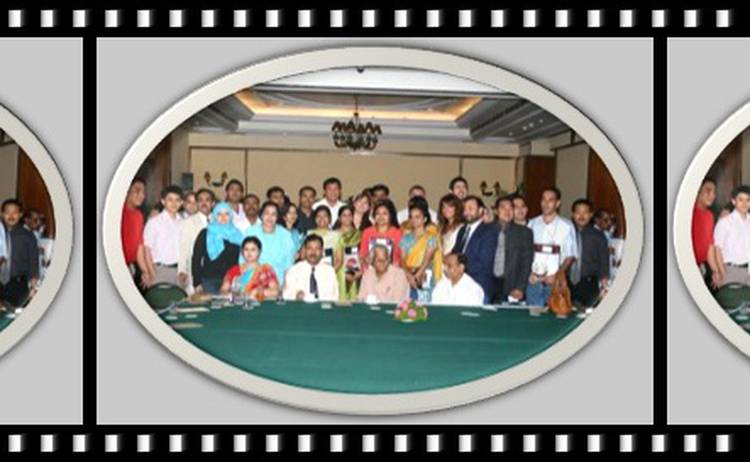 Our Batch With Then Honarable Defense Minister of India Mr. George Fernandes
As we are aware that veterinary endoscopy is a minimally invasive procedure that allows the veterinarians to look within an organ or body cavity and acquire diagnostic information. Since Endoscopy has an enormously broad scope and a high impact on welfare of animals, competence in this field should urgently be promoted and provided in India. To perform endoscopy in animals it requires skills and organized training. This is our effort to train the veterinarians in the field of endoscopy to improve their understanding and learn this highly specialized technique which will be very helpful for the veterinarians in acquiring not only techniques and responsibility towards animals but also help them to develop an ethical attitude towards animals by improving animal welfare. As you are aware that the standard of veterinary science is continuously improving with advancement in technology and the pet patients and their owners are expecting and demanding a higher level of care coupled with advanced techniques so that their animals can get minimally invasive endoscopic procedures. Endoscopy for veterinary patients proven to be a versatile tool which can provide a nonsurgical option for diagnosis and have therapeutic application for a variety of disease conditions in animals. As of now, we are lacking a dedicated training program for veterinarian in India, because of not having a properly dedicated endoscopy training centre with state of art facilities. So, we have planned this training program where veterinarians can get training on dry lab specifically designed for veterinary application, cadavers and finally wet lab training.
COURSE DIRECTOR
Dr R K Mishra is main faculty of this intensive laparoscopic training course. Dr. R. K. Mishra is a professor, scientist, prolific author, who has written six single authored book on Minimal Access Surgery, and more than 28 chapters in different international coauthored books of Minimal Access Surgery. He has written more than hundred articles on various topics on Minimal access surgery in different international journals. He is the chief editor of World journal of Laparoscopic Surgery for last 12 years. He is one of the most experienced professor of laparoscopic and robotic surgery who has alone trained more than 15,000 surgeons, urologist, pediatric surgeon and gynecologists from more than 138 countries. He has vast experience of teaching laparoscopic and da Vinci robotic surgery. He is Professor of Minimal Access Surgery and his endeavor of starting unique university program was started in Ninewells Hospital and Medical School, U. K. with Professor Sir Alfred Cuschieri. He has completed his surgical residency and Master degree in Minimal Access Surgery (M.MAS) from Ninewells Hospital and Medical School, University of Dundee, United Kingdom.
Course Schedule:
| | |
| --- | --- |
| 1st Day | Topic |
| 10:00 – 10:30 | Welcome, introduction and course goals, Introduction to flexible endoscopy |
| 10:30 – 11:00 | Coffee/Tea Break |
| 11:00 – 12:00 | Rhinoscopy and Tracheo-Bronchoscopy |
| 12.00 –1.00 | Pharyngoscopy and Laryngoscopy |
| 1.00-2.00 | Lunch Break |
| 2.00-4.30 | Biopsy techniques in endoscopy + Wet lab Rhinoscopy, Laryngoscopy Pharyngoscopy and Tracheo-Bronchoscopy (trainers) |
| 2nd Day | Topic |
| 9.30 -10.30 AM | Gastrointestinal endoscopy (Oesophago-Gastroscopy) |
| 10.30-11.00 | Coffee/Tea Break |
| 11.00-12.00 | Cystoscopy in both sexes |
| 12.00 – 1.00 | Foreign body retrieval technique |
| 1.00-2.00 | Lunch Break |
| 2.00-4.30 | Endoscopic maintenance + Wet lab gastrointestinal endoscopy (trainers) |
| 4.30-5.00 | Certificate distribution and farewell |
Target Groups:
The course is particularly aimed at veterinary surgeon starting out their career in endoscopy.
It is also suitable for the veterinary surgeons already performing endoscopy procedures who wishes to take their skills to the next level and perform more complex procedures.
Benefits:
This is a specialized training program for veterinary endoscopy which has been started for the first time in India.
Participants will develop the psychomotor skills for endoscopy by a distributed practice training programme through various sessions.
To develop strong technical skills with the help of experts from both veterinary and human surgeons for betterment of our profession and knowledge sharing among our fraternity.
This training consists of multiple stages including theoretical education, dry laboratory training with Pelvitrainer, cadaver training, simulator training and finally wet laboratory training.
Cost effective as compared to trainings offered abroad.
Programme Includes:
Introduction of endoscopy, Overview of different endoscopy equipment, instrumentation and its selection and safe endoscopy principles and techniques.
Basic principles of endoscopy and how to select the most appropriate endoscopic equipment for intestinal, respiratory and urinary tract endoscopy.
Instrument handling from how to set up the endoscope to maintenance and cleaning.
Techniques for examining the upper and lower GI tract, along with dry and wet lab to provide hands-on experience in both upper and lower endoscopy.
Upper intestinal endoscopy (including acquiring biopsies and foreign body removal).
Upper respiratory tract endoscopy (including foreign body removal)
Skills training on virtual reality computer trainers, endoscopy trainers, tissue models, and cadavers
Systematic approach to performing full diagnostic endoscopy and tissue biopsies.
Manipulation and direction of endoscopes in wet lab.
Techniques for obtaining endoscopic biopsies and endoscopic foreign body removal.
Therapeutic endoscopic interventions, set up and handling of endoscopes
Indications to complications, procedures and possible findings and how to manage complications.
SPEAKERS:
Dr. Kunal Dev Sharma,
MAX VETS ANIMAL HEALTH CARE,
E-8, East of Kailash,
near Kailash Colony Metro Station,
metro pillar No.74,
New Delhi – 110065
Dr. Vikash Singh Chauhan
Assistant Director
CGS Hospital, S-25/2204, DLF-III
Gurgaon (HR)-122102-INDIA
Upper and Lower GI Endoscopy training comprises of the rigorous 8 hours daily Hands On training of all essential and advanced endoscopic procedures. This course is scientifically designed according to international protocol of endoscopic education. Our minimally invasive endoscopy training will not end just imparting hands on skill but post training Online support is also provided through world's largest and most updated Online library of endoscopic study material (Videos, Articles, Power Point presentations, eBooks) kept for members only on our dedicated server. We provide endoscopic Study Materials of Worth 1000 USD Completely Free of Cost during course. Free endoscopic study material to complement practical knowledge is provided with the course.
The course fee for endoscopic course for veterinary doctors is 30,000 Rupees for Indian surgeons and 700 USD for overseas surgeon and NRI. For PG and Ph.D student fee is 30,000 rupees only. There is no extra charge to utilize hospital resources like internet, endoscopic instruments, O. T. Dress, Library, Videos, CDs. Working lunch, snacks tea and coffee will be provided whole day during course. Doctors dedicated accommodation is available at subsidized tariff in Pacific Hotel (Owned and Managed By WLH). Hospital has its own deluxe bus to bring surgeons to hospital. For Indian doctors, accommodation is available in the hospital campus.
Note: Many Facilties May not be Applicable to Veterinary Surgeons
Admission is on first come first serve basis but if the applicant are more for same month candidate has to take Online entrance exam.
Veterinary Doctors should have valid medical registration.
Overseas Doctor should have equivalent qualification.
Only Online Application is sufficient for admission to the Fellowship in Endoscopy (F. Endo) Training course.