Click here to Register for CME Exam
Frequently Asked Questions on WLH Online Exams
World Laparoscopy Hospital, Gurugram is announcing a series of CME-certified webcasts that allow participants to view pre-recorded demonstrations and discussions of new and innovative minimally invasive procedures, devices, and techniques. Surgeons and gynecologist can elect a laparoscopic CME program that offers a diverse collection of minimally invasive courses, allowing for growth within your specialty and advancement beyond, if desired.
World Laparoscopy Hospital CME is a unique platform first time in World to provide continued medical education in the field of laparoscopic and robotic surgery for surgeons, urologist and gynaecologists" The New Techniques to Perform different Laparoscopic Surgery webcast reviews, techniques for preventing complications are available. Recent advances and future directions of medical care in gynaecological minimal access surgery are discussed in the context of their potential impact and application for clinical practice. Expert speakers will present the most recent advances in the context of challenges faced by physicians and other health care providers caring for these patients.
Click here to Register for CME Exam
Frequently Asked Questions on WLH Online Exams
CME is crucial to the prosperity of a minimal access surgeons. It allows a them to learn and discover viable ways to improve on the patient care they deliver and effectively manage a career in the ever-changing landscape of the laparoscopic and robotic surgery. The requirements or acceptable level of CME vary across medical disciplines, but they are equally important no matter the specialty or scope of practice in which a provider is engaged. Continuing medical education program offered by World Laparoscopy Hospital allows health care providers to:
• Refine skills to improve overall surgical care
• Stay current with the latest developments in Minimal Access Surgery
• Address real-world challenges that surgeon and gynecologist face day to day
• Gain professional growth and a means to advance career status
• Meet licensing or certification requirements
• Learn effective surgical team management skills
• Earn membership in endoscopic organizations like WALS, SAGES and EAES
These activities are directed to practicing surgeons, gynaecologists, paediatric surgeon, urologists and other health practitioners who care for patients undergoing minimally invasive surgery. The World Laparoscopy Hospital Foundation Centre for Continuing Education is accredited by the Accreditation Council of World Association of Laparoscopic Surgeons for Continuing Medical Education to provide continuing medical education for minimal access Surgeons.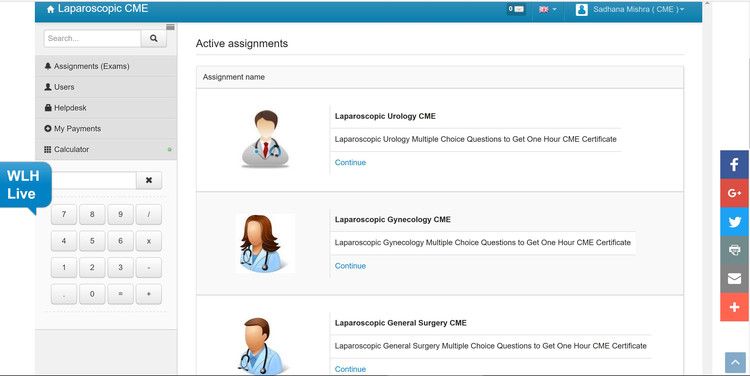 Everyday once you will register to exam portal you will see the interface which is given above and you can take CME exam. Candidates who have till date given examinations offline need to get themselves accustomed to the new online method of World Laparoscopy Hospital which is turning out to be the standard norm for taking examinations. There are major nationwide examinations that are being conducted online. Many surgeons and gynaecologist find it difficult to cope with the newly launched online method of examination. Hence, it is important to take them to a comfort level so that they don't get the additional fear while giving the examination.
Click here to Register for CME Exam
Frequently Asked Questions on WLH Online Exams
Some of the steps mentioned below can help the candidates learn the exact methods to get through online examination. These steps can help candidates to deal with less clutter while beginning their examination.
Get your User Id and Password first:
Upon successful registration the candidate would be provided with a unique User ID and Password which would help them to log in to the screen of the computer they would be in, while giving the examination. They could get the user id and password after filling the REGISTRATION FORM on exam portal page as well, which they need to use as their entry into the World Laparoscopy Hospital CME Exam Portal Gateway.
Make yourself ready:
Once you log in to a computer to start your WLH Continued Medical Education (CME) examination you would get to a page where your subject and specialization would appear. If you are ready for the examination you can click the button. Upon clicking it your stipulated time for the examination would start counting. Hence, make sure you are fully prepared, mentally and physically, for the examination so that you don't lose a moment of your examination.
Mark your answers:
You need to mark your answers by mouse click for every question. There would be multiple choices for all the questions. You need to select the answer and mouse click on the box of the answer. Upon clicking the box you need to click 'Save & Next' button to move to the next question.
Understanding Online Exam:
Previously the surgeons in their PG entrance exam or other MCQ exam could begin their examination from any of the paper starting from any of the question of their choice. But in the online examination pattern this might not be an intelligent thing to do. There is a certain time that gets lost while you travel from one question to the other and thus you might lose a considerable amount of time shifting. Thus it is advised to go sequentially and if someone thinks they can't answer a question they can always leave it to come back later as it gets marked with a different colour.
Assess your progress:
On the right hand side of your screen there would be question numbers from the paper you are solving. There would be some specific colour around the question numbers so that you can know the status of the question paper while answering the other questions. If you left a question unanswered it would turn red while if you let a question it or can leave it unattempted. Different color would appear respectively on answered and properly marked questions. Through the colours you can actually get to know the status of your paper and how much effort you have to put in to complete the paper on time.