World Laparoscopy Hospital is first private institute of India to start da Vinci Robotic Surgery. This institute is also accredited by National Accreditation Board for Hospitals and Healthcare Providers (NABH) which is a constituent board of Quality Council of Government of India. Robots in the advanced field of minimal access surgery have dramatically changed the procedures for the better. The most significant advantage to Robotic Surgery to the patient is the decrease in pain and scaring with increase dextrity. The Robotic da Vinci System is changing surgical procedures, which improve both the patient's experience and surgical outcomes. It reduces trauma to the patient by allowing surgery to be performed through small ports or "keyholes" rather than large incisions, resulting in shorter recovery times, fewer complications and a reduced hospital stay. By integrating computer-enhanced technology with the surgeon's expertise, the high definition da Vinci surgical System enables surgeons to perform extremely delicate and precise minimally invasive surgery.
Robotic Surgery Facilility FAQ's
Learn About Our Insurance Panel
Download Robotic Surgery Introductory Video
Patient experience following benefits from Robotic Surgery
Reduced trauma to the body
Less blood loss and need for transfusions
Less post-operative pain and discomfort
Less risk of infection
Shorter hospital stay
Faster recovery and return to normal daily activities
Less scarring and improved cosmesis
The surgeons who perform robotic surgery have the following benefits
da Vinci System has Enhanced 3-D Visualization
Improved Surgical Skill Dexterity
Greater Surgical Precision
Improve Ergonomics
Increased Range of Movement
Reproducibility of 3D Motion
Simplifies many existing surgical techniques
Makes difficult operations routine
Makes new procedures possible in most surgical specialties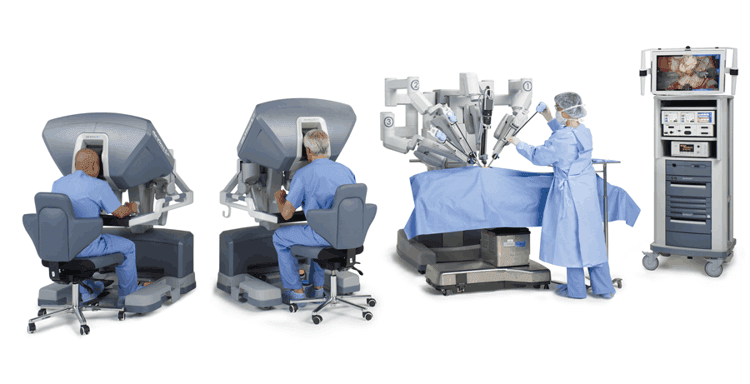 FAQs of International Patients
Robotic surgery has transformed laparoscopic surgical treatments. Robotic devices offer the surgeon unprecedented control and precision from the surgical instruments employed during minimally invasive procedures. This leads to less postoperative pain for that patient, shorter hospital stays, quicker recovery times, better cosmetic effects, and physiologic function. Robotics, while an indication of the days and also the future, require human intervention to operate.
da Vinci Robotic Surgical System
Robotic technology has been successfully implemented in many surgical treatments, including gastrointestinal laparoscopic surgery, cardiac surgery, thoracic surgery, neurosurgery, urologic surgery, orthopedic procedures, and gynecologic procedures.
Urologic Robotic Surgery
Some of the primary urologic surgical treatments that employ the da Vinci robot are:
nephrectomy,
pyeloplasty,
cystectomy with ileal conduit, and
radical prostatectomy
Prostate cancer may be the leading type of cancer in males. In a nutshell, the goals surrounding a radical prostatectomy are:
Remove the prostate and cancer
Preserve urinary function
Preserve erection health (via a nerve-sparing procedure or approach)
Analyze the prostate after surgery to evaluate the risk of recurrence of cancer
The individual benefits greatly too:
Decreased blood loss
Shortened period of hospital stay
Decreased postoperative pain
Less scarring
Shorter urinary catheter time
Faster return to regular activities
Anticipation of improved potency and continence
Gynecologic Robotic Surgery
Robotic assist may also be widely used in gynecologic procedures for various underlying disorders: fibroids, pelvic masses, abnormal bleeding, endometriosis, pelvic floor disorders, and precancerous/cancerous disease processes. Depending upon the problem, treatments might not necessarily include surgery. On the flipside, hysterectomy is easily the most common surgical procedure performed in women. The primary reason is the fact that it is the definitive solution for many types of common gynecologic conditions. If surgery is indicated, minimally invasive surgical (MIS) procedures have numerous advantages that are quite similar to those outlined earlier:
Minimal hemorrhaging
Preservation of love and fertility for fibroid removal/myomectomy
Decrease in a hospital stay
Less postoperative pain
Absence of a midline abdominal incision
Quicker recovery time

Contact Us:
Department of Robotic Surgery
World Laparoscopy Hospital
Cyber City, Gurugram
NCR Delhi, 122002
India
+91 9811416838
india@laparoscopyhospital.com