World Laparoscopy Hospital is established to ensure the highest standard of training, treatment and research in laparoscopic procedures. World Laparoscopy Hospital is center of excellence for training in minimal access surgery in the world. The University Combined Course of Fellowship and Diploma in Minimal Access Surgery (Combined D.MAS + F.MAS) and Fellowship in Minimal Access Surgery (F.MAS) course designed and offered by World Laparoscopy Hospital is first in the world and accepted globally. Thousands of surgeons and gynecologists from every corner of the globe have been trained for essential and advanced laparoscopic skill. There is hardly any country left in the world from where surgeons and gynecologist has not come to get laparoscopic training in our hospital. Laparoscopic training program is scientifically designed by World Association of Laparoscopic Surgeons and it ensures that the participants are able to do all the taught surgery themselves after training. Complete course is organized scientifically according to international protocol of laparoscopic education proven to learn Minimal Access Surgery. The courses of World Laparoscopy Hospital also meet the guidelines established in the "SAGES Framework for Post-Residency Surgical Education and Training" and are endorsed by various international organizations including WALS and ICRS. Admission is on first come first serve basis but if the applicant are more for same month candidate has to take online entrance exam. There will be one online entrance test and after qualifying this online entrance test, surgeons and gynecologists will be selected for this "Hands On" laparoscopic training course.
World's Most Popular Institute to learn Laparoscopic surgery for surgeons, Gynecologist, Urologist and Pediatric Surgeon.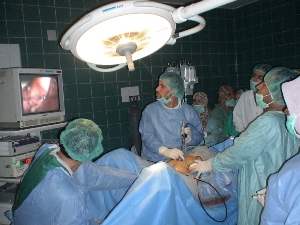 World's Premier Institute for
Laparoscopic Treatment Training and Research
Laparoscopic Surgery at World Laparoscopy Hospital is performed by ultra modern technique and highly qualified Laparoscopic Surgeon. we are on the forefront of developing new laparoscopic techniques for the treatment of various diseases. World Laparoscopy Hospital is leading private hospital with the greatest range of laparoscopic technology of any independent hospital. World Laparoscopy Hospital aims to make people better in a safe and caring environment, with state of the art laparoscopic equipment, highly trained staff and doctors. We aim to provide the highest standards of care and service to our patients, and regard our patients opinions and comments as extremely valuable as they help us to identify areas of success and opportunities for improvement. We at World Laparoscopy Hospital are getting patients from all over world and we have international reputation of doing quality surgery at an affordible cost.
"World Laparoscopy Hospital website is one of the most updated resource for laparoscopic education and has been short listed by Royal College of Edinburgh"
Royal College of Edinburgh (U.K)
"World Laparoscopy Hospital is reducing the number of high risk laparoscopic surgery by imparting valuable laparoscopic skill"
World Association of Laparoscopic Surgeons (WALS)
"World Laparoscopy Hospital is the BEST laparoscopic training Institute in the World"
Dr. Janet Andersen MD (USA)
"World Laparoscopy Hospital is the BEST Value of money in all of south east asia"
peter zachara (USA)
TEN QUESTIONS YOU SHOULD ALWAYS ASK FROM YOUR INSTITUTE
Keep yourself informed Join Our Laparoscopic Mailing List
For More Information:
World Laparoscopy HospitalTM
Cyber City, DLF Phase II, Gurugram, 122 002, India
Phones:
For Training: +91(0)9540993399
For Treatment: +919811912768
For General Enquiry: +91(0)124-2351555
Email: