Laparoscopic Surgery is Safe during COVID-19 pandemic
Our searching at World Laparoscopy Hospital shows that laparoscopic surgery is possible during the COVID-19 pandemic with no transmission among medical facility teams and individuals. Most of the clients had less than 24-hour healthcare facility admission. Admitting a client 2 hrs before surgery and discharging the next day assisted us to quicken bed accessibility as well as lowering crowding in the healthcare facility during the pandemic.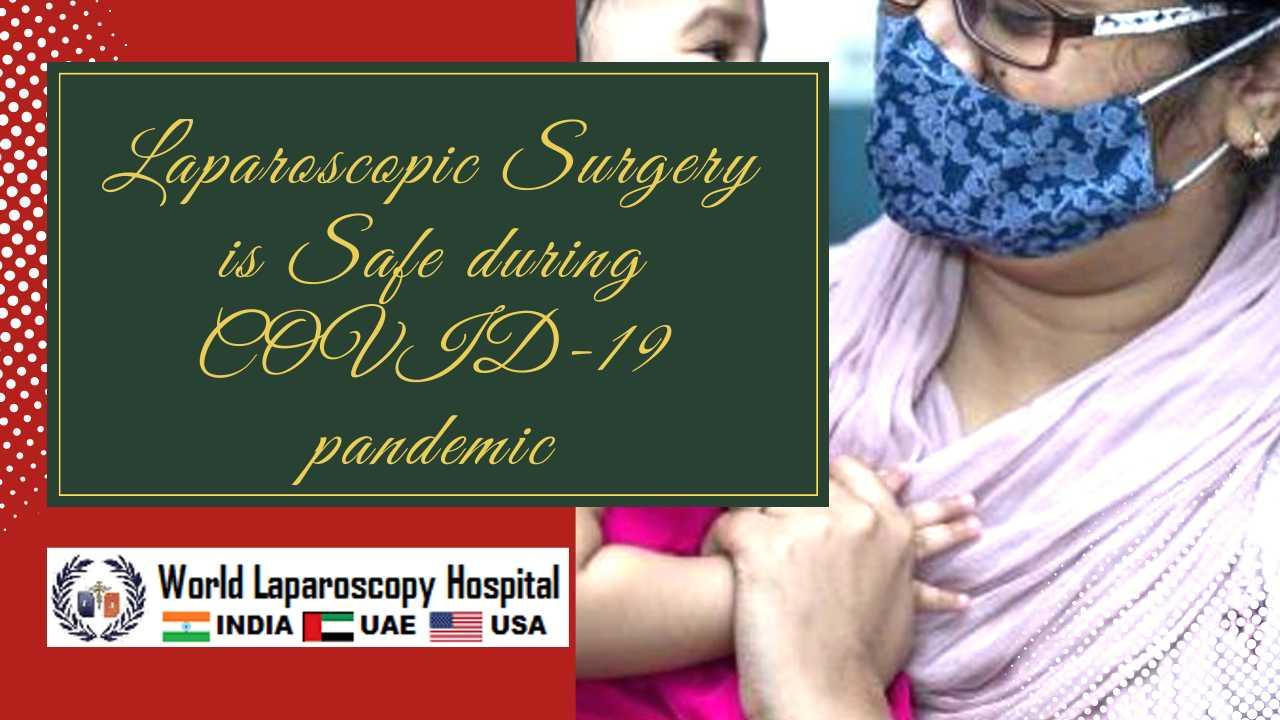 Though ASA I as well as II individuals are predominant, ASA III and also IV people were likewise in considerable number throughout the study duration. Society of American Gastrointestinal and also Endoscopic Surgeons (SAGES) advised postponement of all elective medical cases throughout the pandemic to reduce risk to people and medical care staff as well as minimize sources like ventilators, PPE, and beds. The Association of laparoscopic cosmetic surgeons of Britain as well as Ireland recommended making use of laparoscopy for individual's benefit if all safety measures can be taken in the operating room.

Several of the basic recommendations from different societies are the use of closed-circuit smoke evacuation and ultralow particulate air purification systems, reduced power setting of electrocautery, marginal use of power devices, little port cuts, reduced CO2 pressure, pneumoperitoneum discharge using a filtration system, liberal use suction tools, instant evacuation of gas at the end of the procedure as well as lowered Trendelenburg time.

There are still no absolute contraindications for laparoscopic surgeries, nevertheless, the use of ideal PPE for running theatre teams, smoke evacuations/ purification systems have actually been advised in the literature. Throughout the first lockdown duration, all elective cholecystectomies were delayed. Client circulation in outpatients lowered considerably.

Medical facilities must have the policy to deal with the demand and also regularity of testing. They must have ample PPE and also medical products. Personnel ought to be trained on the correct use of PPE as well as establish a prioritization technique appropriate to the instant person demands. Our healthcare facility is a tertiary treatment multispecialty center. Plan for infection avoidance and control during the COVID-19 pandemic was formed on June 16, 2020, that presented standards on preoperative as well as pre-procedure COVID-19 screening, standards on PPE use, guidelines for operating people with high and low COVID danger. They additionally created standards on dealing with patients for cautiously, staff quarantine, and also testing techniques. Campanile et al., in their multi-society position declaration, advised LC as the therapy of selection for cholecystitis throughout the COVID-19 pandemic, but the treatment needs to be executed securely. They suggested using filters to get rid of infection fragments, like ULPA (ultra-low particulate air) filters, to reduce the danger of infection diffusion in the operating theatre as well as make certain that people continue to take advantage of the benefits of laparoscopic surgical treatment.

Nonetheless, in our setup, such a filter was not readily available. The advantage of laparoscopic surgery during the pandemic age is that it minimizes the size of healthcare facility stay. In our research, all situations were confessed 2 hours prior to the surgical procedure; optimization and also needed examinations were done on an OPD basis. A considerable variety of individuals were released within 24 hours, highlighting the requirement for ambulatory surgical procedures throughout and also after the pandemic. These techniques can minimize the cost of treatment as well as reduce the concern of condition as well as long waiting lists in public healthcare facilities. Laparoscopic surgery can still be securely done during the COVID-19 pandemic after following strict infection avoidance standards. They can be performed as daycare procedure.
4 COMMENTS
Top