Important Patient Information Brochure of Laparoscopic Management of Morbid Obesity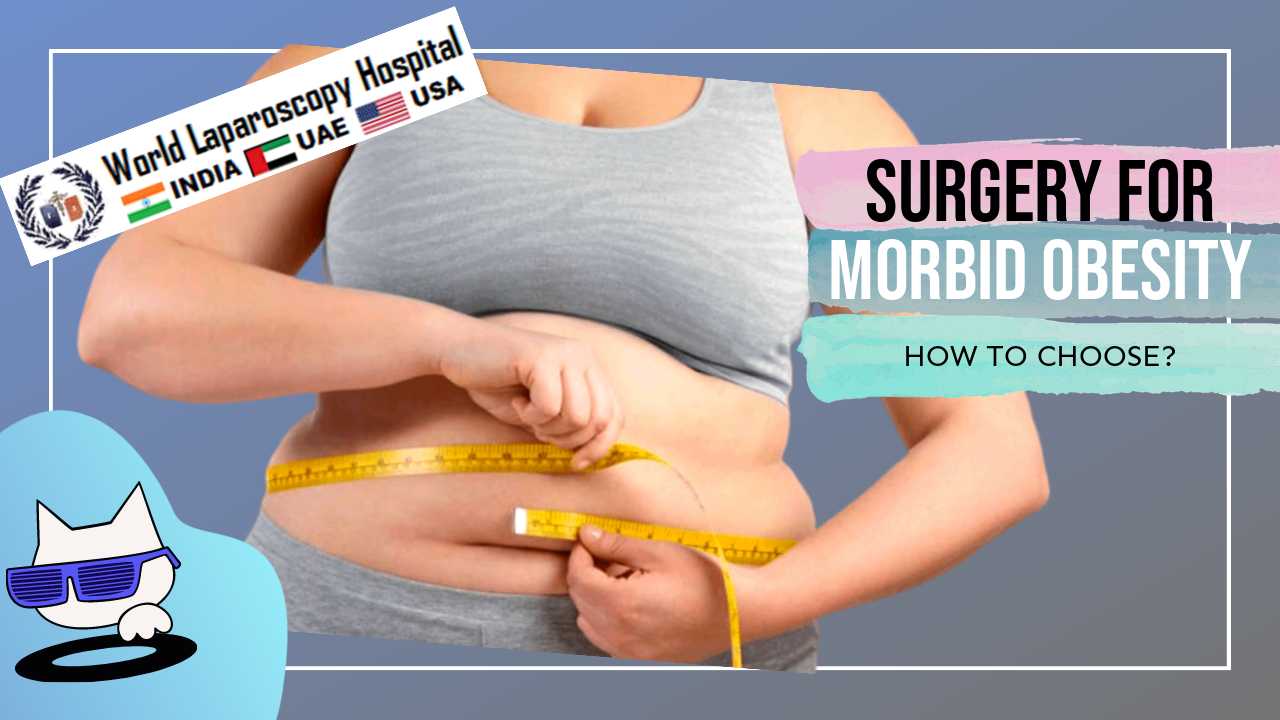 Laparoscopic surgical treatment for excessive weight problems is for individuals who are seriously overweight. Laparoscopy includes a specialized telescope (laparoscope) to see the stomach, which usually enables smaller abdominal incisions.
Severe excessive weight, in some cases known as "morbid obesity". One of these methods utilizes Ideal Body Weight as well as is defined as being about 45 Kgs or 100% over ideal body weight.
Body Mass Index or BMI is an additional method made use of to establish extreme or morbid obesity. BMI is computed based upon a person's height as well as weight, as well as is usually much more exact than ideal body weight estimations. The rates of obesity have been boosting progressively with a frequency of roughly 25%. This condition is associated with the advancement of life-threatening issues such as hypertension, diabetes mellitus, sleep apnea, and also coronary artery condition, among others.
Body Mass Index is a simple calculation using a person's height and weight. The formula is BMI = kg/m2 where kg is a person's weight in kilograms and m2 is their height in meters squared. A BMI of 25.0 or more is overweight, while the healthy range is 18.5 to 24.9. BMI applies to most adults 18-65 years.
Many therapeutic approaches to this trouble have actually been used, consisting of low-calorie diet regimens, drug, behavioral adjustment, and also exercise. However, the only treatment confirmed to be effective in the long-lasting administration of morbid obesity is surgical treatment.
WHAT CAUSES SERIOUS OBESITY?
Severe weight problems are probably a result of a mix of hereditary, psychosocial, environmental, social as well as social influences.
WHAT ARE THE THERAPY ALTERNATIVES TO OBESITY?
MEDICAL THERAPY
Non-surgical approaches of weight loss for people with serious obesity, except in uncommon circumstances, are not effective over extended periods of time. It was revealed that almost all participants in any non-surgical weight-loss program for serious excessive weight reclaimed their dropped weight within 5 years. Although prescriptions and non-prescription drugs are offered for weight loss, there does not appear to be a role for long-term medical treatment in the monitoring of morbid obesity. Weight gain is rapid when the medicine is withdrawn. Various expert weight loss programs make use of behavior modification strategies combined with low-calorie diet plans as well as boosted exercise. Weight loss of one to two extra pounds weekly has actually been reported, yet almost all the weight management is gained back after 5 years.
SURGICAL TREATMENT
There are four types of operations that are commonly offered to patients:
Adjustable gastric banding
Roux-en-Y gastric bypass
Biliopancreatic diversion with a duodenal switch
Vertical sleeve gastrectomy
A number of weight loss procedures have been developed over the last 40-50 years. The procedures recognized by most surgeons include Roux-en-Y gastric bypass, stomach banding, sleeve gastrectomy, malabsorption procedures, and gastroplasty. The stomach bypass procedure entails separating the stomach as well as developing a tiny gastric pouch. The brand-new stomach pouch is linked to varying sizes of your own small intestine built into a Y-shaped limb (Roux-en-Y gastric bypass).
The laparoscopic gastric band entails putting a 1/2 inch belt or collar around the top portion of the tummy. This produces a small bag and a fixed outlet into the stomach. The adjustable band can be full of sterile saline. When saline is added, the outlet right into the stomach is made smaller sized which further restricts food from leaving the pouch. Although gastric banding surgery is not performed nowadays as the effectiveness of this surgery is not much.
The sleeve gastrectomy is the removal of at least 75% of the stomach. This minimizes the capacity of the stomach. The malabsorption procedures cause fat burning by lowering the absorption of calories from the intestinal tracts. This sleeve gastric operation is lowering the stomach size.
Choosing between the different operative treatments involves the surgeon's preference as well as consideration of the patient's eating habits.
BENEFITS OF THE LAPAROSCOPIC METHOD INCLUDE:
Lesser post-operative pain
Much shorter hospital stay
Fewer incision site complications
Faster recovery
WHO SHOULD BE CONSIDERED FOR LAPAROSCOPIC OBESITY SURGERY?
Patients with a Body Mass Index (BMI) of ≥ 40 kg/m2 or BMI ≥ 35 kg/m2 with at the very least one obesity-related condition (type II diabetics issues, hypertension, sleep apnoea, and so on). The patient should have no known metabolic or endocrine (hormonal) causes for morbid obesity.
WHAT PREPARATION IS REQUIRED?
To determine if you are a candidate for laparoscopic surgery. Full body examinations might be required, including a nutritional examination. A psychological or mental examination might be called for to identify the client's capability to get used to changes after the operation. Written approval for surgery will be required after the doctor examines the prospective dangers and also advantages of the operation. Blood transfusion and/or blood products such as platelets may be needed depending upon your problem. Your surgeon may request that you are totally vacant your colon and cleanse your intestinal tracts before the surgical procedure. It is suggested that you shower the night before or early morning of the procedure. After twelve o'clock at night the evening prior to the operation, you should not eat or consume anything other than medicines that your doctor has told you are acceptable to take with a sip of water the early morning of surgical treatment.
Medicines such as pain killers, blood thinners, anti-inflammatory medications (arthritis medicines), and also Vitamin E will need to be stopped briefly for a number of days to a week before surgery. It is suggested, and also occasionally called for, that you give up smoking prior to surgery. If you have sleep apnea and you use CPAP at home, you need to bring it with you to the medical facility on the day of surgical treatment.
HOW IS LAPAROSCOPIC OBESITY SURGICAL TREATMENT CARRIED OUT?
In laparoscopic treatment, specialists utilize small incisions (1/4 to 1/2 inch) to enter the abdominal area through trocars (small tube-like instruments). The laparoscope, which is connected to a small video camera, is placed via the small trocar. An image is seen onto a monitor providing the surgeon a magnified sight of the belly and also various other inner body organs. Four to six little incisions, as well as trocars, are put for using specialized tools to perform the operation.
WHAT OCCURS IF THE OPERATION CANNOT BE PERFORMED BY THE LAPAROSCOPIC APPROACH?
In a handful of people, the laparoscopic method can not be done. This might increase the possibility of choosing or converting to the "open" surgical treatment, which may include a history of previous abdominal surgical procedures creating scar, failure to imagine body organs or bleeding issues throughout the procedure.
The choice to carry out the open treatment is a judgment decision made by your surgeon either prior to or throughout the operation. When the surgeon really feels that it is safest to convert the laparoscopic procedure to an open one, this is not a complication, however instead a sound surgical judgment. The decision to convert to an open treatment is strictly based on client safety and security.
WHAT SHOULD I ANTICIPATE ON THE DAY OF THE SURGICAL PROCEDURE?
You will arrive at the medical facility in the early morning of the procedure.
Prep work prior to surgery usually includes changing into a hospital dress.
A certified clinical staff member will position a little needle/catheter (IV) in your blood vessel to give medicine throughout your surgery.
Commonly pre-operative drugs are needed.
You will be examined by the anesthesiologist and also talk about the anesthesia.
You will be under general anesthesia throughout the operation, which may last for several hrs.
After the procedure, you will be sent to the recovery room till you are completely awake. After that, you will certainly be sent out to your hospital room.
A lot of people remain in the healthcare facility the night of surgical procedure and might require extra hospital days to recover from the surgery.
WHAT ARE THE EXPECTED OUTCOMES AFTER LAPAROSCOPIC EXCESSIVE WEIGHT SURGICAL TREATMENT?
HOW MUCH WEIGHT LOSS IS EXPECTED?
The success rate for weight reduction is reported as being slightly higher with gastric bypass surgery than the gastroplasty, sleeve gastrectomy, or gastric banding, however, all strategies show good to exceptional outcomes. The majority of reports show a 50% or greater excess weight loss after one year.
The effect of surgery on other clinical conditions due to surgical treatment of obesity has actually been reported to enhance conditions such as sleep apnea, diabetes, hypertension, and also high cholesterol. Numerous patients report an improvement in the state of mind as well as various other aspects of psychosocial behavior after surgical procedures.
WHAT COMPLICATIONS CAN OCCUR?
Although the procedure is secure issues may occur as they may accompany any kind of procedure. The immediate operative death rate for any of the laparoscopic obesity procedures is relatively low in the reported case (less than 2%). Other problems such as wound infections, injury failure, abscess, leakages from staple-line malfunction, perforation of the digestive tract, digestive tract blockage, marginal ulcers, pulmonary problems, as well as blood clots in the legs are a little greater. In the post-operative time, other issues may arise that may call for even more surgical treatment.
These issues consist of pouch dilatation, consistent vomiting, heartburn, or failing to reduce weight. In some individuals, alteration or reversal of the procedure is essential as well as difficulty rates with second surgery are higher.
Gallstones are generally seen in obese people. Signs from these gallstones are a common occurrence with weight loss. This should be gone over with your specialist and doctor.
After gastric bypass, deficiencies such as Vitamin B-12, folate, and iron may happen. Taking essential vitamins and also nutrient supplements can typically prevent them.
Preventing high sugar foods can stop these signs. After the malabsorptive operations, the same nutritional shortages that take place after stomach bypass might take place, in addition to protein deficiencies. Diarrhea or loose "stools" are additionally typical after malabsorption procedures depending on fat consumption.
Women that conceive after any of these surgeries need special focus from their medical professionals. In general, problem rates of the laparoscopic method are equal to or less than the standard, open procedures. Similar to any type of procedure, there is a threat of a problem. Nevertheless, the threat of among these problems taking place is no more than if the procedure was finished with the open method.
WHAT TO ANTICIPATE AFTER SURGERY?
You will generally be in the hospital 1 to 3 days after a laparoscopic procedure. You may have a tube through your nose as well as not be permitted to eat or consume anything until it is gotten rid of. You will require to participate in breathing workouts. You will certainly receive pain drugs when you require them.
On the very first of 2nd day after the surgical procedure, you might have an X-ray of your belly. The X-ray is a way for the surgeon to see if the stapling of the stomach is all right before starting to allow you to consume. If no leak or clog is seen (the normal case) after that you will certainly be permitted to have liquids every hour. The volume of fluid you drink will certainly be slowly raised. Some surgeons enable you to consume infant food or a "puree" kind of food. You will certainly remain on a fluid or puree diet till your doctor reviews you around 1-2 weeks after you return home. Patients are encouraged to walk and also take part in light activities. It is important to proceed with the breathing workouts while in the house after surgical procedures. Pain after laparoscopic surgery is typically moderate although some people may call for discomfort medicine. At the first follow-up see the doctor will certainly discuss with you any dietary adjustments.
After the procedure, it is important to follow your doctor's guidelines. Although many people really feel much better in simply a few days, remember that your body needs time to recover. You will possibly be able to return to most of your typical activities in one to two week's time. These activities include bathing, driving, walking up staircases, job, and light workout. You should also set up a follow-up visit within 2 weeks after your procedure.
WHEN TO CALL YOUR MEDICAL PROFESSIONAL
Be sure to call your doctor if you establish any of the following:
Persistent high temperature over 101F (39 C).
Bleeding.
Abdominal swelling or discomfort.
Nausea or Vomiting.
Chills.
Consistent coughing as well as shortness of breath.
Difficulty swallowing that does not go away within a few weeks.
Drain from any kind of incision.
Calf swelling or leg tenderness.
9 COMMENTS
Top