Useful Patient Information Regarding Laparoscopic Cholecystectomy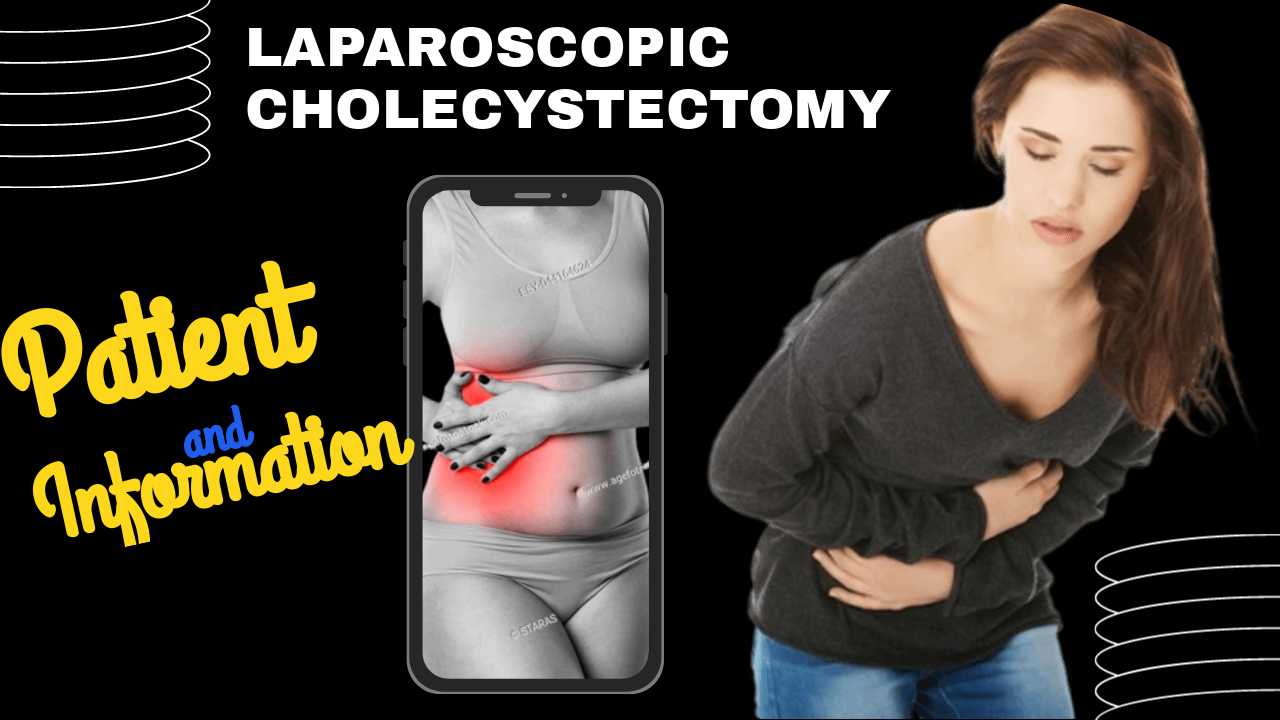 What is Gallbladder?
is a small pouch that sits just under the liver. The gallbladder stores bile, which is produced by the liver. After meals, the gallbladder is empty and flat, like a deflated balloon because it pushes bile by CBD in the duodenum. Before a meal, the gallbladder may be full of bile and about the size of a small pear. Your gallbladder is a tiny organ in your abdomen.
What is the use of Gallnladder in the body?
The gallbladder accumulates and also stores a liquid called bile that helps your body break down food. Small, stones can get formed in the gallbladder called gallstones. This is a common condition. If your gallstones trigger health issues, your doctor may do surgery to remove them. For instance, you might need a surgical procedure if your gallbladder is no more functioning correctly as well as you have discomfort. Your physician will certainly talk with you about this.
In the past, doctors made a huge cut (cut) in the belly to get rid of the gallbladder. This is called open surgical treatment. Today, surgeons can do this surgical procedure with tiny instruments and also just a few small cuts. This is called laparoscopic surgery, due to the fact that the main instrument is called a laparoscope. Minimally invasive surgery is a general term for surgical treatment with these small incisions.
What Creates Gallbladder Problems?
Gallstones are commonly the cause. These little stone deposits develop in the gallbladder. They can also enter into the bile duct, which connects the gallbladder with your intestines.
You are more likely to get gallstones if you:
You Are a lady,
Have had kids,
Are overweight, or
More than 40.
You may also get gallstones if other individuals in your house had them.
What are the signs of gallbladder problems?
Signs and symptoms can consist of:
Acute pain in your abdominal area,
throwing up,
Indigestion,
Fever, and also
Yellow skin due to jaundice is the clinical term for skin and also eyes that looks yellow. You may obtain jaundice if gallstones obstruct your bile duct.
How do doctors diagnose gallbladder problems?
Your physician will probably ask for a test called an ultrasound. It shows the inside of the body utilizing acoustic waves. You are awake throughout the examination, as well as it does not hurt. If you need a lot more examinations, you could have a CT scan or an examination called a HIDA scan.
How do medical professionals treat gallbladder problems?
Taking the gallbladder out is usually the very best method to treat gallbladder problems. You could have read about treatments to break up gallstones or make them dissolve. However, these do not usually function well.
What are the advantages of laparoscopic gallbladder surgery?
Smaller sized cut, Several (usually four) small cuts, each less than one inch long, instead of a 5- to 7-inch cut for open surgical procedure. Much less pain than after open surgery. Quicker recovery than open surgical treatment, You may go home the same day you have your surgical treatment. You can likewise go back to routine tasks quicker.
Is Laparoscopic Gallbladder Removal for You?
Laparoscopic gallbladder removal could be the appropriate option for you because it is one of the most typical kinds of gallbladder surgical procedures. It might not be an option if You have extreme gallbladder problems, or You had previously surgical treatment in your abdomen. Ask your family practitioner or other healthcare providers if this surgical procedure is right for you. You need to likewise talk with a doctor that is educated and qualified to do laparoscopic gallbladder surgical procedure.
Exactly how Should I Plan For Laparoscopic Gallbladder Removal?
You will certainly require a complete physical examination. You may require some tests to make sure you are healthy enough for surgical treatment. The specialist who will do your laparoscopic gallbladder elimination will certainly chat with you concerning the threats and also advantages of surgery. After that, you will certainly sign a form stating you comprehend as well as agree to the procedure. Your specialist's workplace will certainly inform you what to do and what not to do prior to surgery. The exact directions rely on your doctor, yet below are some typical things to do. Take a shower the evening prior to surgical treatment or on the same morning. Your specialist might ask you to take an antibiotic soap. Please do not cut your stubborn belly area. Quit consuming and also drinking at the time your physician tells you before surgery. The early morning of your surgical procedure, you may take medicines your doctor informed you are enabled. Take them with simply a sip of water. You may require to stop taking certain medicines prior to the surgical procedure. These consist of blood slimmers, supplements, as well as medicines that affect your body's immune system. Talk with your doctor when you arrange your laparoscopic gallbladder elimination. You will certainly need someone to drive you house from surgery. You will certainly likewise need a person to stay with you overnight. Ask your doctor or registered nurse just how much help you might need.
Exactly How is Laparoscopic Gallbladder Removal Done?
You will certainly have general anesthesia for your laparoscopic gallbladder removal. This means you are asleep throughout the surgical procedure. When the surgical procedure is finished, the doctor closes your incisions with tiny stitches, staples, surgical tape, or adhesive. These go away as you recover, so the doctor does not need to remove them later.
As soon as you are asleep, the surgeon makes an incision near your belly button and inserts a little gadget called a port. The port creates an opening that your specialist can use to load the abdomen with gas. This creates an area to do the procedure. Next, they place a small video camera through the port. The video camera shows the surgical procedure on a display in the operating room. When the surgeon can see clearly, they put in extra ports to insert long, slim tools. Finally, they gently disconnect your gallbladder and also take it out with among the incisions. Many operations require 3 or 4 lacerations, yet some have much more.
Your specialist could make use of a surgical robot to do your operation. It is done the same way as the description above. Your physician overviews the robotic instead of guiding the instruments by hand. This is frequently described as robotic surgery.
You might have a specialized X-ray of your gallbladder and bile air duct throughout the surgical treatment. This X-ray can find gallstones in the common bile duct. If you have them, the specialist may need to do additional procedures during the surgical treatment. Or you might need another procedure to eliminate them later.
It is extremely important to find out about your doctor's training and also experience prior to your surgical procedure. Inquire about their experience doing laparoscopic gallbladder removal and open gallbladder surgery.
What happens if I Cannot Have Laparoscopic Gallbladder Elimination?
A couple of people cannot have laparoscopic gallbladder removal. You may need to get open surgery if you are one of these individuals.
Some reasons for having or changing to open up surgical treatment are:
Your gallbladder has a lot of damages, such as scars or swelling.
You have mark cells in your abdomen from an earlier surgery.
You have obesity and this indicates being extremely overweight.
The surgeon is not able to see extremely well inside your body with the laparoscope.
You have bleeding issues throughout the surgical treatment.
They will certainly switch if an open surgical procedure is the safest choice for you. Your surgeon may not know this till after the laparoscopy starts. They will use their best judgment regarding the safest surgical treatment for you.
What are the Complications of Laparoscopic Gallbladder Removal?
You will possibly return to typical activities within one week. Complications are issues that take place during healthcare or after it. The majority of people that have laparoscopic gallbladder elimination have a couple of difficulties or none in any way. Problems of laparoscopic gallbladder removal (cholecystectomy) do not take place often. They can include blood loss, infection in the surgical area, ruptures, embolism, as well as heart problems. A hernia is when a percentage of your gut (intestinal tract) or other tissue protrudes with the muscle mass that covers it.
You must likewise know that any type of surgery has the threat of harming various other body components. This is not most likely, yet it is possible. Gallbladder surgery could harm close-by locations such as the typical bile duct, large intestine, or small intestine. You might require additional surgical treatment if this occurs. Bile might leak right into the abdomen after gallbladder surgery. Most difficulties from gallbladder surgical treatment are rare, which means they almost never occur. If you are worried about any kind of problem, ask your specialist.
What should I expect after laparoscopic cholecystectomy surgery?
You can most likely go home the day you have your surgical procedure, or you may remain in the healthcare facility overnight. You require to be able to consume fluids prior to going home.
Will I be in pain?
You will really feel some discomfort after surgery. Discomfort at the cut-sites as well as in your abdominal area. You could additionally have discomfort in your shoulders. This is from the air put into your abdominal area throughout the procedure. The shoulder pain goes away in 24 to 48 hours.
You can take non-prescription medicines to relieve discomfort unless your doctor informs you not to. Acetaminophen and also advil are instances of non-prescription pain medicines. Placing ice on your incisions can additionally help. Ask your doctor or registered nurse regarding the correct means to make use of ice.
You might feel unwell (nauseated) or regurgitate (vomit) after your surgical procedure. Having surgery and anesthesia can make this. You need to really feel much better in a day or more. Inform your medical professional or nurse if you are throwing up or feeling nauseated.
What activity I can do?
You should be as active as your body enables. Medical professionals suggest walking. You can go up and down stairways on the day of your surgical treatment. The next day, you might take your plasters off, if you have them, and shower. You can anticipate feeling a little much better every day after going to a residence. If not, please call your physician.
You can most likely return to normal activity concerning a week after laparoscopic gallbladder removal. If you do physical work with heavy training, ask your physician when you can go back to work. You can drive 24 hours after you had anesthesia if you are not taking narcotic pain medications.
If you had an open surgical treatment with a huge cut, you require more time to recover. You will probably require to stay in the healthcare facility for a couple of days after the surgical procedure. Expect to return to full activities in 4 to 6 weeks. You will possibly recover a lot more slowly in various other means, as well. Your medical professional can inform you what to anticipate. You require to see your specialist 2 to 3 weeks after surgery.
When to seek the immediate help of a surgeon after laparoscopic cholecystectomy surgery?
Make sure to call your surgeon or family physician if you have any one of the problems listed below.
High temperature over 101 levels F (38.5 C).
Severe pain or swelling in the stomach.
Yellow skin (jaundice).
Nausea or vomiting
If you cannot eat or drink.
Blood or pus coming from any one of the tiny cuts in the surgical procedure area-- Or soreness that spreads out or worsens.
Pain that your medications do not aid.
Breathing troubles or coughing do not get better.
9 COMMENTS
Top