Patient Information Brochure of Endoscopic Retrograde Cholangiopancreatography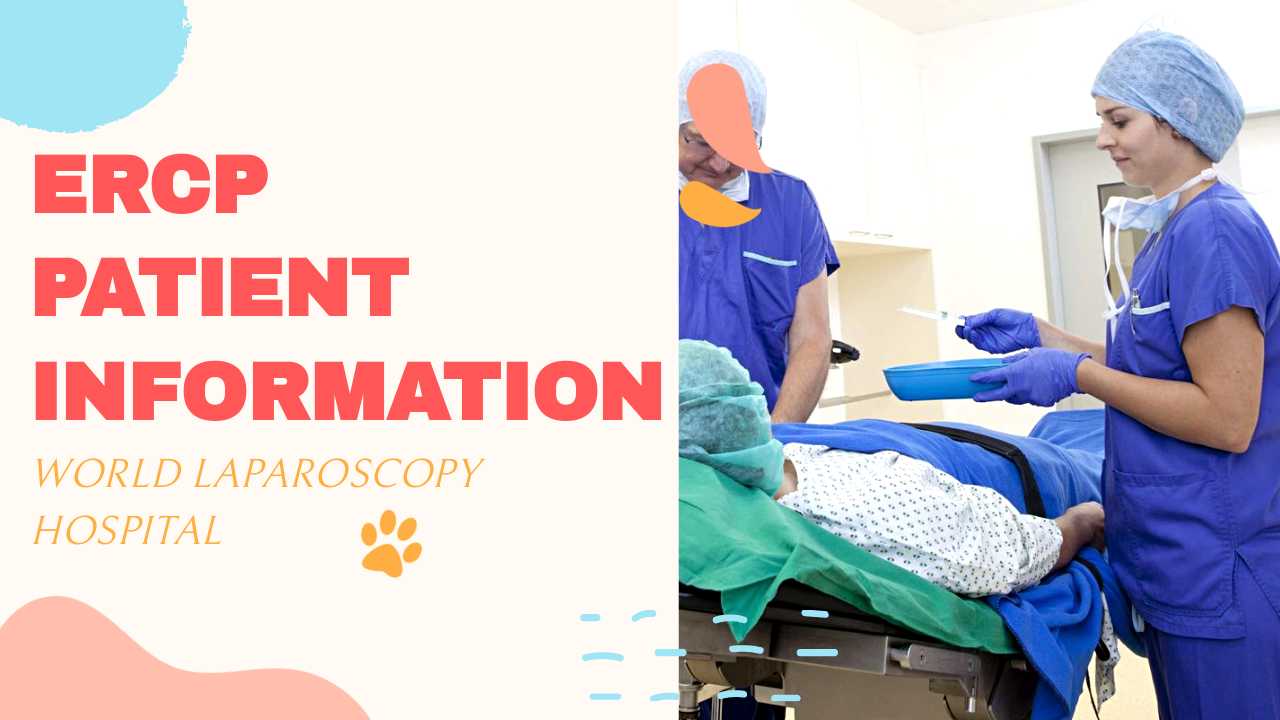 What is ERCP? (Endoscopic Retrograde Cholangio-Pancreatography).
ERCP is a treatment that enables your doctor to see the tiny tubes inside your body called the pancreatic as well as biliary ducts. These tubes are near your abdomen. These tubes carry digestive juices from your liver and pancreas to the intestines.
For ERCP, your physician makes use of a flexible lighted tube called an "endoscope." The endoscope, or scope, is about the thickness of your index finger. It goes through your mouth right into your tummy as well as the very first part of the small intestine, known as the "duodenum." After that, the medical professional put a really small, flexible plastic tube via the extent and infuses some dye that appears on X-rays. This treatment enables your doctor to see the ducts and how well they are functioning.
Why is ERCP done?
Physicians do ERCP to discover as well as deal with issues in the pancreatic duct and also bile duct. As an example, you might have ERCP if your physician believes a disease of the pancreas or liver or a problem in the bile ducts. You may additionally have ERCP to discover the source of abnormality arise from a blood examination, ultrasound, or CT scan or to repair an issue that was determined on one of these tests. Ultimately, ERCP can aid your physician to choose if you require a surgical procedure and if so, which surgery is best.
One of the most usual reasons for ERCP consists of:
Jaundice, Stones in the bile or pancreatic duct, A lesion or growth in the pancreatic, gallbladder, or liver. Your medical professional may do ERCP prior to or after the gallbladder surgical procedure in detailed situations. For example, they can discover and also eliminate gallstones from the bile duct and in some cases from the pancreatic. ERCP can likewise assist locate cancer or non-cancerous lesions. If your bile duct is obstructed, your medical professional can make use of ERCP to place in a little plastic tube called a "stent". This maintains the duct open as well as the digestive juices flowing. Lastly, ERCP can help locate and also treat troubles following gallbladder surgical treatment.
Prior to the Procedure/ Preparing Yourself for ERCP.
ERCP is carried out in a hospital, clinic, or medical facility. It is frequently finished with sedation. You are not asleep throughout the treatment, but you take medicines called "sedatives" that make you relaxed and also sleepy.
Occasionally ERCP has to be done under basic anesthesia, with you totally asleep. If you need basic anesthesia, your medical professional will discuss it with you. You might need a complete physical examination. You could also need some tests to make certain you are healthy sufficient for surgical procedures.
The surgeon who will do your ERCP will talk to you concerning the risks and benefits of the procedure. After that, you will certainly authorize a kind claiming you comprehend and also agree to the treatment. Your specialist's workplace will certainly tell you what to do as well as prevent before surgical procedures. The specific directions depend upon your surgeon, but below are some typical things to do.
You will be asked to avoid drinking or eating for a certain time before surgery. Take a shower the evening prior to or the early morning of your procedure. Your doctor may ask you to make use of an antibiotic soap. On the morning of your procedure, you may take particular medicines your doctor has actually permitted. Take them with just a sip of water. You may be asked to stop taking particular drugs prior to your surgery. These include blood thinners, particular supplements, as well as medications that influence your body's immune system. You might be asked for the past history of any iodine dye allergies
Exist any alternatives to ERCP?
Occasionally, these issues can be resolved by radiology procedures or more advanced procedures using cams and devices by open or laparoscopic surgery, yet ERCP is extra frequently used because it is less intrusive than surgery and it has a high price of success.
What to Expect Throughout the ERCP.
A registered nurse may spray your throat with an anesthetic before the examination begins. This will numb your throat to prevent you from gagging (choking) as well as make you more comfortable. You will obtain sedative medication via an IV. If you require a general anesthetic for an ERCP, you will certainly be totally asleep for the treatment.
You will certainly be lying on a table for this procedure which enables x-rays to be taken. Your doctor puts the endoscope into your mouth. After that, they pass it down your throat (esophagus) to the stomach as well as the initial part of your small intestine, the duodenum. The endoscope does not impact your breathing, as well as you might also sleep throughout the procedure. If you do feel discomfort, it will most likely be minor. As an example, you could feel slightly puffed up from the air your medical professional makes use of to pump up the duodenum. You might also feel small pain when your medical professional infuses dye for the x-rays.
ERCP usually lasts half an hour to an hour. Your treatment might take more or less time depending on what your doctor needs to discover and do. You can chat with your medical professional beforehand concerning how much time it could take.
What Happens after ERCP?
You stay in the procedure location for 1 or 2 hrs after your ERCP, till the sedatives wear away. After that, you can have someone drive you home. You will probably want to spend the rest of the day relaxing in your home. You may consume usually as well as take your routine medications after the treatment unless your medical professional tells you not to. You could have a sore throat for a day or more. You may need to spend the night in the medical facility after the treatment. If so, your physician will certainly review it with you.
When will I learn my ERCP outcomes?
Your medical professional will normally tell you the ERCP results on the day of the procedure. It might take numerous days to get all the info if your medical professional took a little sample of tissue, called a biopsy. These results take longer because a research laboratory needs to take a look at and check the tissue. Ask your medical professional regarding the very best means to learn your biopsy results.
ERCP complications?
ERCP is risk-free when your medical professional has actually had specific training as well as is experienced at doing this specialized treatment.
One of the most usual complications after ERCP is a condition called "pancreatitis." This takes place when the duct to the pancreatic is aggravated by the X-ray dye or small plastic tube made use of in ERCP. This can trigger stomach pain that becomes worse instead of much better after the procedure.
Other complications are possible if your physician did any type of therapy during your ERCP, such as eliminating stones or placing them in a small drain called a stent. These treatments have a small risk of creating blood loss or making a hole in the intestine or bile duct. People who have bleeding after the procedure may need a blood transfusion to change the lost blood, yet this is unusual. Another very unusual threat is the threat of infection transmission from ranges.
It is important for you to know the early indications of possible difficulties. Call your doctor instantly if you have any of the troubles below after ERCP.
Serious abdomen pain.
Fever.
Chills.
Vomiting.
Blood in your feces.
5 COMMENTS
Top