Learn about Inguinal Hernia - Patient Information Brochure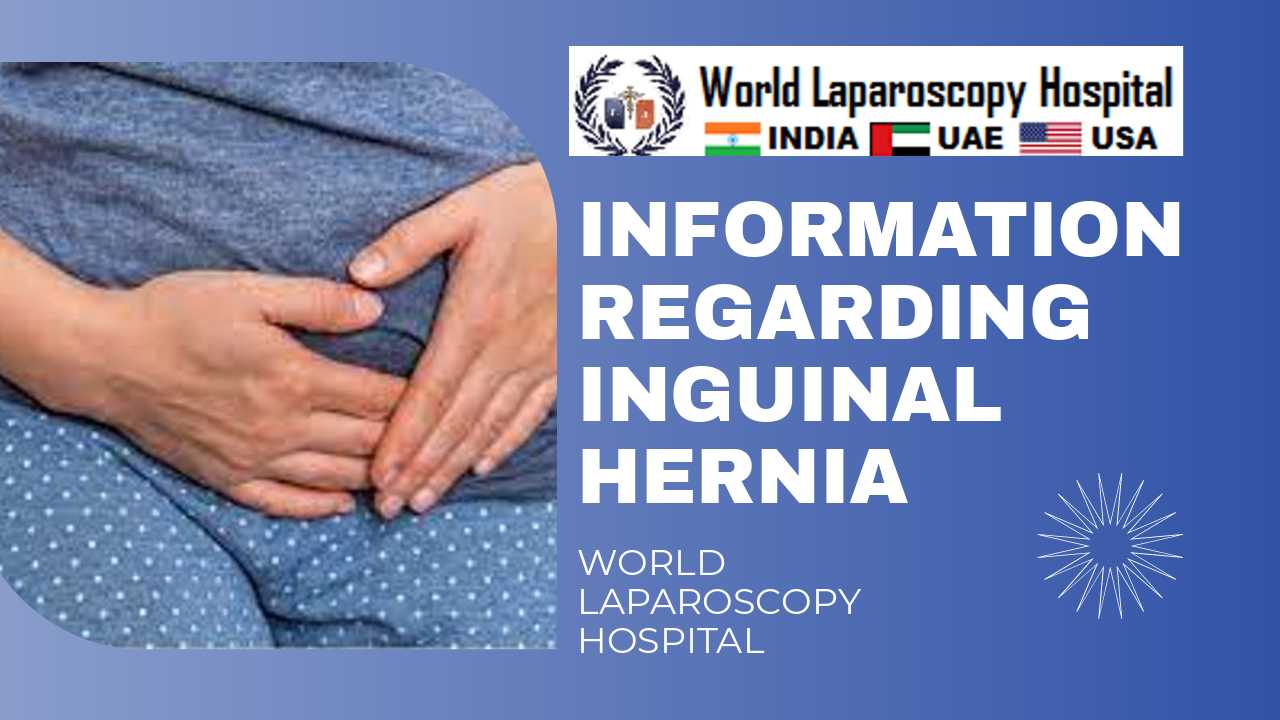 WHAT IS A HERNIA?
A hernia occurs when the inner layers of the abdomen are weakened, resulting in a lump or tear resulting in the internal lining of the abdomen pushed via the weak area of the abdominal wall resulting in a balloon-like cavity. This can enable a loop of the intestinal tract or stomach tissue to bulge into the tear formed. In some people, the hernia can trigger discomfort, pain, or other possibly serious problems that need emergency situation surgical procedures.
INGUINAL HERNIA REPAIR:
Some are done by an open technique. Some hernia repairs are executed using minimally invasive surgery, such as with a tiny telescope referred to as a laparoscope or using robotic surgery. If your surgeon has advised you of a hernia repair surgery, this article can help you to understand inguinal hernia as well as what are your treatment choices.
Both males and females can get hernias. You might be born with a hernia called congenital hernia, or establish one over time called an acquired hernia. A hernia does not get better over time, nor will certainly it deal with itself. There are no workouts or physical treatments that can cure a hernia. Control of some threat elements might help in reducing symptoms of a hernia. Hernia might become bigger with time if left unaddressed.
HOW DO I RECOGNIZE IF I HAVE AN INGUINAL HERNIA?
Most hernias are identifiable as a bulge at the groin area. You may feel discomfort or pain at the site of hernia while performing certain activities, such as moving hefty objects, coughing, stress throughout urination or with defecation, and with extended standing or sitting. The discomfort may be dull and might worsen towards the end of the day.
Some hernias may be detected by your doctor on a regular health examination or with imaging. You might find this lump coming and going. If the protruding is no longer reducible as well as is protruded or there is extreme pain, with soreness and inflammation at the hernia site, these are important signs. These symptoms might be a trigger for concern and also you need t contact your doctor and get an immediate assessment done.
WHAT TRIGGERS AN INGUINAL Hernia?
The wall surface of the abdominal area has a weak wall. Hernia can occur in these or other locations as a result of stressing, aging, injury, a prior incision, or a weak point present from birth. Any individual can get a hernia at any kind of age. Many hernias in kids are genetic. In adults, an all-natural weak point, hefty lifting, relentless coughing, stressing with defecation or peeing, can create the abdominal wall surface to weaken, tear, or separate in these areas.
DO ALL INGUINAL HERNIAS REQUIRED TO BE REPAIRED?
Inguinal hernias are typically treated if they are creating signs and symptoms which influence daily tasks. Inguinal hernias which do not create signs or symptoms may be observed, though the bulk will certainly cause signs within a couple of years. Surgical treatment is not the very best choice based on your medical conditions, as well as might suggest a truss. A truss is an outside belt that can hold the hernia in, therefore permitting you to continue with your day-to-day activities.
WHAT ARE THE DIFFERENT SORTS OF INGUINAL HERNIA REPAIR WORK?
Inguinal hernias may be repaired utilizing either open or minimally invasive surgery. Nowadays Robotic Surgery is also performed for Inguinal Hernia. Laparoscopic repair of inguinal hernia is repaired by either TEP or TAPP.
WHAT ARE THE BENEFITS OF MINIMALLY INVASIVE INGUINAL HERNIA REPAIR?
Robot and also Laparoscopic hernia Fixing are methods that utilize little incisions, narrow surgical instruments, and also usually making use of mesh. Patients undertaking minimally invasive fixings typically take advantage of simpler healing, much shorter go back to function, and typical tasks, as compared to open repair.
ARE YOU A CANDIDATE FOR A MINIMALLY INVASIVE INGUINAL HERNIA REPAIR?
Just after an extensive assessment, your doctor can establish whether a minimally intrusive hernia repair service is an alternative for you. The procedure may not be best for some people, such as those with previous major stomach procedure or those with specific hidden clinical conditions.
WHAT PREPARATION IS REQUIRED?
To prepare for your surgery, you will need a checkup. You may require various other examinations to see to if you are healthy and balanced to go through the procedure with anesthesia.
The doctor who will certainly do your hernia repair service will certainly inform you regarding the risks and advantages of the procedure. You will certainly authorize a form validating you comprehend and also agree to the intended procedure.
Your hospital will advise you concerning what to do as well as stay clear of before your procedure. The exact directions depend upon your surgeon, but below are some common points to do:
Take a shower the evening prior to or the early morning of your procedure. Your doctor may ask you to make use of an antibiotic soap. Please DO NOT shave your stubborn belly or groin areas. Stop eating and also drinking at the time your doctor tells you before the procedure. On the morning of your operation, you may take particular medicines your doctor has actually permitted. Take them with just a sip of water. You may be asked to stop taking particular drugs prior to your surgery. These include blood thinners, particular supplements, as well as medications that influence your body's immune system. Talk to your surgeon to make clear which of your drugs and also tablets are risk-free to take. Smoking will increase the threat of hernia reoccurrence, and also the danger of infection. In certain cases, your surgeon may require you to stop cigarette smoking a minimum of 4-6 weeks prior to your procedure in order to boost your outcomes. You will certainly need somebody to drive you home from surgery. Ask your physician or registered nurse how much assistance you might need after you are home.
HOW IS THE OPERATION PERFORMED?
Inguinal hernia repair service surgery can be carried out under anesthesia. Minimally invasive inguinal hernia repair frequently requires general anesthesia.
The procedure is carried out in one of 3 approaches:
The open approach is an operation entailing a cut in the groin or the lower abdominal area. The cut will certainly expand through the skin as well as fat, and also enable the specialist to reach the degree of the muscular tissue. The hernia is repaired at this level. The specialist might use an item of medical mesh to cover the defect or hole. Your doctor can talk to you about numerous fixing options and also using mesh. The skin as well as other tissue layers are then closed.
The laparoscopic strategy is an operation including several tiny cuts on the abdominal area. The laparoscope (a camera), is inserted with a cannula (a hollow tube) placed through these incisions. Other cannulas are positioned in the various other incisions as well as your doctor will after that work "inside" using special instruments. The hernia is fixed from within. A piece of medical mesh is placed to cover the hernia problem. The mesh may or might not be fixed in place making use of staples, adds, adhesive sealer, or sutures. This operation is typically carried out under basic anesthetic.
The robotic technique resembles the laparoscopic repair service, other than that the cosmetic surgeon utilizes a robotic-assisted laparoscopic system as well as instruments to perform the operation.
WHAT SHOULD I EXPECT AFTER SURGICAL TREATMENT?
A lot of hernia procedures are done on an outpatient basis, and therefore you will most likely go home on the very same day of the procedure. After completion of the procedure, you will certainly be transferred to the recovery room where you will be checked until you are totally awake.
WHEN TO CONTACT YOUR DOCTOR?
Be sure to call your physician or specialist if you establish any of the following:
Fever over 101 levels F (39 C).
Feeling very Cold.
Bleeding or another drain from your laceration( s).
Foul-smelling water drainage (pus) from any cut.
Inflammation bordering any of your incisions that is intensifying or getting bigger.
Abdominal or groin swelling.
Nausea or vomiting, throwing up, and/or lack of ability to consume or consume fluids.
Failure to pee.
Discomfort that is not alleviated by your discomfort medicines.
Coughing or lack of breath.
6 COMMENTS
Top