Most Important Patient Information Regarding Adrenal Gland Surgery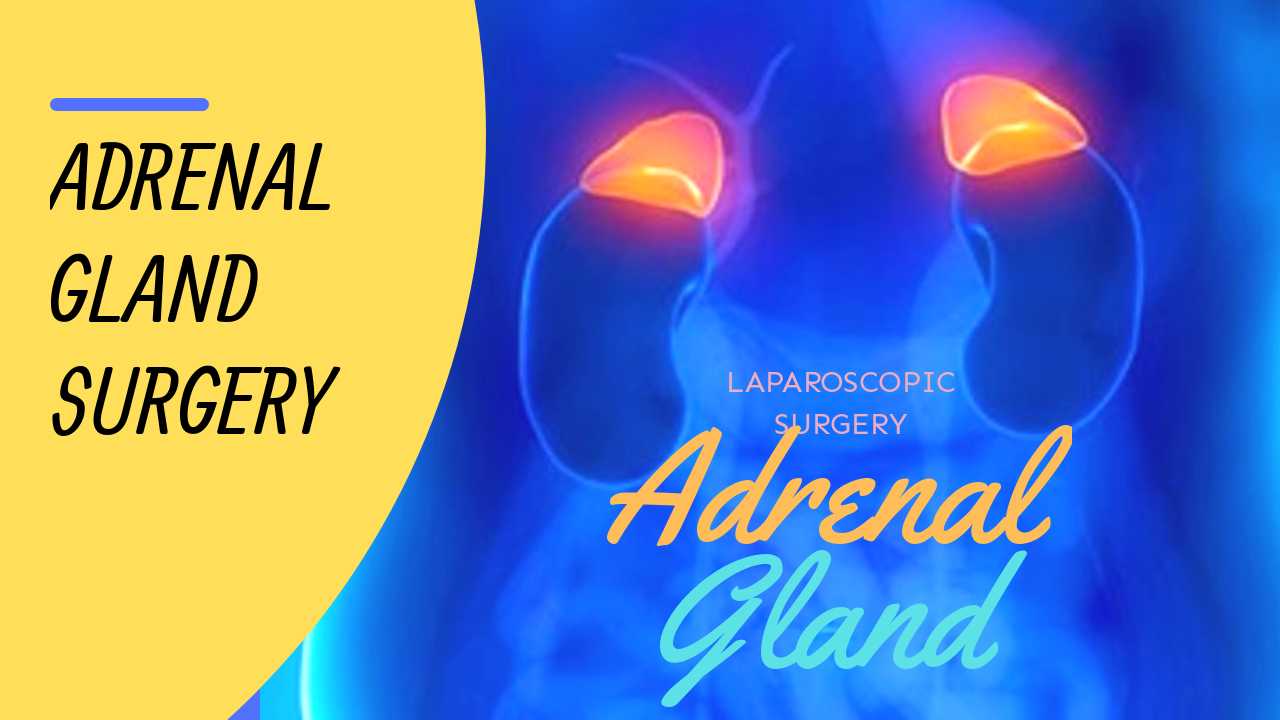 What are the adrenal glands?
Your adrenal glands are two tiny organs in your upper abdominal area. Each of them is the size of your thumb and formed like a triangular. You have one above each of your kidneys.
What do the adrenal glands do?
The adrenal glands make hormonal agents that your body requires to function correctly. These hormonal agents help manage your high blood pressure, blood sugar level, and also "fight or flight" reactions sometimes when under stress. They also make male as well as female hormonal agents.
What triggers adrenal gland problems?
One of the most typical reasons for adrenal gland troubles is an abnormal growth in the gland. The growth is typically little and benign (not cancer cells). Nonetheless, it can make additional hormones that cause health issues. Tumors can likewise cause troubles if they are big or could become malignant (cancerous). The good news is, these are rare.
What are the symptoms of adrenal gland issues?
Signs are different depending upon the sort of growth. Below are the symptoms of one of the most common kinds of adrenal gland lumps. Signs and symptoms as well as indications of adrenal tumors that make additional hormonal agents:
1)Pheochromocytoma
Serious headache
Sweating
Stress and anxiety
palpitations
increased heartbeat
Hypertension.
2)Aldosteronoma.
High blood pressure.
Low potassium in the body
Weakness
Fatigue
Muscle pain
increased frequency of urination
3)Cushing syndrome.
Gaining weight on the face and abdomen
Thinner skin.
Stretch marksMenstrual cycle problems
High blood pressure.
High blood glucose levels.
Adrenal gland cancers cells are unusual growths. They are frequently larger than expected when surgeons locate them. They often require to be removed with open surgery with one large cut.
Exactly how do medical professionals discover abnormal adrenal glands?
Doctors find adrenal gland growths when they cause signs. But some adrenal gland growths do not cause symptoms. Physicians might locate them accidentally due to a CT scan to seek another disease.
These growths could be any one of the kinds provided above. Or, they could not make any kind of hormones in all. A number of these lumps which don't generate hormones do not need to be gotten rid of. Your medical professional may just wish to get blood tests or urine tests done once more later on. The lump may require to be gotten rid of if:
Blood or urine examinations show it is making additional hormones. It is larger than 2 inches across (4 to 5 centimeters). Your physician assumes it might be cancer.
I have an adrenal gland growth. What now?
If your medical professional finds an adrenal gland tumor or thinks you may have one, you might require blood and urine examinations. These will reveal if the tumor is making any hormonal agents. You may likewise need imaging examinations, such as a CT scan, MRI, or various other scans to locate the growth.
Exactly how do physicians treat adrenal gland issues?
If the tumor is little as well as not causing health issues, your doctor could simply check it with repeat blood or urine examination and a check each year. If it is large, might be malignant, or makes extra hormonal agents, your physician will probably suggest surgery to remove it. Laparoscopic Adrenal Gland Removal.
What are the advantages of laparoscopic adrenal gland removal?
In the past, getting rid of the adrenal glands meant a huge incision on the abdomen. Today, physicians usually do minimally invasive surgery. They utilize small tools as well as a camera positioned inside your body through several tiny incisions. "Laparoscopic surgical procedures" are another name for this kind of surgery. The benefits consist of:
Much lesser pain after surgery.
Much lesser time in the hospital- you might go home in a day.
Quicker go back to function as well as other activities.
Smaller-sized scars. The lower threat of troubles during healing.
Your surgeon could utilize a surgical robotic to do your operation. It is done similarly to the description. Your medical professional overviews the robotic rather than leading the tools by hand. This is commonly referred to as a robotic surgical procedure.
Is laparoscopic adrenal gland removal right for you?
Laparoscopic adrenal gland removal has several advantages. Nevertheless, it could not be a choice if:
The tumor is very large.
You are quite obese.
The doctor thinks open surgical treatment is much safer for various other factors.
look for a surgeon that is trained and certified in laparoscopic adrenal gland elimination. Locating a skilled doctor is essential since adrenal gland surgical treatment is not common. The surgeon and your family practitioner can help you determine if this procedure is right for you.
How should I prepare for laparoscopic adrenal gland removal?
You will certainly need a complete health examination. You may require some tests to see if you are healthy enough for surgery.
The surgeon who will do your laparoscopic adrenal gland elimination will certainly talk with you regarding the threats and benefits of surgical treatment. Then you will certainly sign a kind stating you recognize as well as agree to the procedure. Your doctor's office will tell you what to do as well as avoid prior to surgical treatment.
The specific instructions depend upon your doctor, however here are some common points to do:
Shower the evening prior to surgical treatment or the very same early morning. Your specialist could ask you to make use of an antibiotic soap and avoid eating and also drinking at the time your medical professional tells you before surgery.
In the early morning of your surgical treatment, you might take medicines your medical professional informed you are enabled. Take them with just a sip of water. You could need to stop taking certain medications prior to surgery. These include blood thinners, supplements, and also medicines that impact your immune system. Speak with your specialist when you arrange your laparoscopic adrenal gland removal.
Ask your medical professional or registered nurse how much aid you may require after going to residence from the hospital. You may require to begin drugs to manage the signs of the tumor before surgical procedure. Right here are examples of different types of tumors. If you have a pheochromocytoma, you require to start taking medicines to manage your high blood pressure and heart rate.
If you have an aldosteronoma, you could require to take potassium. This sort of tumor can cause low degrees of this crucial electrolyte. If you have Cushing syndrome, you require added cortisone medicine on the day of the surgical procedure. You will require extra cortisone medicine until your continuing to be adrenal gland is functioning normally again. This typically takes a couple of months.
Regarding Laparoscopic Adrenal Gland Removal.
How is laparoscopic adrenal gland removal done?
You will have a basic anesthetic for your surgery. This indicates you are asleep throughout the surgical procedure. As soon as you are asleep, the specialist makes an incision in the belly and also inserts a tiny instrument called a port. This resembles a small tube. Next off, they place a little video camera via the port. This is the laparoscope. The video camera shows the surgical procedure on a screen in the operating room. When the doctor can see clearly, they are placed in more ports to place long, narrow instruments. These enable your specialist to delicately divide the adrenal gland from its attachments.
After the adrenal gland is totally free, the surgeon puts it in a tiny bag. Then they remove it through one of the skin incisions. Your surgeon almost always needs to remove the whole adrenal gland. This helps see to it all the growth is gotten rid of. Ultimately, the small incisions are stitched. It is essential to know about your surgeon's training and experience prior to your surgery. Inquire about their experience doing both laparoscopic as well as open adrenal gland removal.
What are the possible issues of laparoscopic adrenal gland elimination?
Complications of laparoscopic adrenal gland elimination can include:
A reaction to a general anesthetic.
High or low blood pressure.
Blood loss.
Injury to neighboring organs.
Infection or issues with your lacerations healing.
Embolism, cardiovascular disease, and also complications with your lungs can hardly ever happen hereafter surgical treatment.
5 COMMENTS
Top