Laparoscopic Linear Stapler


The laparoscopic linear stapler is a very useful device for tissue approximation. A staple is made available in various sizes and heights so that the surgeon can choose the one that provides appropriate homeostasis/tissue apposition without significant ischemia or tissue destruction. Dimensions of commonly available staple cartridges that are used to accommodate different tissue thicknesses for appropriate tissue management is shown in the image below.
   Color of staple cartridge used for different tissue thicknesses  

 Endoanchor and tacker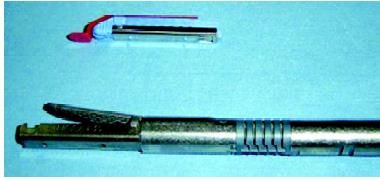 The jaw of a stapler  
Laparoscopic surgical instruments are extremely variable and an increasing number of instruments are being designed for a specific application. Instruments are getting complex with greater functionality and freedom of movement. Such instruments reflect the trend towards the automation of the procedure. In the future, such developments ultimately will lead to full robotization.
 If the closed staple height is too high, then it may inadequately oppose the tissues and result in leakage, bleeding, and/or dehiscence. Conversely, if the staple height selected is too low, then ischemia, serosal shearing, or "cheese wiring" may result, potentially leading to leakage or frank necrosis. There are at least three staple heights for most linear staplers. Most modern laparoscopic staplers bend each staple into a B-shape staple form, which helps to secure the tissue in place. However, malformed staples can occur because staple leg bending depends on several tissue/stapler characteristics including tissue thickness, tissue viscosity, staple height, and other staple properties (thickness, bending characteristics, type of metal, etc). Staples are designed to form consistently, and staples that are not forming as intended should be investigated.  
Echelon Flex Endopath Staplers
The Echelon flex endo-path staplers designed to deliver reliable performance across a wide range of tissue types and thicknesses on a one-handed, easy to use platform. Enhanced system-wide compression aids in proper staple formation, which is necessary to achieve a leak-resistant and hemostatic staple line. Compression before firing gently exudes fluid from targeted tissue before firing.
  Endopath articulating endoscopic linear cutters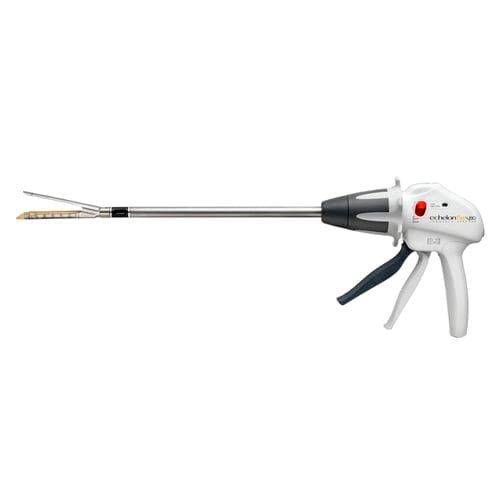 Endopath articulating endoscopic linear stapler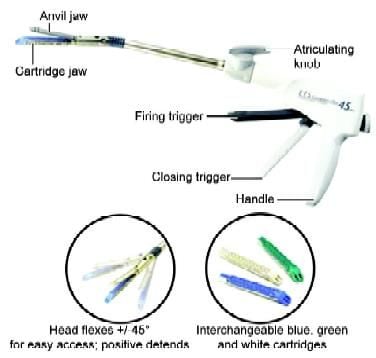 Endopath ETS compact-flex45 articulating endoscopic linear cutters
Tri-Staple
 Covedian Endo GIA articulating endoscopic linear stapler cartridge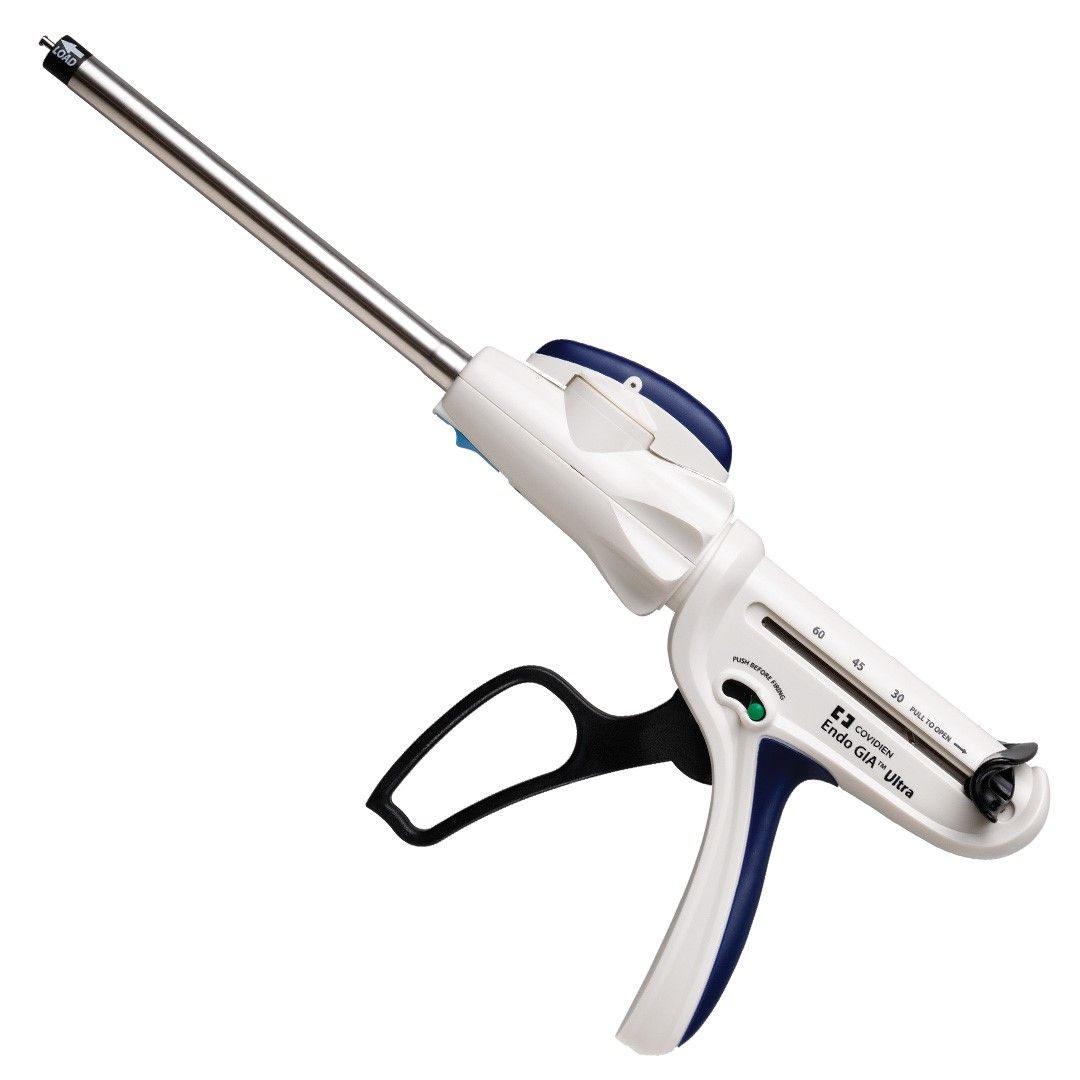 Covedian Endo GIA articulating endoscopic linear stapler Gun
Endo GIA articulating endoscopic linear stapler and Tri-Staple is Covedian product and it is designed to work in harmony with the natural properties of tissue to optimize performance before, during, and after stapling. With its stepped cartridge face, Tri-Staple technology delivers optimum tissue compression, optimizing the interaction between the tissue and staple. It has the following advantages:
•    Generates less stress on tissue during compression and clamping
•    Allows greater perfusion into the staple line
•    Provides superior performance in variable thicknesses
Tri-Staple™ technology improves staple line strength, leak resistance, and hemostasis when compared to the universal reloads. No single stapler can address the wide range of tissue management issues surgeons face on a daily basis. The current review focused on bariatric, thoracic, and colorectal studies. It was shown that different types of tissues have different thicknesses and biomechanical properties that may require the use of staples of different heights or the use of a different type of stapler (linear versus curved versus circular) to construct a stable anastomosis. Each tissue type has its own challenges, and the pathology of the tissue must also be taken into account.