Fallop Ring Applicator
Fallop ring applicator is used for the application of a Silastic ring to perform tube ligation. These may be fitted with one or two silastic rings.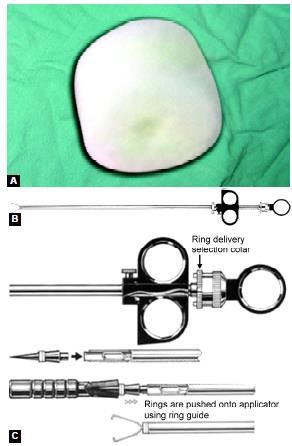 (A) Fallop ring; (B) Fallop ring applicator; (B) Handle of fallop ring applicator (Mechanism)
Myoma Fixation Screw
When performing a laparoscopic myomectomy, it is difficult to stabilize a smooth, hard fibroid. This is used to fix the subserous or intramural myoma at the time of laparoscopic myomectomy. Myoma screw can also be used to fix and retract big size uterus at the time of laparoscopic hysterectomy.
    Myoma Screw