Prof. Dr. R. K. Mishra. MRCS,M.MAS (U.K).
Download The Video of Two Port Cholecystectomy
Laparoscopic cholecystectomy is now the procedure of choice for surgeons in all the gall bladder stone diseases and there is increase in the minimal access surgical skills of surgeons with newer equipment. Normally the laparoscopic cholecystectomy is performed by using four ports or three ports technique. Two ports laparoscopic cholecystectomy is rarely performed as it demands greater expertise and laparoscopic skills. This laparoscopic technique is less expensive and less scar formation than four port conventional laparoscopic cholecystectomy. Stryker Mini Aligator can be used as one of the instrument to support the antero-lateral traction of gallbladder.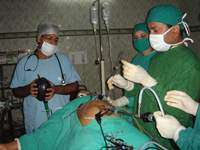 Laparoscopic Cholecystectomy is the gold standard for the treatment of gall stone disease. The operation is routinely performed using four or three ports of entry into the abdomen. Nowadays Single Incision Laparoscopic Cholecystectomy is more popular but at World Laparoscopy Hospital we have performed first two port cholecystectomy in 2002. Two port cholecystectomy does not need any SILS port and articulating instrument. We developed special knot for this surgery and since then we frequently perform Laparoscopic Cholecystectomy by Two Port.
We have developed a new technique of performing two port cholecystectomy with the help of modified extra corporeal Meltzer's knot. With this technique we can give traction over the gallbladder in any direction for proper exposure. This new innovative two-port method of gallbladder removal can be used only for simple uncomplicated cholelithiasis cases by experienced surgeon, but it has definite advantage over conventional four port cholecystectomy.
Needle is introduced through epigastric port and passed through the fundus of G.B.
Thread Pulled out through intercostal space by suture passer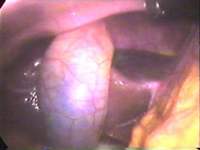 Extra corporeal Knot is being applied over Fundus to retract the gallbladder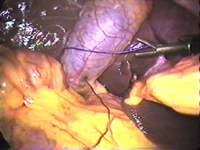 Another extra corporeal knot is applied over harts man pouch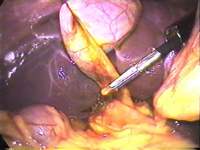 Suture is pulled out by the help of suture passer
Appropriate traction given by balancing both the thread to expose gall bladder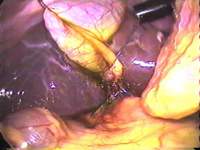 Extracorporeal Meltzer's knot is applied over cystic artery and duct
The knot of cystic duct was used to pull the cut end upward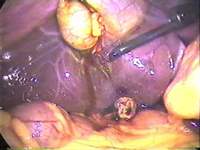 Hook is used to dissect gall bladder from gall bladder bed.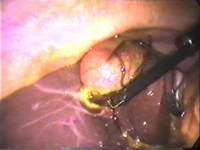 Periodic adjustment of traction of these is required to expose the G.B. bed
Last attachment of G.B. with liver is cut carefully
G.B. is out and taken through epigastric port.
Patients undergoing two port cholecystectomy had a better resumption of diet and less postoperative pain. Two-port cholecystectomy is technically feasible and may further improve the surgical outcomes in terms of postoperative pain and better cosmetic value. It can be considered for routine practice by surgeons who are familiar with the two-port laparoscopic cholecystectomy technique. World Laparoscopy Hospital is one of the pioneer institution of the world where two port cholecystectomy is being routinely performed. Dr. Mishra has developed a unique technique with extra corporeal knot to perform this two port laparoscopic cholecystectomy surgery.