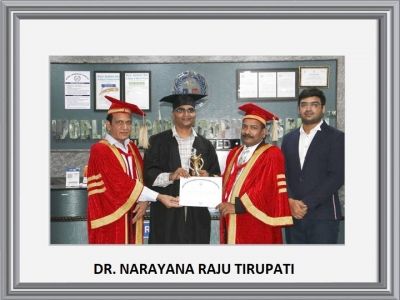 Dr. Narayana Raju Tirupati
Jul 1st, 2021 - Jul 14th, 2021
Biography:

CURRICULUM VITAE

Name: Dr. Narayanaraju Tirupati.
E-mail: rajugmc99@gmail.com
Date of Birth: 28-08-1981
Contact No.: +91-9948324466
Languages: English, Hindi, Telugu.

WORK EXPERIENCE:

1 Worked as Duty Medical officer In CNR Diagnostics from May 2007 to February 2011.
2 Worked as civil assistant surgeon in primary health center Bengaluru, Andhra
Pradesh, from March 2011 to June 2015
3 Worked as General Surgeon in Tejaswini Hospital Warangal from July 2018 to
September 2020.
4 Done observership in Healing Hands Pune in Proctology from October 2020 to
December 2020.
5 Working in Neelima Hospital Motinagar as General Surgeon since April 2021.

EDUCATIONAL DETAILS:
1 Graduation
M.B.B.S. (1999-2005)
Gandhi Medical College, Hyderabad, Telangana.
Course recognized by Medical Council of India. APMC: 53702.
Internship (January 2005- December 2005)
Gandhi medical college / Hospital, Hyderabad, Telangana.
2 Post Graduation
M.S. General Surgery (July 2015- Jun 2018)
Osmania Medical College,
Hyderabad, Telangana.
3 F.MAS- Fellowship in Minimal Access Surgery from World Laparoscopy Hospital.

Top