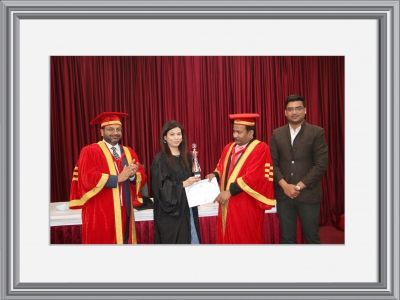 Dr. Khyati Parikh
Dec 1st, 2020 - Dec 14th, 2020
Biography:
CURRICULUM VITAE

Name: Dr. Khyati Parikh
Address: 62, Meghdhanush Society,
Old Padra Road, Vadodara
Gujarat.
Phone : 9099034638
E- Mail : parikh.drkhyati@gmail.com
Specialized in: Obst & Gynecology Infertility, Ultrasonography, Laproscopy.

EDUCATION
• Post graduate in MS Obst& Gynecology in year 2013-2016 from M S University,
SSG Hospital Baroda with 65.7%. (University 2nd rank)
• MBBS from M S University, Baroda Medical College in year 2006-2012 with 64%.
• Ultrasonography training at ahemdabad.
• Fellowship in laproscopic surgery under guidance of dr Pradeep garg at delhi.

WORK EXPERIENCE

• Worked as a Resident doctor in Obst & Gynecology at SSG Hospital Vadodara from 2013-2016.
• Worked as a Junior Consultant at Colambia Asia Hospital for 3 months.
• Worked as a Consultant Gynaecologist at Charusat Hospital for 1 year.
• Worked as a Consultant Gynaecologist at private hospital Ahmedabad for 4 months.
• Recently working as a Consultant Gynaecologist at B. B. Desai General Hospital, Gariyadhar
Dist. Bhavnagar.
• Currently working at sardar patel hospital and heart institute,ankleshwar as a consultant gynaecologist
since 6month.
• Can handle all type of obstetric emergency, all high risk lscs, all type of gynec surgeries, infertility
procedures, family planning surgeries, routine ultrasounds and basic laparoscopic procedures,
cancer related treatment etc.
• Doing laproscopic total hysterectomy,myomectomy,ovarian cystectomy,ectopic pregnancy, hysteroscopic
procedure independently.
• Certified ESCM trainer (STI management)
• Certified ACLS trainer.
• FOGSI member since January 2018
• IMA member since January 2018

RESEARCH
• Work on "A CASE CONTROL STUDY OF POLYHYDROAMNIOSIS AND THEIR ASSOCIATION WITH
FETOMATERNAL OUTCOME IN PREGNANT FEMALES" was presented to M S University Vadodara in March
2016 as a thesis towards award of post graduate degree.

PRESENTATION
• Presented a paper on "CLINICOPATHOLOGICAL& SONOGRAPHIC CORRELATION OF PELVIC MASS IN
GYNECOLOGY" in year 2015 in SOGOG Rajkot.

REFERENCE
• NAME: Dr. Dipti A Modi (PG guide) MD DGO ASSOCIATE PROFESSOR DEPARTMENT OF
OBST &GYNECOLOGY, MEDICAL COLLEGE AND SSG HOSPITAL, VADODARA.

Top