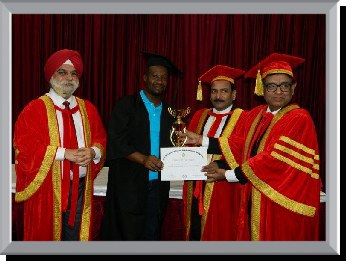 Dr. Allan Masinde Sajabi
Oct 1st, 2018 - Oct 14th, 2018
Biography:
CURRICULUM VITA
Name: Dr. Allan Masinde Sajabi
Date of Birth: 03-08-1980
Address: Nairobi, Kenya
Languages Known: English,
Gender : Male
Nationality : Kenya
Email : drsajabi@gmail.com
Contact No: 0722351501
AIM
To facilitate and provide safe, comprehensive surgical care of the highest standard to the community
KEY COMPETENCIE
1 Broad general surgical experience with proven ability to manage emergency and elective cases.
2 In depth general surgery knowledge
3 Excellent analytical, planning and organizational skills with proactive approach to achieving results.
4 Collaboration and teamwork
5 Development of rapport, trust and ethical therapeutic relationships with patients and families
EDUCATION
1 Fellowship in Minimal Access Surgery (F.MAS): October 2018, World Laparoscopy hospital
2 Master of Medicine (MMED) in General Surgery: October 2008 – August 2013, University of Nairobi.
3 Bachelor of Medicine and Bachelor of Surgery (M.B.Ch.B): 1999 – 2005, University of Nairobi.
WORK EXPERIENC
The Nairobi Hospital, general surgery department. December 2013 – to-date
Areas of deployment: Accident and Emergency department, theatre, surgical wards.
Key responsibilities:
1 Manage acute patients according to ATLS protocols
2 Ensuring continuity of care for all surgical patients
3 Perform surgical procedures
4 Coordinating resuscitative efforts and management of all emergency cases presenting to the accident
and emergency department.
5 Organize and manage the breast clinic as well as the Surgical Outpatient Clinic (SOPC)
6 Compile the surgical morbidity report
7 Member of Theatre Users committee tasked with improving operating room efficiency
8 Training of medical officers in the Accident and Emergency Department
Part time General surgeon, Shalom Community Hospital 2014 - 2016
RESIDENCY: OCTOBER 2008 – AUGUST 2013
Worked in the following departments: general surgery, orthopaedic surgery, Paediatric Surgery,
plastic surgery, neurosurgery, cardiothoracic surgery, intensive care unit (ICU) and the Accident
and Emergency department at Kenyatta National Hospital (KNH) Key
Responsibilities/Activities:
1 Clinical care including preoperative evaluation and diagnostics, participation in
operations, postoperative critical care management and discharge preparation.
2 Manage in patient surgical patients at the Kenyatta National Hospital (KNH) under
guidance of consultant surgeons.
3 Review and attend to emergent cases in the Accident and Emergency department.
4 Perform or assist in operative procedures in main theatre.
5 Running of the minor theatres.
6 Supervising and teaching the undergraduate students, medical interns and junior surgical residents
7 Review of morbidity and mortality for the surgical service.
8 Teaching Junior Residents, Medical Students and Theatre Nurses inclusive of
a. Formal case presentations and clinical examination
b Lectures in general surgery (at the Department of Surgery)
c Teaching basic surgical techniques in theatre
d Bedside teaching on rounds at KNH
CERTIFICATIONS AND WORKSHOP
1 Advance Trauma and Life support (ATLS) – American College of Surgeons certified, 2018
2 Basic Life support (BLS) – American Heart Association (AHA) certified, 2018
3 Laser hemorhoidoplasty workshop, The Nairobi Hospital, 2018
4 Open colorectal surgery and stapled hemorrhoidopexy (PPH) workshop, 2017
5 GI Endoscopy workshop March 2013
6 Certificate in Advanced Trauma and Life Support (ATLS), the Nairobi Hospital.
7 Certificate in Paediatric Antiretroviral Therapy - 2007
RESEARCH AND CONFERENCES
Post graduate thesis
The utility of triple assessment in the management of pathological nipple discharge of the breast
at Kenyatta National Hospital. Master Thesis, University of Nairobi 2013.
Conferences
Surgical Society of Kenya conference April 2011, theme: Surgery in under-resourced settings.
Surgical Society of Kenya conference March 2013, theme: Trauma care-practice and challenges.
4 th CLBS (Centre for Liver and Biliary Sciences) symposium, New Delhi, India.
Theme: liver transplantation for malignancies.
Presentations
The diagnostic dilemma in acute appendicitis - The Nairobi Hospital Annual Surgical Symposium,
2018 Penetrating duodenal injuries – Surgical Society of Kenya conference, 2011 The difficult gall
bladder – The Nairobi Hospital Annual Surgical Symposium, 2016
General Research Interests:
Endocrine and breast surgery Colorectal surgery
​
Top