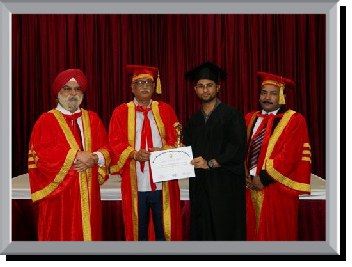 Dr. Pulkit Bharatbhai Purohit
Aug 1st, 2018 - Aug 14th, 2018
Biography:
CURRICULUM VITAE
Name : Dr. Pulkit Bharatbhai Purohit
Address : L-21, Swatantra Senani Nagar,
Opp Nava Vadaj Bus Stand,
Akhbarnagar circle, Ahmedabad,
Gujarat 380013, India.
Gender: Male
Nationality: India
Email: drpulkitpurohit@gmail.com
Contact No : 9825986625
Registration no: MCI : G-26442
Objective:
To be a part of a reputable organization that provides me an opportunity to put my professional skills to its best
use and utilize it to improve patient satisfaction and in growth of the organization as well as in my personal development.
Education and Experience
· Master of Surgery (MS) General Surgery , M. P SHAH MEDICAL COLLEGE AND HOSPITAL,
JAMNAGAR, GUJARAT, SAURASHTRA UNIVERSITY.
· Bachelor of Medicine and Bachelor of Surgery (MBBS) , C. U SHAH MEDICAL COLLEGE,
SURENDRANAGAR, SAURASHTRA UNIVERSITY GUJARAT.
· Compulsory Rotatory Internship , C U SHAH MEDICAL COLLEGE AND HOSPITAL, SURENDRANAGAR GUJARAT.
· Registered With Gujarat Medical Council of India - G-26642
Research & Publications
· Research Publication on A STUDY OF AMPUTATION IN CASES OF PERIPHERAL
VASCULAR DISEASES. Strengths & Responsibilities
· Can analyze information from history , clinical examination , records , test results and diagnose
and prescribe and administer therapy and medications and monitor patients progress and give
symptomatic treatment.
· Commendable knowledge in general surgery especially in hernia, gastrointestinal tract problems
and laproscopic procedure.
· Efficient in performing Out Patient Procedures.
· Skilled in performing and assisting operative procedures ( like - Laproscopic Cholecystectomy
and Laproscopic Appendicectomy) and traumatic emergencies
· Efficient in assisting Endoscopic Procedures
· Efficient in providing patients with Symptomatic Treatment
· To evaluate , resuscitate and manage critically ill patients.
· Good knowledge in providing preventive health care.
· Good knowledge in basics of Counseling Cancer Screening and Treatment and Management of various cancers
· Annually updated with the newest trends and innovations in Surgical treatment.
· Commendable interpersonal skills ( with fellow physicians , nurses, OR technician and other health
care personnel)
· Outstanding communication skills.
· Innate passion to excel in chosen field.
· Promptness and Discipline.
· Sound knowledge in basic computer oriented programs.
​
Top