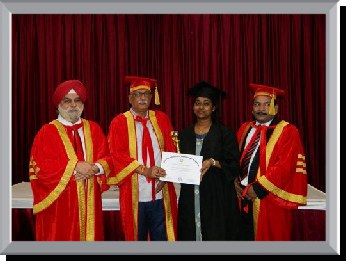 Dr. Deepthi Raidu
Aug 1st, 2018 - Aug 14th, 2018
Biography:

CURRICULUM VITAE

Name: Dr. Deepthi Raidu
Date of Birth: 08/06/1990
Address: E-97 , Madhura Nagar
Hyderabad-500038, Hyderabad.
Telangana-500038, India.
Languages Known: English, Hindi
Gender: Female
Nationality : India
Email: drdeepthikiran7@gmail.com
Contact No: 09036355699
Registration no: MCI : 10-37626
Objective:
To be a part of a reputable organization that provides me an opportunity to put my professional skills to
its best use and utilize it to improve patient satisfaction and in growth of the organization as well as in
my personal development.
Education and Experience:

1 Master of Surgery (MS) Obstetrics and Gynecology ,
2 MVJ Medical College and Research Hospital ,Hoskote ,
3 RGUHS ( Rajiv Gandhi University of Health Sciences ), Bengaluru .
4 Bachelor of Medicine and Bachelor of Surgery (MBBS) , SSR Medical College ,
University of Mauritius , Mauritius. June 2008.
5 Passed AIFMGEE (All India Foreign Medical Graduate Entrance Examination) conducted by
6 National Board of Examinations ( Ministry of Health and Family Welfare , Govt. of India) New Delhi ,
India. March 2009.
7 Compulsory Rotatory Internship , Osmania General Hospital under Osmania medical
college ,Hyderabad. October 2010.

8 Registered with Medical Council of India - 10 - 37626, Karnataka medical council -
ANP 20100000143 KTK, AP State Medical Council : 69381
9 Working at The Birthplace Hospital, Banjara Hills, Road no-2 . Year 2017 – Till Date.

10 Working at Neelima Hospitals, Year 2017 – till date.
Free lancing at many reputed Hospitals in Hyderabad Since Year 2016 till date.
11 Worked at Motherhood Hospital ,Yelahanka ,Banglore. Year 2016-1017.
12 Worked in IICU in Yashoda Hospitals, Year 2010 -2011 ( 1 year ) Hyderabad .
13 Worked in Vivekanda Hospitals , Year 2011 -2012 (6months) Somajiguda , Hyderabad
Research & Publications
Research Publication on A STUDY OF PERINATAL OUTCOME OF PRE ECCLAMPSIA AND INTRA UTERINE
GROWTH RESTRICTION BY COLOUR DOPPLER IN THIRD TRIMESTER OF PREGNANCY .

Case Publication :
Primary Parasitic Leiomyoma : A Case Report , Jayashree A K , Deepthi Raidu , Journal of Clinical
and Biomedical Sciences.(SDUAHER)
Case publication
A Recurrent Case of Pentology of Cantrell : A Rare Case with Sonological Findings and Review of
Literature. Naren Satya Srinivas M ,Kamala Retnam Mayilvagnan , Ivvala Sai Prathyusha, Munnangi
Satya Gautam , Deepthi Raidu , Amogh V N , POLISH JOURNAL OF RADIOLOGY .

Strengths & Responsibilities:

1 Can analyze information from history , clinical examination , records , test results and diagnose
and prescribe and administer therapy and medications and monitor patients progress and give
symptomatic tr eatment.

2 Commendable knowledge in Ante Partum, Intra Partum and Post Partum Care (Conducting Vaginal
Delivery , Instrumental Deliveries and Cesarean Section ) and Emergency Obstetric Cases

3 Efficient in performing Out Patient Procedures.

4 Skilled in performing and assisting operative procedures ( like Hysterectomy- Abdominal
and vaginal ) and gynecological emergencies

5 Efficient in assisting Endoscopic Procedures

6 Efficient in providing patients with Symptomatic Treatment .

7 Good knowledge of High Risk Obstetrics and Fetal Medicine.

8 To evaluate , resuscitate and manage critically ill patients.

9 Good knowledge in providing preventive health care

10 Good knowledge in basics of Genetic Counseling Cancer Screening and Treatment and
Management of Hormonal disorders

11 Annually updated with the newest trends and innovations in Obstetrics and Gynecology
treatment.

12 Commendable interpersonal skills ( with fellow physicians , nurses, OR technician and other
health care personnel)

13 Outstanding communication skills.

14 Innate passion to excel in chosen field.

15 Promptness and Discipline.

16 Sound knowledge in basic computer oriented programs.
Top