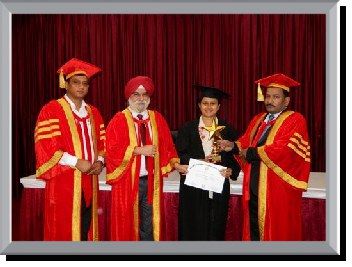 Dr. Shruthi Alevoor
Jul 1st, 2018 - Jul 14th, 2018
Biography:
CURRICULUM VITAE
Name : Dr Shruthi Alevoor




Date of Birth: 08/06/1990




Address: Sreenivas, Darbe,




Puttur, 574202




Languages Known: English,




Gender : Female




Nationality: India




Email : shruthialevoor@gmail.co




Contact No: 9638950214, 974164429
PROFESSIONAL SUMMARY
I am a recently passed out post graduate in M.S obstetrics and gynecology from Government Medical college
Baroda and I have done my fellowship in minimal access surgery. I have secured the gold medal in my subject
in M.S University, Baroda.
HIGHLIGHTS
· Understanding of female reproductive syste
· Patient care procedure
· Relevant machinery training
· Experience with normal and high risk antenatal patient
· Knowledge of patient privacy guideline
· Team setting
· Clinical competenc
· Critical thinking and strong clinical judgmen
WORK EXPERIENCE
In my 3 years of residency from June 2015 to June 201
· Performed 300 caesarean section, assisted in more than 100
· Conducted more than 1000 vaginal deliverie
· Performed 10 abdominal total hysterectomy, assisted in more than 7
· Performed 10 vaginal hysterectomy, assisted in more than 6
· Wide experience in critical care obstetrics as our college had exclusive obstetrics I.C.
· Assisted in laparoscopic surgeries and laparotomies
· Participated in more than 50 laparoscopic tubal ligation camp
· Counseled and educated patients about reproductive health issues and wellness. Expertise
in STDs, HIV and family planning
· Wide experience in medical termination of pregnancy in 1st and 2nd trimester, dilatation and
evacuation procedures, dilatation and curettage
· Have attended camps in the PHCs to create awareness about breast feeding, cervical cancer and to
detect high risk antenatal patients
EDUCATION QUALIFICTIONS
M.S IN OBSTETRICS AND GYNECOLOGY from Government Medical College of Baroda University
being M.S University of Baroda passed on April 201
MBBS from SDM Medical college and hospital, Dharwad university being RGUHS University passed on
December 2012
FOGSI recognized certified course in ultrasonography in OBS and GYN
F.M.A.S( Fellowship in Minimal Access Surgery)from World Laparoscopy Hospital , Gurgaon, India
ACADEMICS
· I have got gold medal in my M.S exams in my subject at M.S University
· In our college we had weekly case presentation, journal club and seminars. I have actively
participate in these academic sessions
· I have secured 2nd in state level paper presentation on 'comparative study of efficacy and safety between
oral iron and intravenous iron sucrose therapy for anemia in pregnancy'
· I had secured 2nd in quiz competition conducted by Torentz pharma TYSA Obstetrics and
Gynecology 2017 at west zone and was selected for national level. In National level had secured 3rd place
· I have attended 13 CME related to my subject
· I have been the topper among the gynaecologist in my F.M.A.S
DISSERTATION AND PUBLICATIONS
During my internship I had contributed to three paper publications in Scholars Journal of Applied
Medical Sciences (SJAMS)
1. Comparative study of oral glucose tolerance test in sputum positive pulmonary tuberculosis
category 1 and 2 RNTCP regimens
2. Clinical ,Hematological and Coagulation profile in Malaria
3. A cross sectional study of fasting Serum Magnesium levels in patients with Type 2 Diabetes
Mellitus and its relation to Diabetic complications
My dissertation topic is "Heme iron polypeptide in treatment of anemia in pregnancy
ADDITIONAL INFORMATION
I am urrently active member ofFOGSI; Baroda obstetrics and gynecology society and also
of WALS(World Association of Laparoscopic Surgeons)
​
Top