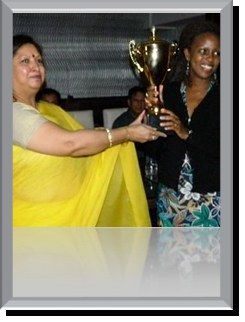 Dr. Carolyne Wanjiru Nduhiu
Jun 1st, 2012 - Jun 14th, 2012
Biography:
Dr. Carolyne Wanjiru Nduhiu

ACADEMIC QUALIFICATIONS:

2001-2006: Bachelor of Medicine and Surgery (MBChB) at the University of Nairobi
1996-1999: Kenya Certificate of Secondary Education mean grade A at Alliance Girls High School
1988-1995: Kenya Certificate of Primary Education at St. Georges, Nakuru

WORK EXPERIENCE:

0ctober 2010 to date
Resident doctor, University of Nairobi/Kenyatta National Hospital, Department of Obstetrics and Gynecology.

My responsibilities include but not limited to:
Team leader in Conducting ward rounds on a daily basis at the antenatal, postnatal and gynecological wards
Diagnosis and management of all gynecological and obstetric complications at the outpatient department
Running the antenatal clinic for expectant mothers
Managing mothers in labor ward and making decisions on their management while in labor
Performing surgical operations like caesarian sections, laparotomy for ectopic pregnancy, MVA and
D&C, EUA, excision of bartholin cyst, draining of pelvic abscesses, insertion of Mc. Donald stitch, perform
a subtotal hysterectomy
Surgical assistant in major operations like total abdominal hysterectomy and laparotomy for pelvic masses
Administration of chemotherapy to patients with malignant disease
Conduct colposcopy examinations and procedures like biopsy and LEEP
Surgical assistant in laparoscopic surgery
Diagnosis, treatment and counseling of Youth at the Youth Clinic
Community work in health education, safe motherhood practices, nutritional talks and contraceptive use
among other things.
Running the Family Welfare Clinic, doing PAP smears and offering contraception advice.
Diagnosis, treatment and surgical management of patients with Vesicovaginal Fistula
Running the High Risk clinic which caters for women with HIV/AIDS, in the PMTCT programme

January 2009-to date

Director of Open House Foundation-The Teens Garage.
At The Open House Foundation we strive to empower teenagers to enjoy their reproductive
and sexual rights, including their rights to information, education and services; to ensure that
young girls gain self-esteem and confidence and young boys are respectful of young girls as
well as older women and to enlighten parents on the plight of teenagers and build stronger relation
ships with them. Services offered will include:

Imparting information on physical, emotional and social changes that teens will
undergo i.e. puberty growth and developmen
generating an awareness and appreciation of crucial skills which help adolescents
negotiate life's more difficult passages;
strengthening networks among adolescents to encourage working together and
sharing experiences; and providing information and services on promoting safe sexual
behavior including abstinence,
delayed age of onset of sexual intercourse, preventing unwanted and early pregnancies,
and preventing STDs, including HIV/AIDS.

July 2008 to December 2009

Casualty Medical Officer at Gertrude's Children's where my responsibilities include but not limited to:
Diagnosis and treatment of common childhood ailments
Supervision of nurses and clinical officer's interns as well as preparation of call duties and taking calls.
Administration and scheduling of Anti Retroviral Therapy (ART)
Filtering and admission of patients in casualty and diagnosis of emergency cases requiring ICU admission.
Prescription of drugs, phlebotomy, IV lines, Bone marrow aspirates (BMA), Lumbar punctures as well as interpretation and analysis of lab results.
Fixing of central lines, suturing of wounds, Incision and Drainage (I&D) and surgical toilets.
Attendance and participation in Continuous Medical Education (CME)

Management of The Child Development Centre (CDC) at Gertrude's where my responsibilities included:
Helping in diagnosis of childhood development abnormalities
Co-ordination of daily activities and strategizing on increasing numbers of patients
attending the clinic.Outreach Programs run by Gertrude's Children's Hospital and Kijani Trust in Laikipia District.

The main objective of the outreach program is reaching out and manages the rampart HIV/AIDS pandemic
with specific attention to the pediatric population. Other services offered include:

Diagnostic and curative service
Counseling and testing for HIV/AIDS
Study of disease patterns in the pediatric population
Assessment of HIV/AIDS prevalence

February 2007 to June 2008
Hospital Medical officer at Kenyatta National Hospital
Admitting both adult and pediatric patients through the outpatient department
Following up surgical cases, booking theatre and participating in surgical procedures
Assisting in running of specialist clinics in Obstetrics and gynecology, pediatrics, internal medicine, surgery, dermatology and ophthalmology

Director of Open House Foundation, an institution specifically created to cater for adolescent issues especially centered on Sexuality and Mentorship Programs.

OTHER AREAS SERVED
2003-2004
Research Assistant under supervision of Professor Thairu of University of Nairobi Department of Human Physiology
and the area of research was HIV/AIDS in Africa. In this research, my role was data capture, analysis and
interpretation of research data, data collection and case study summary and conclusion

LANGUAGES
French: read, speak and write
English read, speak and write
Swahili read, speak and write

PROFFESSIONAL COURSES

October 2007
ETAT (Emergency Triage Assessment Treatment) training in Pediatrics at Kenyatta National Hospital

November 2008
Bullet Proof Customer Service Training

December 2008
European Pediatrics Advanced Life Support Training

July 2009
Pediatric HIV Training
May 2011
Lactation manager training

March 2012
Childbirth Educator Seminar-Lamaze International.


Top