Free Online Classes for Surgeons and Gynecologists by World Laparoscopy Hospital
Minimally invasive surgeries remain a highly specialized field, requiring immense training under expert guidance. With the advancement in surgical techniques and technology, minimally invasive surgeries are constantly gaining popularity.
The Surgical Skills Centre at World Laparoscopy Hospital, developed by Professor R.K. Mishra in the year 2000, has facilities that include wet labs with workstations equipped with state of the art laparoscopic equipment, task trainers, and computer workstations that permit virtual reality as well as Hands-On training in minimal access surgery. A new online training tool that can quickly teach doctors how to perform laparoscopic surgery under the direction of an expert consultant has been launched to support the World Laparoscopy Hospital response to COVID-19. Coronavirus/COVID-19 has been declared as Pandemic by World Health Organisation (WHO) and there is a sense of fear and panic all around the globe. Since the first case of COVID-19 has emerged in India, state governments are taking all the possible precautionary steps to curb the spread of the disease and that include shutting down educational institutes, vacating hostels, postponing entrance examinations, convocation ceremonies, and more.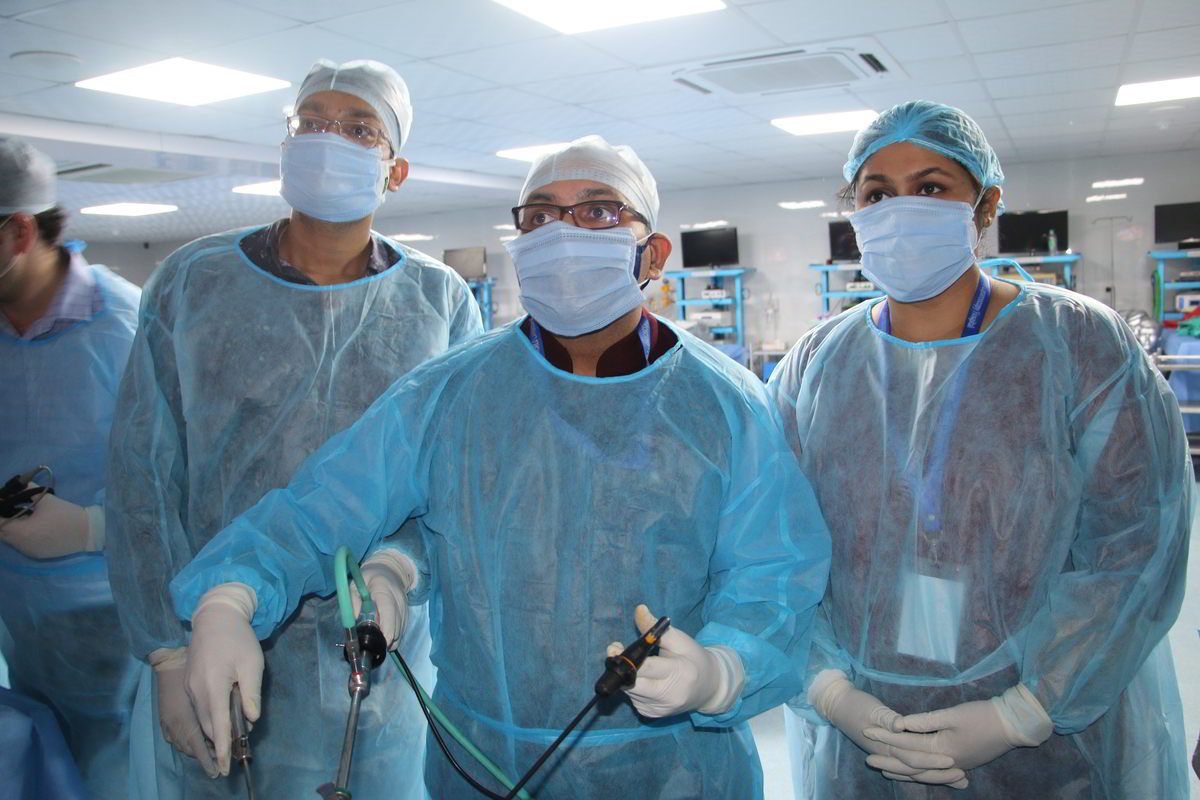 Professor R. K. Mishra, medical director at World Laparoscopy Hospital, said: "It takes years to specialize a clinician in minimal access surgery; while this new training course is not designed to replace this expertise, it will enable health systems across the world to act now and provide the care that their patients desperately need. The response to COVID-19 will benefit from the continued collaboration of researchers, clinicians, and industry to get innovations into practice and achieving patient benefit."
World Laparoscopy Hospital is continuing its activity of training surgeons and gynecologists, said Dr. R.K. Mishra director of the institute, but we have taken many measures to make our course COVID-19 secured.
1. Limited Size of Batch
2. 28 HD Laparoscopic Workstation to give enough social distancing
3. Use of N 95 Mask during Lab and PPE kits during dissection and OT Session
In the wake of this emergency, educational institutes around the globe are shifting their operations to online learning but laparoscopy is a skill and can not be learned online. Even the World Laparoscopy Training Institute, Dubai and Florida, USA will now resume it's all the batched as usual.
In a press release, World Laparoscopy Hospital, Gurugram administration has stated that the Institute will maintain the teaching-learning process in all postgraduate programs for surgeons and gynecologists. Apart from the regular Hands-On course at the institute, there will be an online question-answer session by video conferencing every Sunday (12 PM to 02 PM) on the institute website by the respective professor including Prof. Dr. R.K. Mishra and Dr. Vivek Bindal. The process of online teaching and learning will go regularly.
We have entered the fourth phase of the COVID-19 pandemic. Coronavirus fractured a large chunk of India's education system. Because of the emergency caused due to COVID-19, the many medical institutions of India have decided to cancel all their classes, examinations, and public gatherings. The top medical school like AIIMS and more have postponed their ceremonies to avoid large gatherings.
COVID-19 has underlined the need for hospitals to leverage technology to train their staff to be in a constant state of readiness and ensure that they are competent to fight any kind of crisis. World Laparoscopy Hospital
is a comprehensive learning, training and skill development platform for healthcare professionals aimed at improving healthcare delivery.
4 COMMENTS
Top