36 Merit Scholarship Granted in Last Three Years By World Laparoscopy Hospital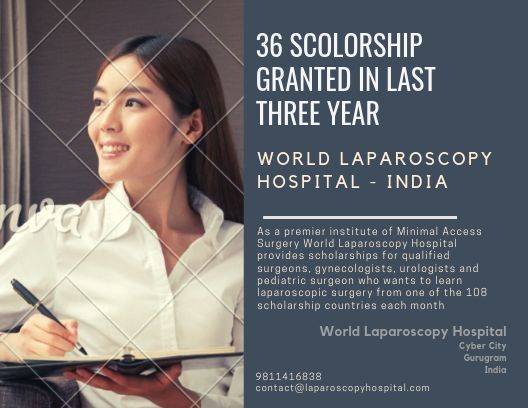 World Laparoscopy Hospital training is the most widely respected laparoscopic training in the world, recognized by thousands of hospital, universities, and agencies in more than 130 countries. Laparoscopic Training Scholarship is open for qualified surgeons, gynecologists, urologists and pediatric surgeons for intensive practical laparoscopic training of minimum two and maximum 4 weeks.
The laparoscopic surgery training is internationally recognized and scholarship is funded by World Association of Laparoscopic Surgeons. There is no open call for laparoscopic surgery training scholarships. In case you are interested in the scholarship, You need to give an online entrance exam by one registration number from World Laparoscopy Hospital, Admission Department. After qualifying the scholarship exam we publish the list of surgeon and gynecologist who will be selected for this scholarship and just after finishing the exam, our secure server will immediately send the email to participating surgeon and gynecologists.
An award of a certificate of merit also will be given for getting this scholarship by World Association of Laparoscopic Surgeons.
For more information log on to:
https://www.laparoscopyhospital.com/laparoscopictrainingscholorship.html
2 COMMENTS
Top