World Record of Removing Largest Fibroid by Laparoscopic Surgery
GURUGRAM, HARYANA, INDIA, May 22, 2019. Dr. R.K. Mishra of World Laparoscopy Hospital has created a World Record. First time in the World 3.5 Kg Fibroid, Ovarian Cyst, Gallbladder and Appendix removed by Laparoscopy in the Same Patient. The patient has torsion of Myoma giving severe pain, She had multiple episodes of appendicitis in the past. She had Cholelithiasis and one para ovarian cyst. All were removed by laparoscopy. The surgery took 6-hour time. Only 4 ports were used to remove all these pathologies. She was also having hydronephrosis due to the pressure of fibroid on the ureter.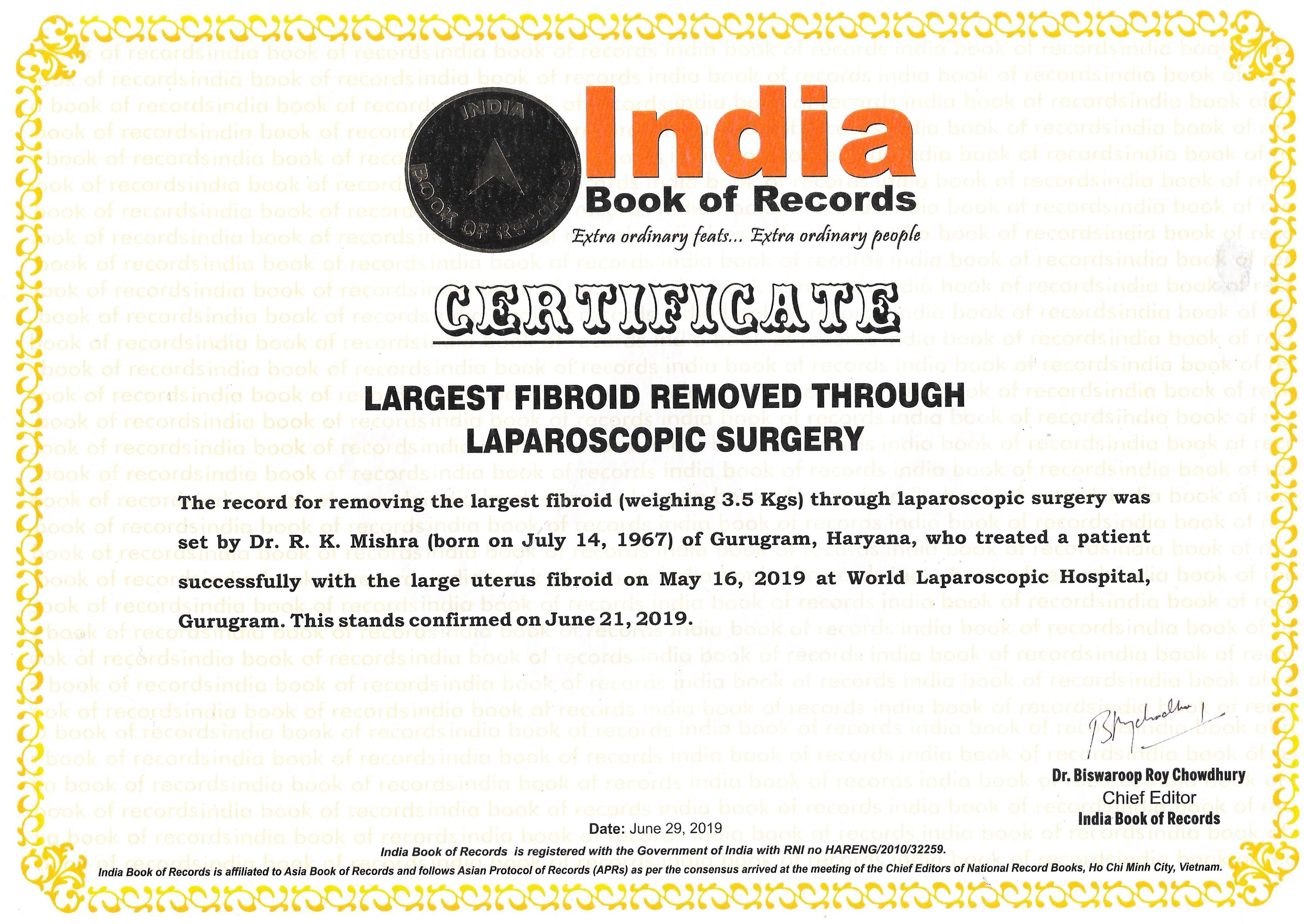 India Book of Records is registered with the Government of India with RNI no HARENG/2010/32259. India Book of Records is affiliated to the Asia Book of Records and follows the International Protocol of Records (IPRs) as per the consensus arrived at in the meeting of the Chief Editors of National Record Books, Ho Chi Minh City, Vietnam. Whether it is about reaching out to the talents on the trodden paths of rural India or giving the Indian record-holders a World Stage, India Book of Records promises to chronicle the extraordinary talents across the various realms of life.
India Book of Records is a platform where the courage to be and perform differently meets recognition and fame. The book is a collection of Indian records of more than 13 years, with its 14th edition in circulation. Its13th edition, India Book of Records -2018, has become a benchmark by being a bestseller and is consistently reviewed across various online bookstores including Amazon and Flipkart. It is often referred to as the last word in the field of Indian records by world media, including BBC and the New York Times. India Book of Records also has to its credit of being the first to start the Book of Records in Hindi, thereby igniting a desire among the masses to bring out their best. This can be clearly understood by the India Book of Records (IBR) tagline:
2 COMMENTS
Top