World's Leading Robotic Training Institute Where Surgeons and Gynaecologists Are Eager to Enroll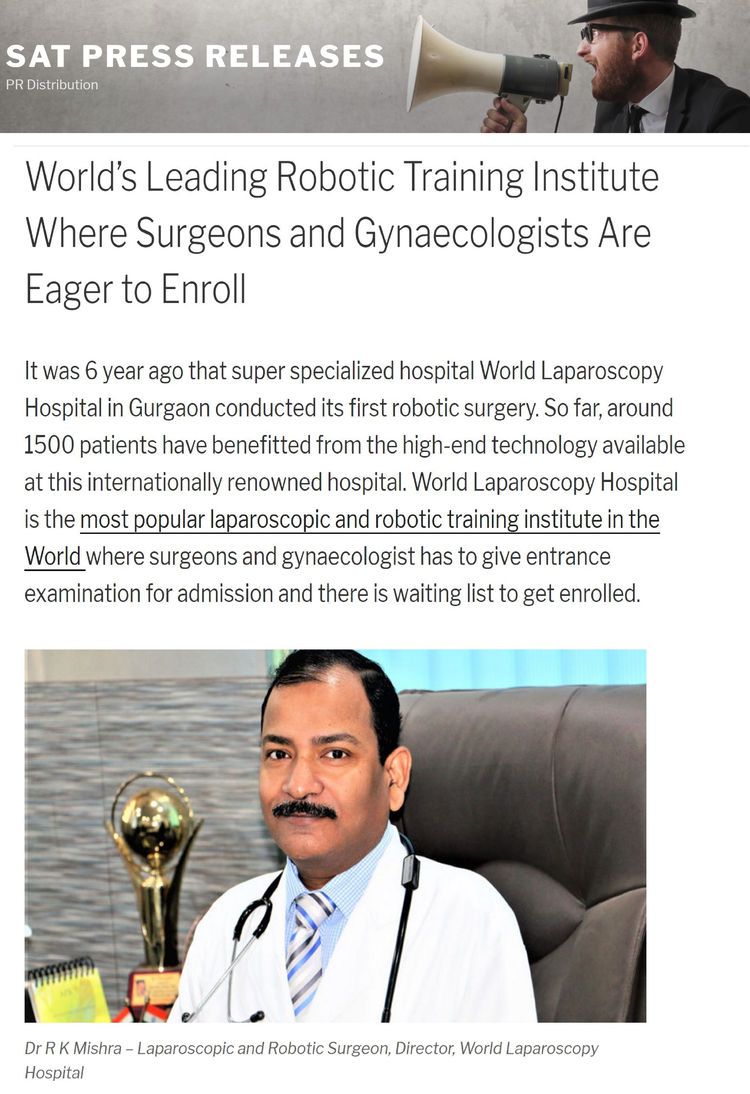 It was 6 year ago that super specialized hospital World Laparoscopy Hospital in Gurgaon conducted its first robotic surgery. So far, around 1500 patients have benefitted from the high-end technology available at this internationally renowned hospital. World Laparoscopy Hospital is the most popular laparoscopic and robotic training institute in the World where surgeons and gynaecologist has to give entrance examination for admission and there is waiting list to get enrolled.
Robotic devices continue to evolve and as they more widely disseminated and now likely become more frequently utilized in surgical procedures. General Surgery, thoracic surgery, gynaecology as well as gastrointestinal surgeries have benefitted from the technology. Dr R K Mishra, professor and Chief of Minimal Access Surgery, said: "Da Vinci Robotic surgery is expensive, so we use them only in cases where there is a considerable chance of better outcome or in cases where precision and skill is required."
At World Laparoscopy Hospital, Robotic surgeries, on an average, cost Rs 1 lakh more than normal surgeries. At World Laparoscopy hospital about 20% of the surgeries are subsidised by the hospital due to support from World Association of Laparoscopic Surgeons.
Robotic surgery, or robot-assisted surgery, allows doctors to perform many types of complex procedures with more precision, flexibility and control than is possible with conventional techniques. The surgery is carried out by the doctor using instruments that require very small cuts and can reach tumours deep in the head as well. The recovery time tends to be faster. While AIIMS in Delhi World Laparoscopy Hospital is the second institute in India to start Robotic Surgery. Now at present 25 robots are available in India, there are some private sector hospitals who perform such surgeries at a premium cost to patients. "We are very selective about where it is used and should be really beneficial. Many of the instruments cannot be reused more than 10 times which increases the cost," added Dr R K Mishra.
World Laparoscopy Hospital is a non-profit super specialty academic medical institute that integrates clinical and hospital care with research and education in Minimal Access Surgery. WLH was established in 2001 as a centre of excellence, to provide advanced surgical treatment through minimal access surgery.
According to Dr. R.K. Mishra World Laparoscopy Hospital is only institute in India to offer Fellowship of International College of Robotic Surgeons and So far, 600 surgeons and gynaecologists from every corner of the World has taken training at World Laparoscopy Hospital. Robotic surgery will create a new medium for acquisition of minimal access surgical skills through simulation of all operations that can be done via the surgical robot.
At World Laparoscopy Hospital, Surgeons can use surgical robots to practice operations on 3-dimensional, virtual-reality visual simulations and soft-tissue models that recreate the textures of human tissues through force feedback (haptics). Image-guided simulations will allow surgeons to practice procedures on 3-dimensional reconstructions of the anatomy of the actual patients who they plan to operate on the next day.
2 COMMENTS
Top