India's Premier Institute in Robotic Surgery Introduces a System That Helps Patients Reduce Cost Of Da Vinci Robotic Surgery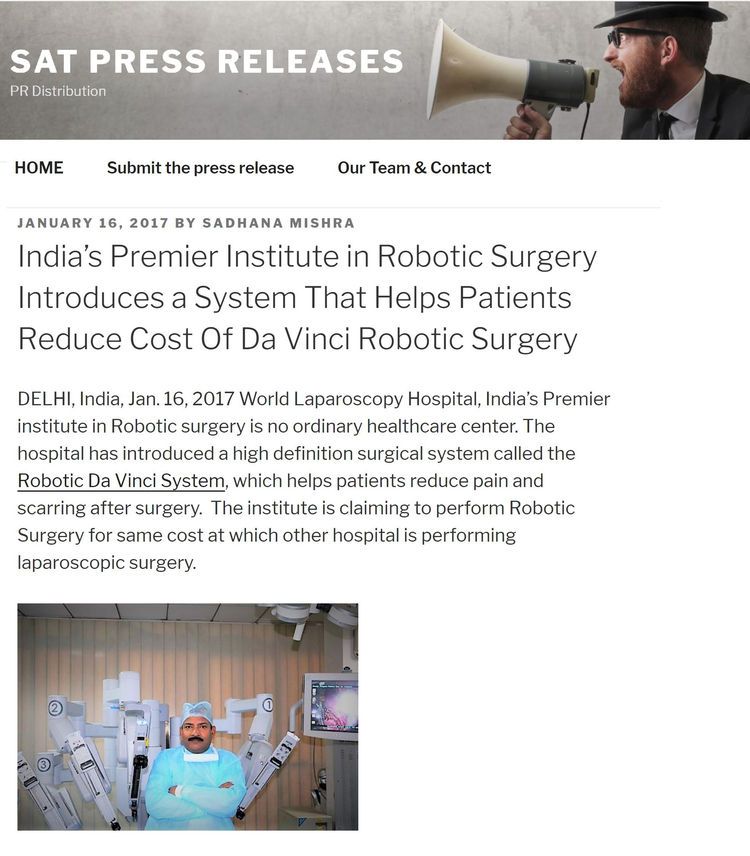 DELHI, India, Jan. 16, 2017 World Laparoscopy Hospital, India's Premier institute in Robotic surgery is no ordinary healthcare center. The hospital has introduced a high definition surgical system called the Robotic Da Vinci System, which helps patients reduce pain and scarring after surgery. The institute is claiming to perform Robotic Surgery for same cost at which other hospital is performing laparoscopic surgery.
According to Dr. R. K. Mishra, the hospital's robotic surgeon, the system combines a surgeon's expertise with robotic technology. World Laparoscopy Hospital is a nonprofit super specialty academic medical institute that integrates clinical and hospital care with research and education in Minimal Access Surgery. With the aids available from World Association of Laparoscopic Surgeons, Robotic Surgery is being performed at World Laparoscopy Hospital for same cost as of laparoscopic Surgery. According to Dr Mishra robotic surgery is the future of minimal access surgery and it's been changing the way laparoscopic surgical procedures are conducted.
An experienced professor of laparoscopic and robotic surgery, who's trained more than 7000 surgeons and gynecologists, said ''unlike traditional Laparoscopic surgeries that depend on a surgeons expertise. The Robotic Da Vinci System combines a surgeon's skill with robotic technology. This means an extreme level of precision is achieved when making small incisions. Patients now suffer less pain after surgery because less blood is lost and there is minimal scarring.''
The Robotic Da Vinci System, as surgeons call it, has been implemented in many surgical treatments such as gynecologic surgery, urologic surgery, cardiac surgery, neurosurgery, thoracic surgery, gastrointestinal laparoscopic surgery, and orthopedic procedures. And patients with prostate cancers, erectile dysfunction, pelvic floor disorders and fibroids who were operated using urologic and gynecologic robotic surgery procedures have reported an improvement in potency, minimal blood loss, reproductive fertility and a faster return to regular activities.
The World Laparoscopy hospital is now inviting new patients for 2017 and the positions available are few. The admission procedure is "hassle-free". And patients have an option of receiving advice from an admission doctor or not. It is not mandatory said Dr. R. K. Mishra.
All patients are admitted through an "Emergency" department after an initial examination and no one is turned away because of an inability to pay. Patients with financial problems are directed to the Financial Counselors located in the Admitting Department, who will work with them to develop a payment plan and talk with their health insurance provider.
To schedule an appointment and learn more about the robotic surgery procedure new patients can call +919811912768 or visit https://www.laparoscopyhospital.com/app.htm
2 COMMENTS
Top