Advanced Laparoscopic and da Vinci Robotic Surgery Training Course at WLH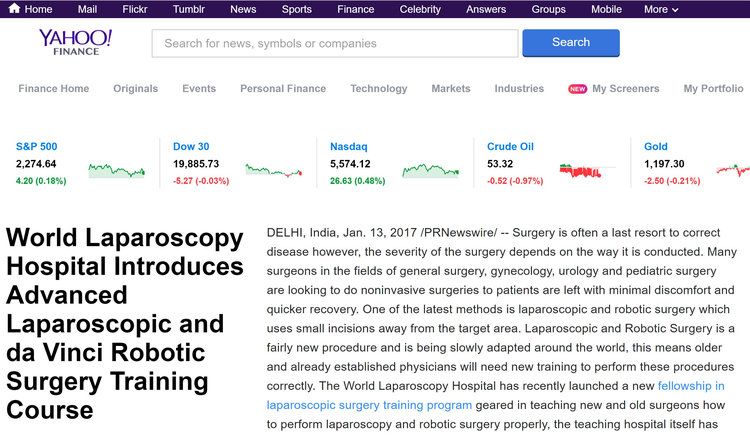 DELHI, India, Jan. 13, 2017 /PRNewswire/ -- Surgery is often a last resort to correct disease however, the severity of the surgery depends on the way it is conducted. Many surgeons in the fields of general surgery, gynecology, urology and pediatric surgery are looking to do noninvasive surgeries to patients are left with minimal discomfort and quicker recovery. One of the latest methods is laparoscopic and robotic surgery which uses small incisions away from the target area. Laparoscopic and Robotic Surgery is a fairly new procedure and is being slowly adapted around the world, this means older and already established physicians will need new training to perform these procedures correctly. The World Laparoscopy Hospital has recently launched a new fellowship in laparoscopic surgery training program geared in teaching new and old surgeons how to perform laparoscopy and robotic surgery properly, the teaching hospital itself has been around for 15 years.
The Laparoscopy fellowship at the World Laparoscopy Hospital is an intensive 2-week program geared towards beginners and novice surgeons in the field of Laparoscopy. According to Dr. R. K. Mishra, Director, World Laparoscopy Hospital, "each day surgeons will spend a minimum of 6 hours conducting hands on training from premier specialists in common laparoscopic procedures in general surgery, gynecological and urological endoscopy." The World Laparoscopy Hospital uses the latest medical technology to ensure graduates are up to date with the most current surgical methods. Laparoscopy and Da Vinci surgical Robot is available to be used by fellows on arrival. Surgeons who undergo the course will be provided all the written textbooks and PowerPoints needed to supplement the hands on exposure, in addition, the program offers all fellows and graduates access to a comprehensive online library of videos, PowerPoints, and eBooks on topics of laparoscopy to refer to after they have finished the course. Surgeons looking for more in-depth training may enroll in a 4-week fellowship and diploma program or a one year Masters in Minimal Access Surgery program.
The World Laparoscopy Hospital is currently accepting new fellows, surgeon, gynecologist and urologist looking to learn laparoscopic and robotic surgery or would like to improve their skills in the field are encouraged to sign up immediately as spots as limited and assigned on a first come first serve basis.
2 COMMENTS
Top