Choosing Correct Laparoscopic Training Institute Is Essential for Surgeons and Gynecologist to Become a Skilled Laparoscopic Surgeon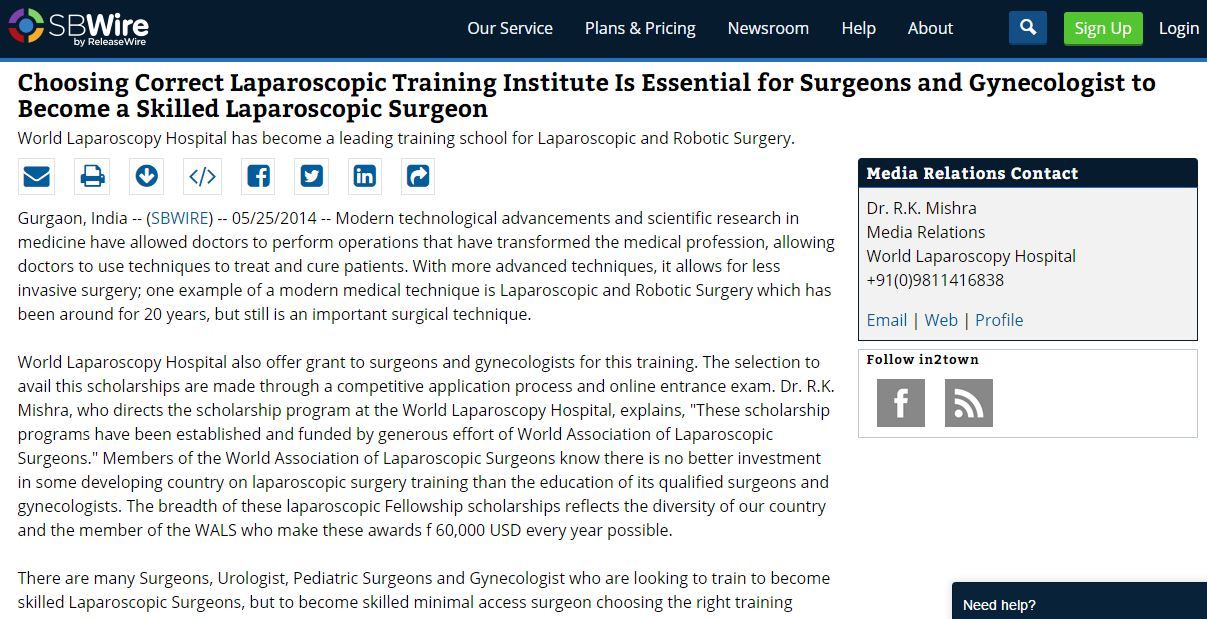 Choosing Correct Laparoscopic Training Institute Is Essential for Surgeons and Gynecologist to Become a Skilled Laparoscopic Surgeon
World Laparoscopy Hospital has become a leading training school for Laparoscopic and Robotic Surgery.
Gurgaon, India -- (SBWIRE) -- 05/25/2014 -- Modern technological advancements and scientific research in medicine have allowed doctors to perform operations that have transformed the medical profession, allowing doctors to use techniques to treat and cure patients. With more advanced techniques, it allows for less invasive surgery; one example of a modern medical technique is Laparoscopic and Robotic Surgery which has been around for 20 years, but still is an important surgical technique.
World Laparoscopy Hospital also offer grant to surgeons and gynecologists for this training. The selection to avail this scholarships are made through a competitive application process and online entrance exam. Dr. R.K. Mishra, who directs the scholarship program at the World Laparoscopy Hospital, explains, "These scholarship programs have been established and funded by generous effort of World Association of Laparoscopic Surgeons." Members of the World Association of Laparoscopic Surgeons know there is no better investment in some developing country on laparoscopic surgery training than the education of its qualified surgeons and gynecologists. The breadth of these laparoscopic Fellowship scholarships reflects the diversity of our country and the member of the WALS who make these awards f 60,000 USD every year possible.
There are many Surgeons, Urologist, Pediatric Surgeons and Gynecologist who are looking to train to become skilled Laparoscopic Surgeons, but to become skilled minimal access surgeon choosing the right training school is essential. World Laparoscopy Hospital has become the preferred choice with doctors wishing to learn a new skill and over the years they have been responsible for training over 6000 surgeons and gynecologist all over the world.
According to Prof. R.K. Mishra, Chief Surgeon and Director World Laparoscopy Hospital, for every surgeon and gynecologist taking laparoscopic skill is essential. World Laparoscopy Hospital, Gurgaon, India is dedicated for imparting skill of Minimal access surgery among surgeons and gynecologists and this institute specializes in providing the best robotic and laparoscopic training in the world. Being in the service of mankind since the last 14 years, this institute of laparoscopic and robotic Surgery has produced quite a number of competent and surgeons and gynecologists from all over the globe.
World Laparoscopy Hospital has become an important part of modern medicine and has helped hospitals all over the world to treat patients through the training of their surgeons in the technique of Laparoscopic and Robotic Surgery. As a leading training school of the World for Laparoscopic and Robotic Surgery, more hospitals are arranging for their surgeons to be sent to the medical school, making them the premier training institute.
It is important that surgeons wishing to be trained in Laparoscopic and Robotic Surgery choose the right training institute to train them to the highest level of surgical skill, passing on the wealth of experience, knowledge and skill for the students to become a professional in laparoscopic and Robotic Surgery.
Surgeons and gynecologists who are looking to be trained in Laparoscopic and Robotic Surgery and want a training institute that achieves results can visit The World Laparoscopy Hospital website http://www.laparoscopyhospital.com/SERV01.HTM
About World Laparoscopy Hospital
The World Laparoscopy Hospital trains surgeons from all over the world in the technique of Laparoscopic and Robotic Surgery
Read Complete Press Release
1 COMMENTS
Top