World Laparoscopy Hospital Announces Free Laparoscopic and Robotic Surgery for Poor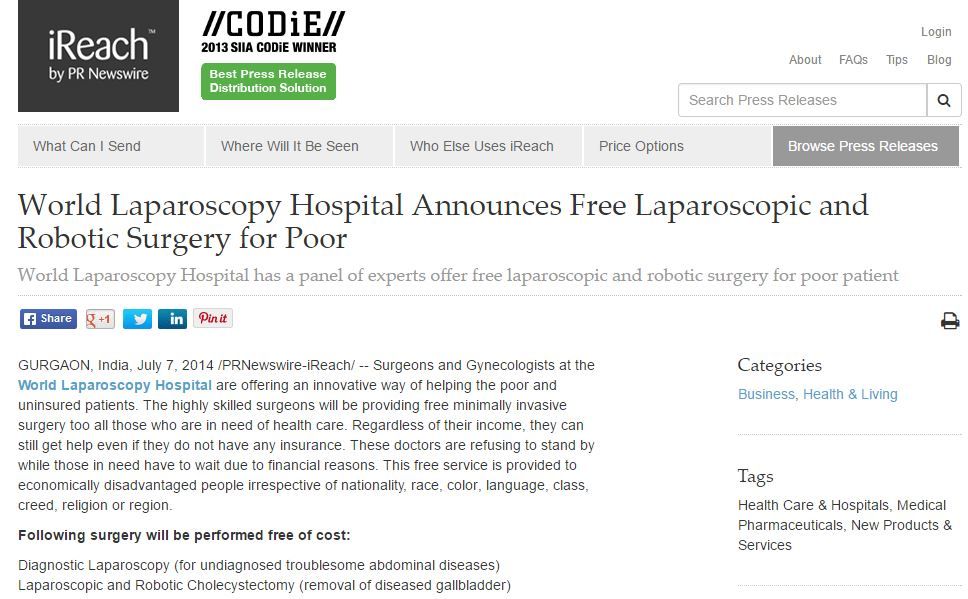 World Laparoscopy Hospital Announces Free Laparoscopic and Robotic Surgery for Poor
World Laparoscopy Hospital has a panel of experts offer free laparoscopic and robotic surgery for poor patient
GURGAON, India, July 7, 2014 /PRNewswire-iReach/ -- Surgeons and Gynecologists at the World Laparoscopy Hospital are offering an innovative way of helping the poor and uninsured patients. The highly skilled surgeons will be providing free minimally invasive surgery too all those who are in need of health care. Regardless of their income, they can still get help even if they do not have any insurance. These doctors are refusing to stand by while those in need have to wait due to financial reasons. This free service is provided to economically disadvantaged people irrespective of nationality, race, color, language, class, creed, religion or region.
Following surgery will be performed free of cost:
Diagnostic Laparoscopy (for undiagnosed troublesome abdominal diseases)
Laparoscopic and Robotic Cholecystectomy (removal of diseased gallbladder)
Laparoscopic and Robotic CBD Exploration (for common bile duct stones)
Laparoscopic and Robotic Appendicectomy.(removal of diseased appendix)
Laparoscopic and Robotic Hernia Repair TAP, TEPP and other (all kinds of hernia).
Laparoscopic and Robotic Fundoplication. (for gastro-esophageal reflux disease)
Laparoscopic and Robotic Repair of duodenal perforation. (emergency laparoscopic procedure)
Laparoscopic and Robotic Salpingectomy.(removal of diseased spleen)
Laparoscopic and Robotic Gastric banding (laparoscopic treatment for morbid obesity)
Upper and lower G.I Endoscopies. (diagnostic as well as therapeutic endoscopies)
Laparoscopic and Robotic Pyloroplastic Procedure (Treatment of Gastric outlet Obstruction))
Transurethral Resection of Prostate (Removal of enlarged prostate)
Laparoscopic Liver Biopsy (For benign and malignant liver disease)
Laparoscopic and Robotic Gastrojejunostomy (For Gastric outlet diseases)
Laparoscopic Adhesions Removal
Laparoscopic and Robotic Treatment of Rectum Prolapse
Laparoscopic and Robotic Heller's Myotomy
Laparoscopic and Robotic Devascularisation in Portal Hypertension
Laparoscopic and Robotic Management of Ectopic Pregnancy
Laparoscopic and Robotic Management of Myoma
Laparoscopic and Robotic Hysterectomy
Laparoscopic and Robotic Salpingo-Oophorectomy
Laparoscopic and Robotic Management of Stress Incontinence (Burch Suspension)
Diagnostic and Operative Hysteroscopy
Laparoscopic and Robotic Recanalization Surgery
Hysteroscopic Myomectomy
Hysteroscopic MetroplastyTrans Cervical Resection of Endometrium
Hysteroscopic Management of Asherman Syndrome
World Laparoscopy Hospital is a nonprofit specialty academic medical institute that integrates clinical and hospital care with research and education in Minimal Access Surgery. WLH was established in 2001 as a center of excellence, to provide advanced surgical treatments. The WLH is recognized worldwide as one of today's best reference training centers.
This Center of excellence provides world class health care for patients as well as education and training programs in Laparoscopic, Various Endoscopic and da Vinci Robotic Surgery. The laparoscopic and robotic surgery courses include theoretical session, "Hands On" skills demonstrations of live endoscopic, laparoscopic and robotic surgical procedures.
These free minimal access surgical services will provide badly needed aide to those who would not be able to receive laparoscopic or robotic surgical care in any other way. The laparoscopic and robotic surgeons at World Laparoscopy Hospital are dedicated to helping those who may require minimally invasive surgeries and medical care, but due to financial circumstances, would otherwise have to forego the medical care that could save their lives. Because an unknown number of people die on a daily bases due to not being able to afford the high cost of medical expenses, these doctors are willing to offer their experience, skills, and time to giving aide to those who will benefit from their care.
The World Laparoscopy Hospital will be offering free laparoscopic surgeries from July 5th to July 15th, 2014. Many surgeries such as: Gallbladder surgery, Hernia surgery, Appendix surgery, Uterus surgery, Ovarian surgery, Fallopian tube surgery, and all the abdominal diseases surgeries, will be performed. World Laparoscopy Hopital is one of the first institute in India to start da Vinci robotic surgery. The da Vinci Surgical System allows surgeons to perform complex procedures with small learning curve using a robotic minimally invasive approach – routinely and with confidence; surgeon can perform most of the minimal access surgery.
These minimally invasive surgeries will be completed be laparoscopy at the WLH Center which is also a teaching institute. Training at World Laproscopy Hospital is accepted around the world by the Governments of more than one hundred Countries. It is scientifically designed by the academic council of World Association of Laparoscopic Surgeons, and it ensures that the participants are able to do all the taught laparoscopic and robotic surgery themselves after training. Surgeons and Gynecologists from all over the world have been trained for advanced laparoscopic skills.
TheWLH offers the following courses:
•International Laparoscopic FELLOWSHIP and DIPLOMA Course
•International da Vinci® Surgical System ROBOTIC TRAINING Hands-On Course
•Master in Minimal Access Surgery M.MAS
•International Course in IVF
•International Course in Upper GI Endoscopy Techniques
•International Course in Lower GI Endoscopy Techniques
•International Course in Arthroscopic Surgery
Dr. R K Mishra, the Director of Hospital, said that "all the laparoscopic surgery will be completely free for the poor." Associate Director, J S Chowhan, has reportedly said, "Gallbladder surgery, Hernia surgery, appendix surgery, uterus surgery, ovary surgery, fallopian tube surgery and all the abdominal diseases surgery will be performed by laparoscopic surgery at this camp."Laparoscopic and Robotic Surgeries that are performed at World Laparoscopy Hospital is renowned for providing excellent and compassionate medical care that ranges from the simplest to the most complex minimal access surgeries. WLH has met the requirements of international benchmarking and certification for their standard of health care.
Thousands of patients come to the World Laparoscopy Hospital from all over the world for their specialized medical care. The World Laparoscopy Hospital International Patient Center encourages patients and their families to enjoy all the cultural, historical and recreational activities the Delhi NCR area has offers during their stay. When a minimal access surgical issue requires a patient and their family to travel to receive the care that they need, it can cause a lot of overwhelming stress. The first priority at World Laparoscopy Hospital is to take away the stress and to ensure that everyone is comfortable and at ease, so that the patient can focus on their recovery.
Contact can be made at: www.laparoscopyhospital.com
Phone: +919811416838
Institute of Laparoscopic and Robotic Surgery
Cyber City, DLF Phase II
Gurgaon, Haryana, 122002 India
Media Contact: Sadhana Mishra, World Laparoscopy Hospital, 919811416838, contact@laparoscopyhospital.com
3 COMMENTS
Top