World Laparoscopy Hospital Attracts International Patients to the Land of Mystery and Diversity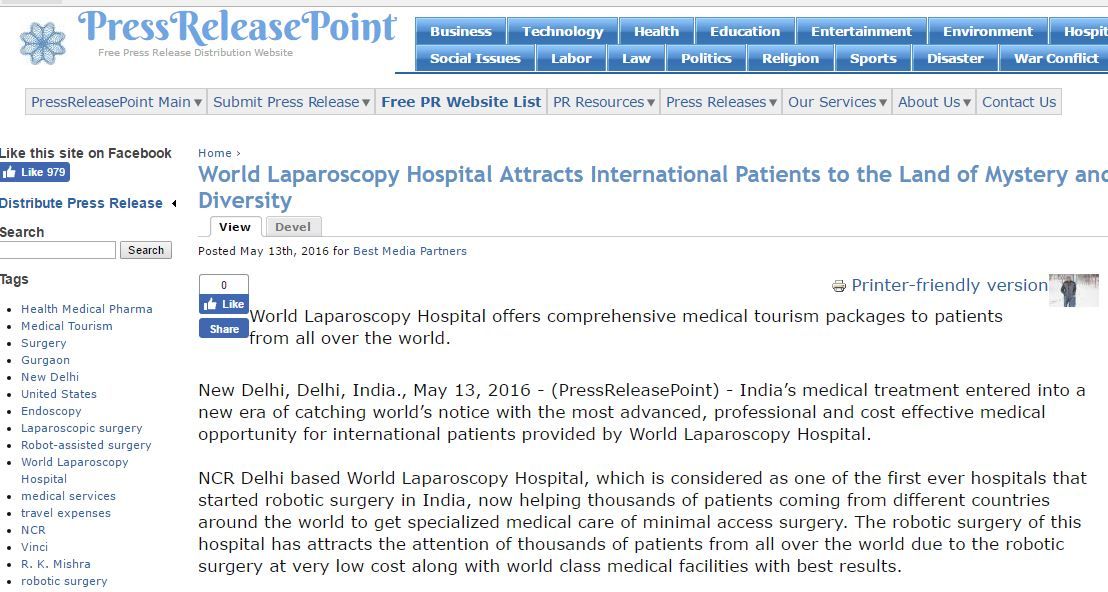 World Laparoscopy Hospital Attracts International Patients to the Land of Mystery and Diversity
World Laparoscopy Hospital offers comprehensive medical tourism packages to patients from all over the world.
New Delhi, Delhi, India., May 13, 2016 - (PressReleasePoint) - India's medical treatment entered into a new era of catching world's notice with the most advanced, professional and cost effective medical opportunity for international patients provided by World Laparoscopy Hospital.
NCR Delhi based World Laparoscopy Hospital, which is considered as one of the first ever hospitals that started robotic surgery in India, now helping thousands of patients coming from different countries around the world to get specialized medical care of minimal access surgery. The robotic surgery of this hospital has attracts the attention of thousands of patients from all over the world due to the robotic surgery at very low cost along with world class medical facilities with best results.
Besides providing utmost care to international patients, World Laparoscopy Hospital International Patient Center also encourages patients and their families to enjoy the cultural, historical and recreational activities the Delhi NCR area offers.
Prof. R. K. Mishra said, "Our international program coordinators are happy to make recommendations and help international patients and their friends and family plan their visit to India. Traveling far from home can be a stressful event. Global Patient Services of WLH staff members take great pride in making your stay as comfortable as possible. We at WLH are dedicated to meeting the needs and requirements of you and your family."
All advanced methods of treatment are available at WLH at pocket friendly prices. WLH offers outstanding medical services at 60% less than prevailing USA rates. Even with travel expenses taken into account, the comprehensive medical tourism packages still provide a savings measured in the thousands of dollars for major procedures.
For details information about the medical tourism package, please contact at +91 124 2351555, +91 9811416838, contact@laparoscopyhospital.com, or please have a visit at https://www.laparoscopyhospital.com/international-patients.html.
About World Laparoscopy Hospital
WLH was established in 2001 in NCR Delhi as a center of excellence to provide advanced surgical treatment through minimal access surgery. World Laparoscopy Hospital is a nonprofit super specialty academic medical institute that integrates clinical and hospital care with research and education in Minimal Access Surgery. This Center of excellence provide world class health care for patients as well as education and training programs in Laparoscopic, Various Endoscopic and da Vinci Robotic Surgery.
Press Contact:
World Laparoscopy Hospital
Cyber City, DLF Phase II, Gurgaon
NCR Delhi, 122002, India
+0919811416838
1 COMMENTS
Top