Laparoscopic Surgery Fellowship Training Grants and Scholarships by World Laparoscopy Hospital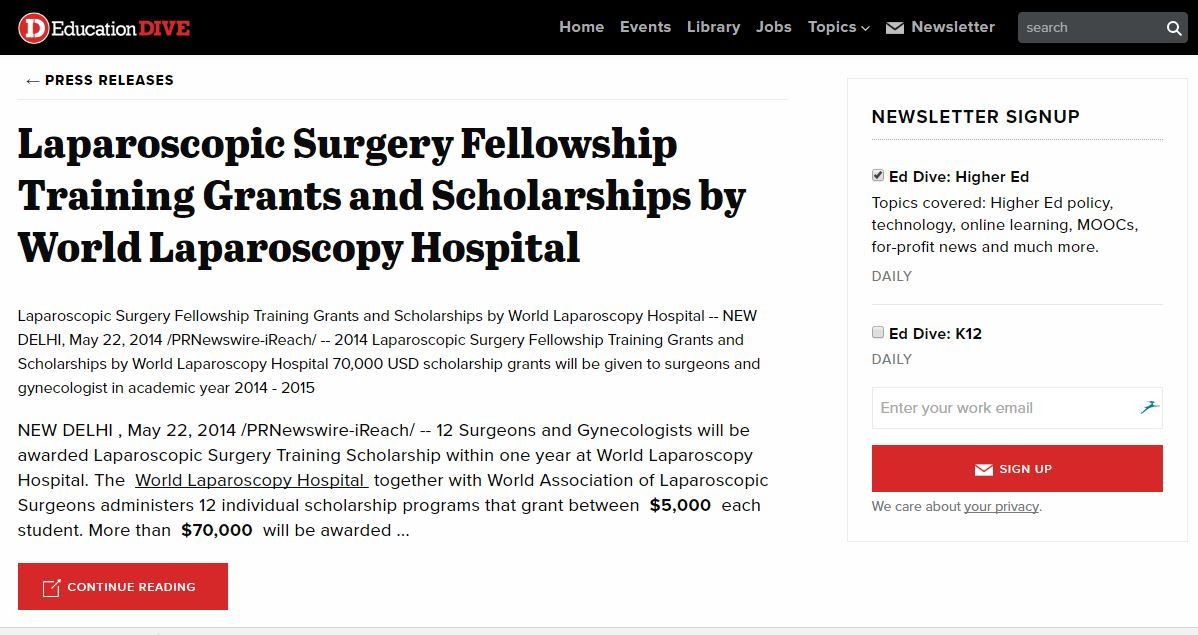 Laparoscopic Surgery Fellowship Training Grants and Scholarships by World Laparoscopy Hospital
NEW DELHI, May 22, 2014 /PRNewswire-iReach/ -- 12 Surgeons and Gynecologists will be awarded Laparoscopic Surgery Training Scholarship within one year at World Laparoscopy Hospital. The World Laparoscopy Hospital together with World Association of Laparoscopic Surgeons administers 12 individual scholarship programs that grant between $5,000 each student. More than $70,000 will be awarded for the 2014-2015 academic year. All the awards of scholarship shall be based on Merit (i.e., based on the marks obtained in the examination and as per the rank list furnished by the World Laparoscopy Hospital).
All scholarships are made through a competitive application process and online entrance exam. Dr. R.K. Mishra, who directs the scholarship program at the World Laparoscopy Hospital, explains, "These programs have been established and funded by generous effort of World Association of Laparoscopic Surgeons." Members of the WALS know there is no better investment in some developing country on medical education than the education of its qualified surgeons and gynecologists. The breadth of these Minimal access Fellowship scholarships reflects the diversity of our country and the member of the WALS who make these awards possible.
The primary objective of the Laparoscopic Training Scholarship program of World Laparoscopy Hospital is to stimulate the surgeons and gynecologists of all over World by exposing them to Minimal Access Surgery Training. It is hoped that this in turn will endow them with skills and visions, enabling them, when returning to their country of origin, to contribute to the welfare of their home communities as a better Minimal Access Surgeon. The number of scholarships available has now risen to approximately 12 per academic year. A total of 39 scholarships have been awarded since the scheme began, of which 09 have been to students from countries other than India.
The scholarship is offered by World Association of Laparoscopic Surgeons and World Laparoscopy Hospital. WALS is an International Organization for the promotion of laparoscopic surgery duly registered through the government of respective countries. WALS the only association of world in which Laparoscopic Surgeons, Laparoscopic Gynecologists, Laparoscopic Urologists, Laparoscopic pediatric surgeons and then any other medical allied branches doing laparoscopic surgery are welcome. Aside from organizing annual Top Level Congresses in various countries, it is also actively involved with research, development, training and publication of outstanding articles. Educational (training), Research (multi center studies and numerous laparoscopic and da Vinci robotic surgery studies), Technological (R&D in laparoscopic instrumentation, ancillary endoscopic equipment, tele-robotics and telecommunication), Publication (publication of original articles assuring from the art reviews), Membership and Public Relations including Free Laparoscopic Surgery Camps.
According to Dr. R.K. Mishra, Director, World Laparoscopy Hospital, "Once the scholarship will be granted there will also be funds available for the qualified surgeons and gynecologists for research expenses, such as attending conferences and travel. International students will be required to pay the remaining balance between Indian fees and international fees". This laparoscopic training scholarship program is designed for top-notch surgeons and gynecologists passionate about Minimal Access Surgery but cannot afford the high cost of training available all over the World.
Postgraduate medical student can also apply for this scholarship during their residency program of surgery and gynecology and these applicants will be eligible for consideration for the Laparoscopic Training Scholarship if they have completed the admission application at WLH and have applied for financial aid. All surgeons and gynecologists scholarship applicants must apply for financial aid by completing the financial aid application process for international students. All international students must meet the same test requirements as Indian applicants. Subject Test requirements cannot be waived based on the completion or submission of their undergraduate levels, or other international credentials. Only valid criteria of selection would be the score in online entrance exam conducted once every month by World Association of Laparoscopic Surgeons. All transcripts and PG certificates must be official and must be translated into English. If you have attended more than one laparoscopic training program, you should request a separate transcript from each training institutes.
The objective of the scheme is to laparoscopic surgery training award scholarships to meritorious committed surgeons belonging to economically weaker sections of community so as to provide them better opportunities for higher education of laparoscopic and da Vinci Robotic to increase their rate of attainment in higher education and enhance their surgical skill. Scholarship will be provided for the entire course. However maintenance allowance will be given for a period not exceeding one months only in an academic year. Scholarships will not be given to more than two students in a family. Migration of postgraduate students from one institution to another would not normally be allowed during the minimal access training course of the academic year except under exceptional circumstances and in the interest of the doctors academic career. The student obtaining benefits under this scholarship scheme shall not be allowed to avail of benefits under any other scholarship scheme for the same purpose.
Although some universities and medical college of the World to grant scholarship require a statement or certification of finances as part of the application, World Laparoscopy Hospital does not require this information during the application process. Surgeons and Gynecologists should not send this information with their application. If they are admitted to Fellowship and Diploma in Minimal Access Surgery at World Laparoscopy Hospital, WLH will then request this information from them. Re-admitted / Re-registered / Debarred candidates are not eligible for scholarship / award and their names will not be considered for the re-exam. If an applicant for scholarship is found to have obtained a scholarship by false statement/certificates, his/her scholarship will be cancelled forthwith and the amount of the scholarship paid shall be recovered, at the discretion of the concerned State Government/Union Territory Administration. The monitoring of the financial and physical performance of the scholarship scheme of fellowship will be evaluated by assigning impact studies to reputed institutions agencies by the World Association of Laparoscopic Surgeons.
Media Contact: Sadhana Mishra, World Laparoscopy Hospital, 919811416838, contact@laparoscopyhospital.com
Read Full Press Release
No comments posted...
Top