Biggest Cancerous Tumor ever was removed from adomen by Dr. R.K. Mishra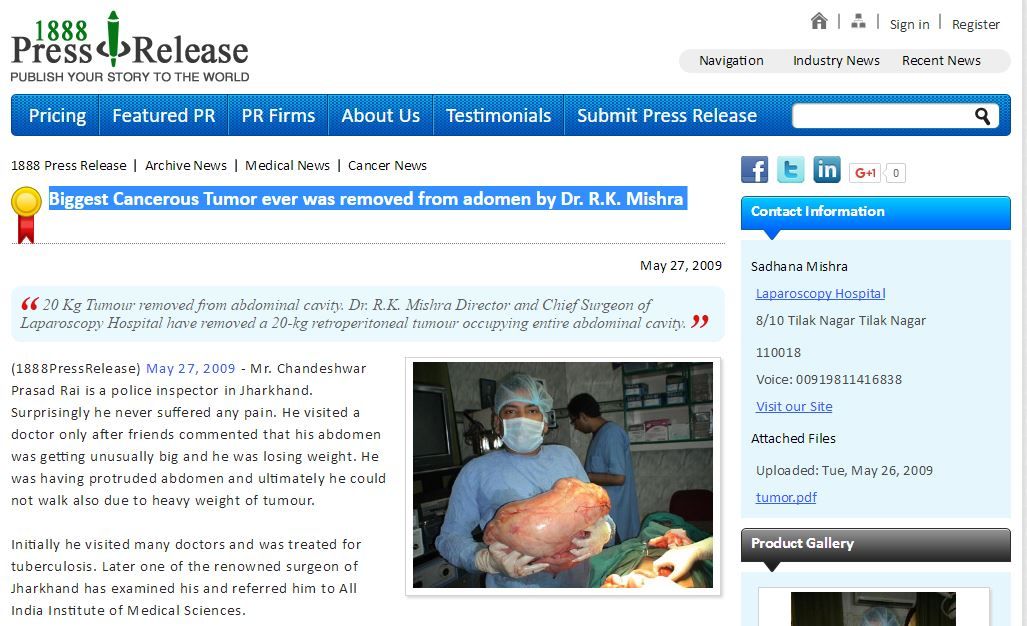 Biggest Cancerous Tumor ever was removed from adomen by Dr. R.K. Mishra
May 27, 2009; 20 Kg Tumour removed from abdominal cavity. Dr. R.K. Mishra Director and Chief Surgeon of Laparoscopy Hospital have removed a 20-kg retroperitoneal tumour occupying entire abdominal cavity.
(1888PressRelease) May 27, 2009 - Mr. Chandeshwar Prasad Rai is a police inspector in Jharkhand. Surprisingly he never suffered any pain. He visited a doctor only after friends commented that his abdomen was getting unusually big and he was losing weight. He was having protruded abdomen and ultimately he could not walk also due to heavy weight of tumour.
Initially he visited many doctors and was treated for tuberculosis. Later one of the renowned surgeon of Jharkhand has examined his and referred him to All India Institute of Medical Sciences.
Surgeon of All India Institute of Medical Sciences has done all the necessary investigation and Biopsy was performed two times to confirm type of tumour. Even after that dilemma was there about this huge tumour. Ultimately the called the patient on 20th May to decide for surgery. Meanwhile patient came to Dr. R.K. Mishra in his Laparoscopy Hospital, New Delhi. Dr. Mishra has performed surgery without delay and life of the patient was saved.
Mr. was admitted in the hospital on 26th April and, same day surgery was performed. It was a two-and-a-half-hour complicated surgery; the mass was successfully removed by a team of Dr. R.K. Mishra, Dr. Sanjay Sharma and Dr. Anil Arora.
"It was a complicated surgery considering his age and the fact that his haemoglobin count was low," said Dr Mishra. "Also, the tumour was retroperitoneal and surrounding aorta and both the kidney.
'It pushed everything aside and was pressing the aorta and kidney, creating vascular and respiratory problems,' surgeon Dr. Mishra stated. 'The operation was complicated by the size of the tumour and during this the patient received four packages of blood transfusion.'
Tumours of that size are almost always benign, but can kill by severing circulation or increasing pressure on sensitive parts of the body.
"It was removed from the Retroperitoneum after separating the Kidney, Spleen, Large intestine, Aorta and Vena Cava. We also repaired the bowel and other surrounding structure," said Dr. Mishra. "We will send the tumour to the histopathology to find out if it was cancerous."
http://www.laparoscopyhospital.com
Read Complete Press Release
No comments posted...
Top