World Laparoscopy Hospital claims to have trained 1,000 doctors from 108 countries in robotic surgery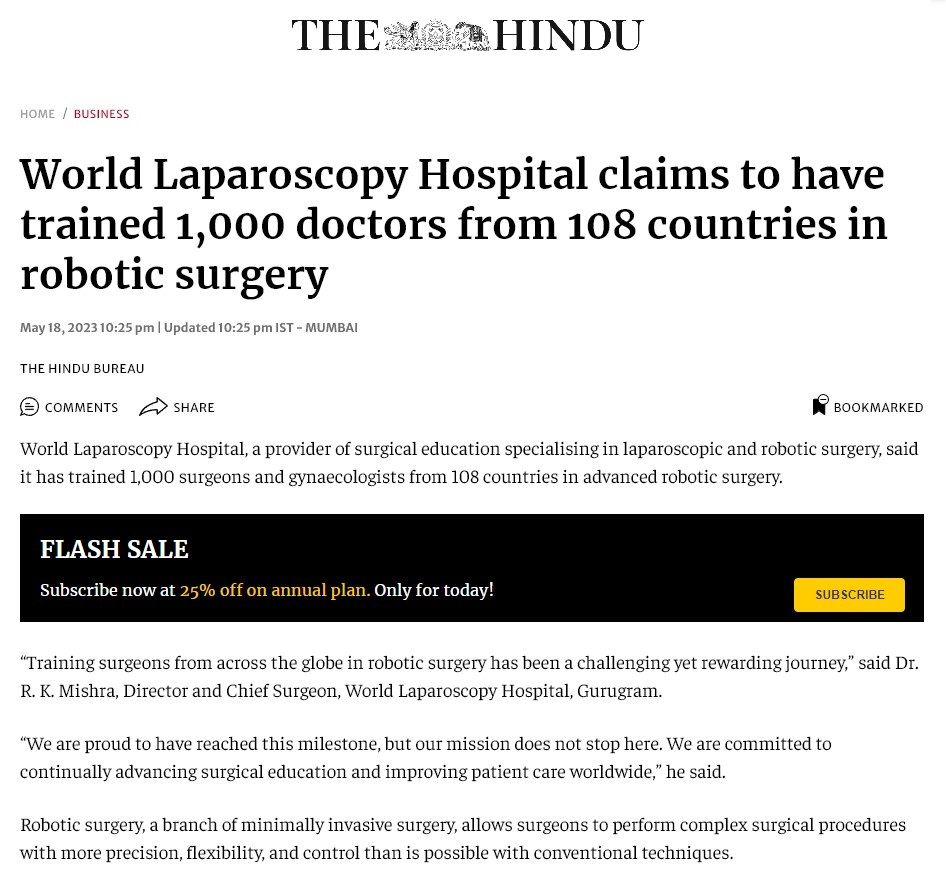 News published in the prestigious News Paper The Hindu
World Laparoscopy Hospital sets world record by training 1,000 surgeons in robotic surgery
Gurugram-based World Laparoscopy Hospital (WLH) has set a world record by training 1,000 surgeons and gynecologists from 108 countries in the advanced field of robotic surgery.
"Training surgeons from across the globe in robotic surgery has been a challenging yet rewarding journey. We are proud to have reached this milestone, but our mission does not stop here. We are committed to continually advancing surgical education and improving patient care worldwide," said World Laparoscopy Hospital's Dr. RK Mishra.
The hospital said that it is the first private institute in India to initiate the practice of robotic surgery. Robotic surgery, a branch of minimally invasive surgery, allows surgeons to perform complex surgical procedures with more precision, flexibility, and control than is possible with conventional techniques. However, the implementation of this advanced technology in a country like India, where the medical infrastructure is varied and often under-resourced, is a challenging task.
The advanced surgical system enhances the surgeon's capabilities, leading to improved patient outcomes, reduced pain and discomfort, less risk of infection, shorter hospital stays, quicker recoveries, and smaller, less noticeable scars.
World Laparoscopy Hospital, a leading institution in laparoscopic surgery education, has achieved a significant milestone by training 1,000 surgeons in robotic surgery. This achievement not only sets a world record but also highlights the hospital's commitment to advancing surgical techniques and empowering surgeons with cutting-edge skills.
Robotic surgery has revolutionized the field of minimally invasive surgery, offering numerous benefits such as enhanced precision, shorter recovery times, and reduced patient trauma. Recognizing the potential of this innovative approach, World Laparoscopy Hospital has been at the forefront of training surgeons in robotic surgery techniques.
With its state-of-the-art facilities and a team of highly experienced faculty members, World Laparoscopy Hospital has created a conducive learning environment for surgeons seeking to expand their expertise in robotic surgery. The hospital's comprehensive training programs combine theoretical knowledge with hands-on practical experience, ensuring that surgeons are well-prepared to utilize robotic surgical systems effectively.
The achievement of training 1,000 surgeons in robotic surgery is a testament to the dedication and expertise of the faculty at World Laparoscopy Hospital. These trainers, who are themselves pioneers in the field of laparoscopic and robotic surgery, have meticulously imparted their knowledge and skills to empower surgeons from around the world.
Dr. R.K. Mishra, the founder and director of World Laparoscopy Hospital, expressed his pride in this achievement, saying, "We are thrilled to have reached this significant milestone of training 1,000 surgeons in robotic surgery. It reflects our unwavering commitment to advancing surgical education and equipping surgeons with the latest techniques. Robotic surgery has immense potential in improving patient outcomes, and we are honored to contribute to the growth and development of this field."
The impact of World Laparoscopy Hospital's training programs in robotic surgery has been far-reaching. Graduates of the program have reported improved surgical outcomes, reduced complications, and enhanced patient satisfaction. By training such a large number of surgeons, the hospital is making a significant contribution to the global healthcare community.
World Laparoscopy Hospital's achievement has garnered international recognition, solidifying its position as a leader in laparoscopic and robotic surgery education. The hospital remains committed to pushing the boundaries of surgical innovation and providing world-class training to surgeons from all corners of the globe.
For more information about World Laparoscopy Hospital and its training programs, please visit their website at www.worldlaparoscopyhospital.com
About World Laparoscopy Hospital:
World Laparoscopy Hospital is a renowned institution dedicated to providing high-quality education and training in laparoscopic and robotic surgery. With a team of expert faculty and state-of-the-art facilities, the hospital has become a global hub for surgeons seeking to enhance their skills and stay at the forefront of surgical advancements.
No comments posted...
Top