Free Laparoscopic Surgery at World Laparoscopy Hospital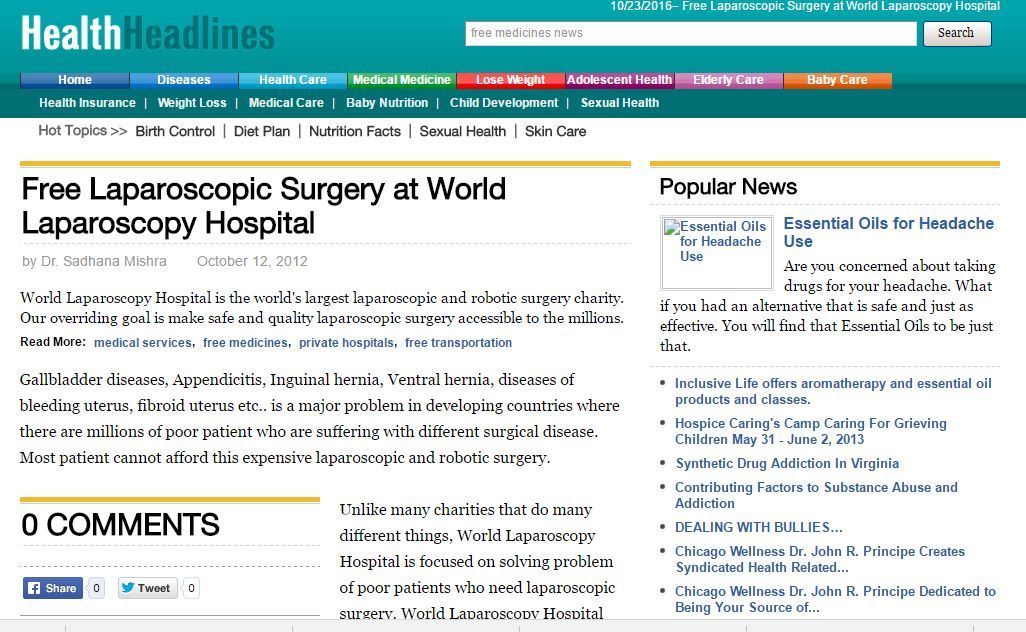 Read Complete Press Release
Free Laparoscopic Surgery at World Laparoscopy Hospital
by Dr. Sadhana Mishra; October 12, 2012
Gallbladder diseases, Appendicitis, Inguinal hernia, Ventral hernia, diseases of bleeding uterus, fibroid uterus etc.. is a major problem in developing countries where there are millions of poor patient who are suffering with different surgical disease. Most patient cannot afford this expensive laparoscopic and robotic surgery.
Unlike many charities that do many different things, World Laparoscopy Hospital is focused on solving problem of poor patients who need laparoscopic surgery. World Laparoscopy Hospital focuses all its time, effort and money on studying, understanding and treating the poor patients by performing free laparoscopic surgery under the direction of Dr. R.K. Mishra.
"When I graduated from medical school, I took the Hippocratic oath and part of that oath is that you're supposed to take care of people regardless of their ability to pay," Dr. R.K. Mishra said. " Free Laparoscopic Surgery at World Laparoscopy Hospital is just sort of the fulfillment of that oath."
People come from hundreds of miles away to World Laparoscopy Hospital to get their surgery done for free. They are not financially obligated to pay for anything. Private grants and donations fund the procedures. Doctors and nurses perform just about any procedure that can be done by laparoscopic or robotic surgery: removing gall bladders, appendix, diseased uterus, ovarian cyst and even fibroid or ovarian cyst.
Many volunteer doctors, nurses, medical social workers, and office staff conduct a free surgical clinic for poor every day at World Laparoscopy Hospital. India is a subcontinent but we spend less than one percent of our GDP on health. It is natural that our economic growth would be impeded and the poor would remain under the poverty line. Dr. Mishra's intiative to operate free those patient was appreciated all over world. This surgical mission is intended for the impoverished patients who cannot afford the highly prohibitive cost of Laparoscopic Surgery and medical services of private hospitals. Aside from the free cost of surgery, the patients were also provided free medicines, free foods and free transportation.
Contact Information
Name: Dr. Sadhana Mishra
Company: World Laparoscopy Hospital
Telphone: 01242351555
1 COMMENTS
Top