Webinar on Laparoscopic Hysterectomy on 12th of September 2021
Join Live Interactive Webinar on Total Laparoscopic Hysterectomy on 12th of September 2021
SPEAKER: DR R K MISHRA
COORDINATOR: Dr. RAJA KUMARI

Link to Register and Join this webinar on Total Laparoscopic Hysterectomy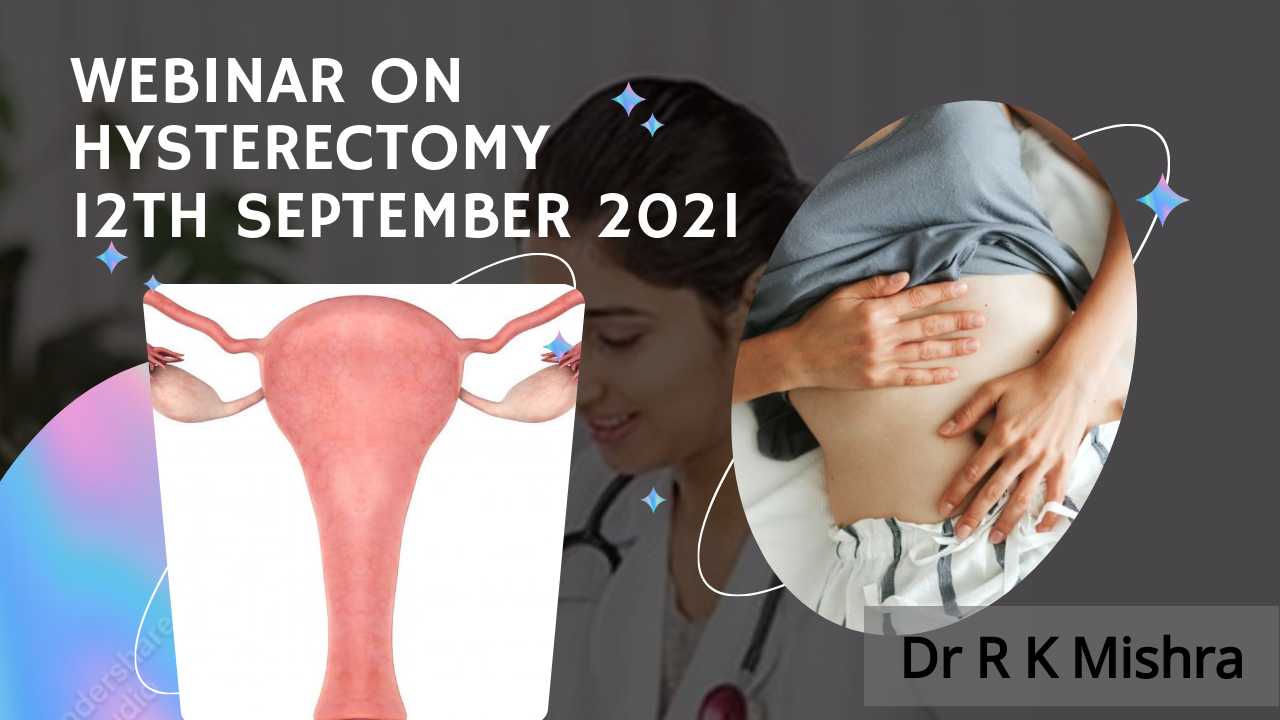 Join an online webinar on Sunday 12th of September 2021 on laparoscopic hysterectomy at 04:00 pm. This webinar will be streamed live on Youtube, the World Laparoscopy Hospital website and Livestream. Hysterectomy is the most common major gynecological procedure in women and minimally invasive approaches should be used wherever possible; total laparoscopic hysterectomy (TLH) is one such surgical approach that allows removal of the uterus entirely laparoscopically. However, the lack of surgical training opportunities is impeding its increased adoption. This study will formally test a surgical outreach training model to equip surgeons with the skills to provide TLH as an alternative to total abdominal hysterectomy (TAH).
The term 'webinar' is the combination of the two words 'Web' as well as 'workshop'. The term defines as the internet transmission of seminars, discussions, or comparable content using video clip modern technology. In comparison to a webcast where details exist as needed and are only transferred in one instruction, a webinar is interactive as well as a result allows two-way interaction between the coordinator and also the various other participants. In this webinar, we will discuss all the tricks and tips of Total Laparoscopic hysterectomy. The audience can ask questions and there will be interactive sessions with video demonstrations of various laparoscopic hysterectomy surgeries.
Meaning Webinar?
A webinar is an online discussion that is transmitted over the internet in real-time using video modern technology. The exchange between speaker and individuals usually occurs via a camera as well as a microphone (VoIP). The term is composed of both words 'internet' (from the world wide web) as well as 'workshop'.
Webinars usually take place in real-time, but recordings are often utilized. In both situations, a certain beginning and also end time is given up in advance. The coordinator has the possibility to existing products (media material, discussion slides, very own screen, etc.) and also to talk with the participants making use of VoIP (voice over IP). Thanks to networking through the web, the speaker and individuals do not have to remain in the exact same place-- all they require is an internet connection and also the respective accessibility data. If the organizer grants a participant talking civil liberties, they can speak straight to others during the event. Other interactive possibilities with webinars (additionally called online workshops, internet conferences, live webcasts, or web interviews) consist of conversations, surveys, file sharing, or downloading.
Exactly how does a webinar work?
Prior to an online workshop can occur, the speaker should first establish a visit and notify the wanted participants concerning it. Typically the variety of individuals is limited, so individuals that want to participate in the webinar must sign up. The carrier then sends a confirmation email to all picked users, which consists of more instructions along with the needed login data and/or access link. It is also common practice to send out a suggestion message prior to the web conference begins. When the webinar starts, individuals attach to the web meeting room, which calls for a conventional web browser. In rare cases, nonetheless, it might additionally be needed to install a specific client application as well as utilize it for the webinar session.
Link to Register and Join this webinar on Total Laparoscopic Hysterectomy
2 COMMENTS
Top