World Laparoscopy Hospital Offers Training on Laparoscopic Surgery in Structured Ways
World Laparoscopy Hospital Offers Training on Laparoscopic Surgery in Structured Ways and Announces Economical Laparoscopic and Robotic Surgery for Patients.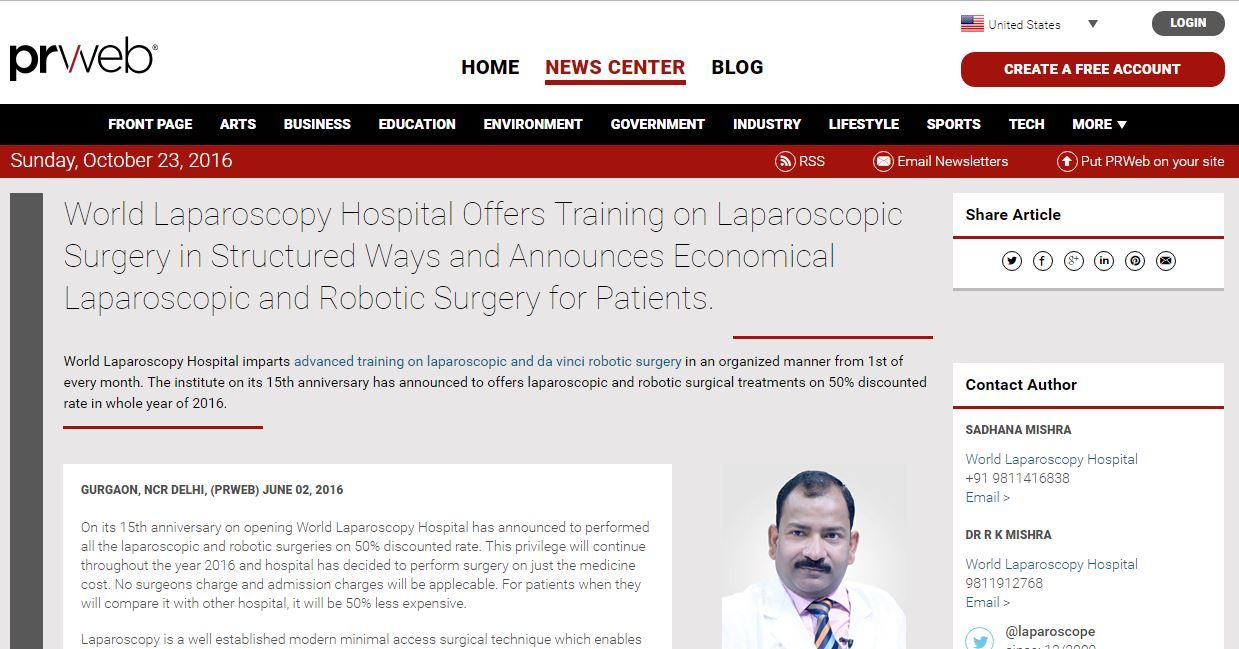 World Laparoscopy Hospital Offers Training on Laparoscopic Surgery in Structured Ways and Announces Economical Laparoscopic and Robotic Surgery for Patients.
World Laparoscopy Hospital imparts advanced training on laparoscopic and da vinci robotic surgery in an organized manner from 1st of every month. The institute on its 15th anniversary has announced to offers laparoscopic and robotic surgical treatments on 50% discounted rate in whole year of 2016.
GURGAON, NCR DELHI, (PRWEB) JUNE 02, 2016
On its 15th anniversary on opening World Laparoscopy Hospital has announced to performed all the laparoscopic and robotic surgeries on 50% discounted rate. This privilege will continue throughout the year 2016 and hospital has decided to perform surgery on just the medicine cost. No surgeons charge and admission charges will be applecable. For patients when they will compare it with other hospital, it will be 50% less expensive.
Laparoscopy is a well established modern minimal access surgical technique which enables the surgeons to get crystal clear view of the inner body region of the patients from remote location before performing essential surgical activities with the help of a device called laparoscope. This minimally invasive technique is also popular among the patients as it involves minimal pain and incisions into the body with faster recovery and almost no scar.
There are many specialized institutes all over world where training on this sophisticated form of surgery is imparted to the medical students. World Laparoscopy Hospital is one such health institute that offers top quality laparoscopic surgery training to bright and meritorious students. In this institute hospital surgeons and gynecologists do get the opportunity to learn and to perform all practical laparoscopic surgeries under the supervision of expert consultants. For more information, viewers can log on to its website http://www.laparoscopyhospital.com
The training courses on laparoscopic surgery are totally candidate centered and are focused on imparting basic in addition to advanced practical and theoretical experiences in an organized manner. The training comprises of the rigorous six hours hands on training of all essential and advanced laparoscopic general surgery with gynecological and urological endoscopic procedures. The course of this institute has been scientifically designed as per the standard international protocol of laparoscopic education. The institute also offers free training on da Vinci Surgical Robot to its laparoscopic trainees. The institute is the one stop destination to acquire Fellowship in Laparoscopic Surgery which commences from the first day of every month.
During the period of this Fellowship in Minimal Access Surgery Course adequate study material resources and clinical opportunities are provided to the enrolled candidates to realize their dreams of becoming skilled laparoscopic surgeons. More than 7000 surgeons and gynecologists from more than 108 countries have been awarded Fellowship in Minimal Access Surgery by this institute. This clinical institute also offers Integrated Diploma in Laparoscopic Surgery along with that of Fellowship in Minimal Access Surgery with the additional benefit of endoscopic and robotic surgery training. Candidates have the scope to observe and participate in clinical practice of this pioneering institute to develop their own academic, clinical and research capabilities.
The specialized surgeons and staffs working in this institute are committed to provide the best minimal access surgical care using their skills combined with the latest techniques and technologies in available in the health sector. The institute also provides mobile friendly training videos of laparoscopic surgery to the gynecologists and surgeons for easy learning. The institute offers through guidelines to the interested candidates while filling up the admission forms for any of its training courses. Candidates can also make toll free call for additional inquires on training and course modules.
Admission at this institute is totally on first come first serve basis but if the applicant are more for same month candidate has to take Online entrance exam. Candidates must hold M.B; B.S or equivalent and at least 3 years post-registration experience in General surgery or Gynecology or degree of M.S or M.D for Indian candidates. Online entrace examination should be given as soon as possible so that candidate can get there seat reserved.
As an institute of Minimal Access Surgery World Laparoscopy Hospital also provides scholarships for qualified surgeons, gynecologists, urologists and pediatric surgeon who wants to learn laparoscopic surgery from one of the 108 scholarship countries each month and total number of scholarship available at this institute would be 12 in one year. The Surgeon and Gynecologist who get 95% of marks in this online scholarship exam will get a Laparoscopic Fellowship Scholarship of 5,000 USD. Scholarships are available to cover the costs associated with laparoscopic Fellowship and Diploma course tuition, meals, lodging, and travel to attend minimal access surgery professional training course at World Laparoscopy Hospital.
About World Laparoscopy Hospital
World Laparoscopy Hospital which was established in the year of 2001 has now been transformed into a premier to offer advanced training on laparoscopic surgery and other fellowship awards on laparoscopy. World Laparoscopy Hospital is famous in India to perform free laparoscopic and robotic surgery to the needy patients.
Read Complete Press Release
2 COMMENTS
Top