Is Hands on Training Essential for Beginners in Learning Laparoscopic Surgery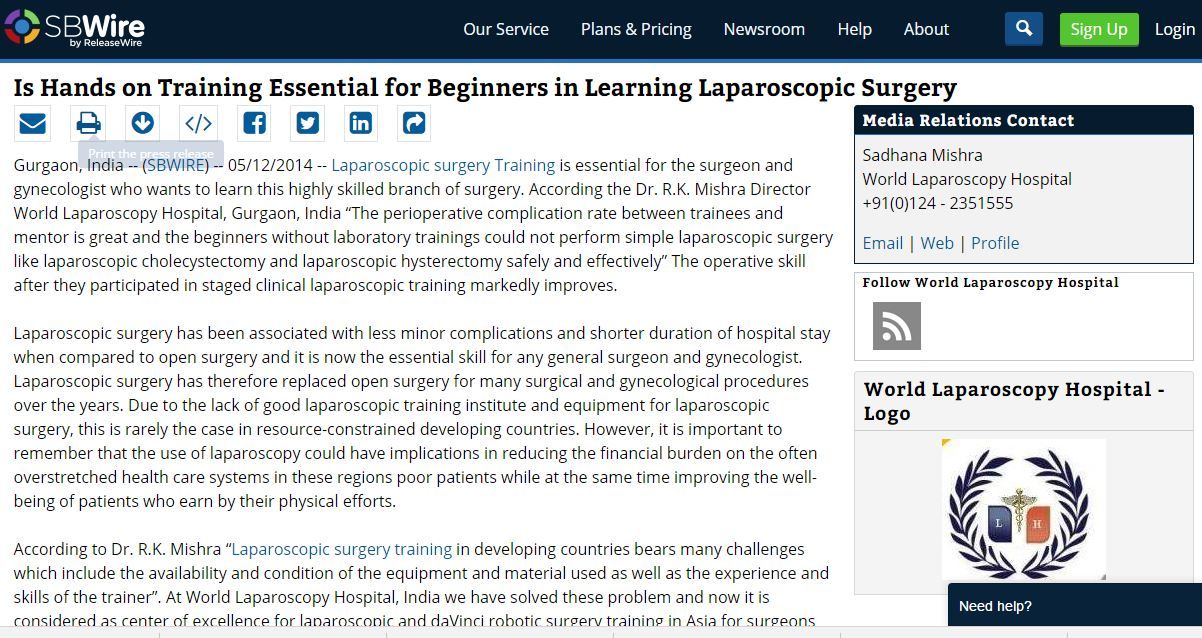 Is Hands on Training Essential for Beginners in Learning Laparoscopic Surgery
Gurgaon, India -- (SBWIRE) -- 05/12/2014 -- Laparoscopic surgery Training is essential for the surgeon and gynecologist who wants to learn this highly skilled branch of surgery. According the Dr. R.K. Mishra Director World Laparoscopy Hospital, Gurgaon, India "The perioperative complication rate between trainees and mentor is great and the beginners without laboratory trainings could not perform simple laparoscopic surgery like laparoscopic cholecystectomy and laparoscopic hysterectomy safely and effectively" The operative skill after they participated in staged clinical laparoscopic training markedly improves.
Laparoscopic surgery has been associated with less minor complications and shorter duration of hospital stay when compared to open surgery and it is now the essential skill for any general surgeon and gynecologist. Laparoscopic surgery has therefore replaced open surgery for many surgical and gynecological procedures over the years. Due to the lack of good laparoscopic training institute and equipment for laparoscopic surgery, this is rarely the case in resource-constrained developing countries. However, it is important to remember that the use of laparoscopy could have implications in reducing the financial burden on the often overstretched health care systems in these regions poor patients while at the same time improving the well-being of patients who earn by their physical efforts.
According to Dr. R.K. Mishra "Laparoscopic surgery training in developing countries bears many challenges which include the availability and condition of the equipment and material used as well as the experience and skills of the trainer". At World Laparoscopy Hospital, India we have solved these problem and now it is considered as center of excellence for laparoscopic and daVinci robotic surgery training in Asia for surgeons and gynecologists.
In order to address this gap of good laparoscopic surgery training enter, the programme has set out by World Association of Laparoscopic Surgeons (WALS) to support developing countries in improving laparoscopy. Through a top-to-bottom approach, it shall be ensured by WALS that the quality laparoscopic surgery training institutes are widely accessible and sustainable in these countries. Initially, only centres already performing laparoscopy are considered for collaboration with WALS and one of the leader in this fiend to give state of the art laparoscopic surgery training is World Laparoscopy Hospital, which is tertiary care or university hospital dedicated for laparoscopic and da Vinci robotic surgery. Once the capacity of laparoscopic surgeons and gynecologist to perform laparoscopic surgery with confidence is built and staff sufficiently trained, laparoscopy is anticipated to be introduced at the periphery of the health care system.
World Laparoscopy Hospital has set a framework for assessment of the status regarding laparoscopy training in India under the direct supervision of Dr. R.K. Mishra. With help of this assessment, it will be possible to estimate the current capacity and needs of participating institutions prior to developing and implementing relevant training activities and Fellowship ad Diploma in Minimal Access Surgery will be imparted. Detailed data on hospital hads on training facility settings, number and kind of laparoscopic operations, existing training programmes and equipment are collected in order to adapt the minimal access training programme according to the fulfil the need of surgeons and gynecologists
About World Laparoscopy Hospital
World Laparoscopy Hospital (http://www.laparoscopyhospital.com) is a nonprofit super specialty academic medical institute that integrates clinical and hospital care with research and education in Minimal Access Surgery. WLH was established by Prof. R. K. Mishra. in 2001, to provide advanced surgical treatment through minimal access surgery.
Contact:
World Laparoscopy Hospital
Cyber City, DLF Phase II, Gurgaon, NCR Delhi, 122 002, India
PHONES:
For Training: +91(0)9540993399, 9999677788
For Treatment: +91(0)9540994499
For General Enquiry: +91(0)124 - 2351555
Email: contact@laparoscopyhospital.com
Read Complete Press Release
No comments posted...
Top