World Laparoscopy Hospital - The Premier Institute for Laparoscopic Surgery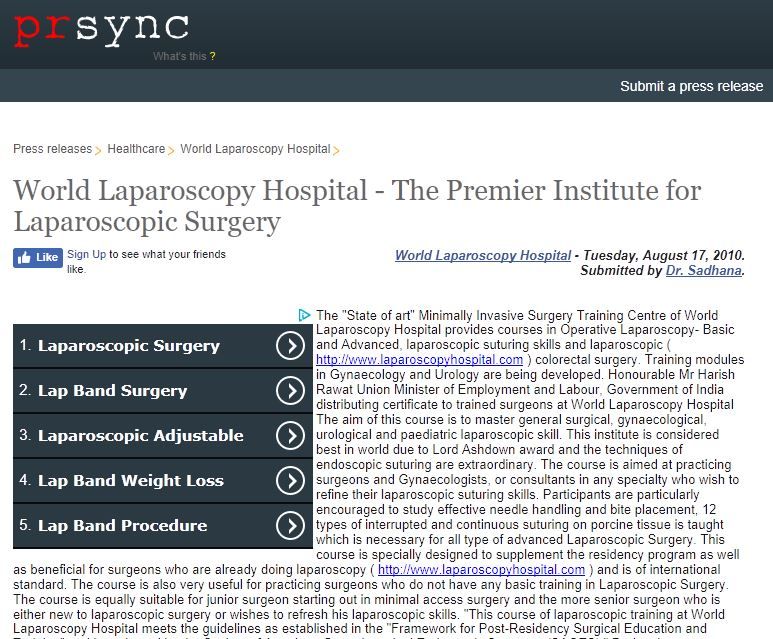 World Laparoscopy Hospital - The Premier Institute for Laparoscopic Surgery
World Laparoscopy Hospital - Tuesday, August 17, 2010.
The "State of art" Minimally Invasive Surgery Training Centre of World Laparoscopy Hospital provides courses in Operative Laparoscopy- Basic and Advanced, laparoscopic suturing skills and laparoscopic ( http://www.laparoscopyhospital.com ) colorectal surgery. Training modules in Gynaecology and Urology are being developed.
Honourable Mr Harish Rawat Union Minister of Employment and Labour, Government of India distributing certificate to trained surgeons at World Laparoscopy Hospital The aim of this course is to master general surgical, gynaecological, urological and paediatric laparoscopic skill. This institute is considered best in world due to Lord Ashdown award and the techniques of endoscopic suturing are extraordinary. The course is aimed at practicing surgeons and Gynaecologists, or consultants in any specialty who wish to refine their laparoscopic suturing skills. Participants are particularly encouraged to study effective needle handling and bite placement, 12 types of interrupted and continuous suturing on porcine tissue is taught which is necessary for all type of advanced Laparoscopic Surgery.
This course is specially designed to supplement the residency program as well as beneficial for surgeons who are already doing laparoscopy ( http://www.laparoscopyhospital.com ) and is of international standard. The course is also very useful for practicing surgeons who do not have any basic training in Laparoscopic Surgery. The course is equally suitable for junior surgeon starting out in minimal access surgery and the more senior surgeon who is either new to laparoscopic surgery or wishes to refresh his laparoscopic skills. "This course of laparoscopic training at World Laparoscopy Hospital meets the guidelines as established in the "Framework for Post-Residency Surgical Education and Training" and is endorsed by the Society of American Gastrointestinal Endoscopic Surgeons (SAGES)."
During the Laparoscopic course at World Laparoscopy Hospital practical Hands On exercises are presented with an increasing level of difficulty and then complete Minimal Access Surgery training modules of different surgery can be repeated as often as the participant requires according to their learning curve. This course is scientifically designed according to international protocol of laparoscopic training and accepted worldwide by government of more than 100 countries. Each surgeon and gynaecologist will carry out almost all the surgery of their choice as surgeon and further many procedures as a cameraman. Contact: Company Name:
World Laparoscopy Hospital
Contact Name: Dr. Sadhana Contact
Phone: 9811416838
Full Address: World Laparoscopy Hospital Cyber City,
DLF Phase II, Gurgaon, NCR Delhi, 122 002, India
Website: http://www.laparoscopyhospital.com
Read Complete Press Release
No comments posted...
Top