World Laparoscopy Hospital is Ranked World's most Popular Laparoscopic and Robotic Surgery Institute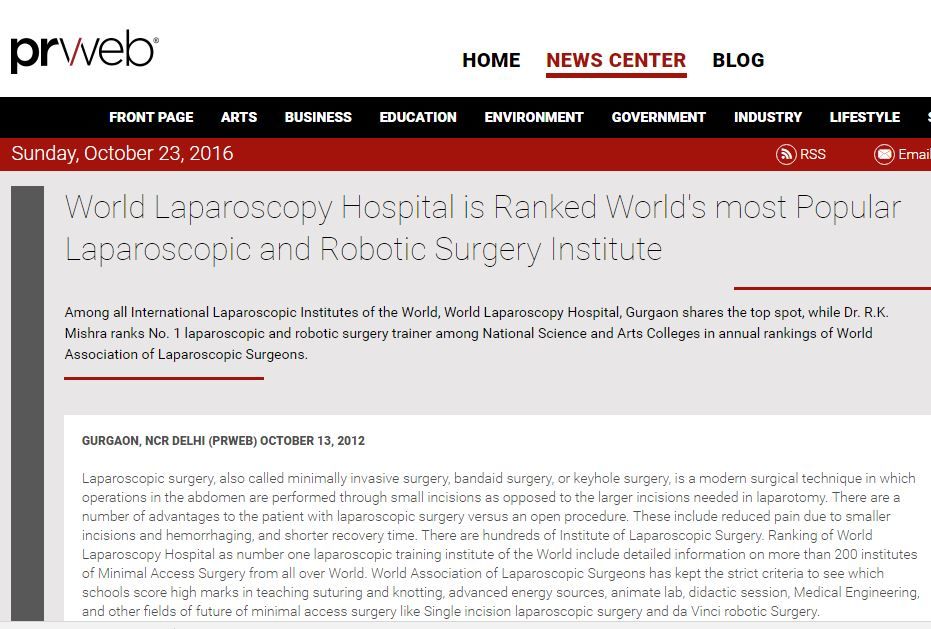 World Laparoscopy Hospital is Ranked World's most Popular Laparoscopic and Robotic Surgery Institute
Among all International Laparoscopic Institutes of the World, World Laparoscopy Hospital, Gurgaon shares the top spot, while Dr. R.K. Mishra ranks No. 1 laparoscopic and robotic surgery trainer among National Science and Arts Colleges in annual rankings of World Association of Laparoscopic Surgeons.
GURGAON, NCR DELHI (PRWEB) OCTOBER 13, 2012:
Laparoscopic surgery, also called minimally invasive surgery, bandaid surgery, or keyhole surgery, is a modern surgical technique in which operations in the abdomen are performed through small incisions as opposed to the larger incisions needed in laparotomy. There are a number of advantages to the patient with laparoscopic surgery versus an open procedure. These include reduced pain due to smaller incisions and hemorrhaging, and shorter recovery time. There are hundreds of Institute of Laparoscopic Surgery. Ranking of World Laparoscopy Hospital as number one laparoscopic training institute of the World include detailed information on more than 200 institutes of Minimal Access Surgery from all over World. World Association of Laparoscopic Surgeons has kept the strict criteria to see which schools score high marks in teaching suturing and knotting, advanced energy sources, animate lab, didactic session, Medical Engineering, and other fields of future of minimal access surgery like Single incision laparoscopic surgery and da Vinci robotic Surgery.
According to the evaluation of World Association of Laparoscopic Surgeons it was very interesting result came out that in whole World only World Laparoscopy Hospital is providing the free training of SILS, NOTES and Hands On da Vinci Robotic Surgery training during Fellowship and Diploma in Minimal Access Surgery. The President of World Association of Laparoscopic Surgeons Dr. Ray Green from USA has given the award of most popular laparoscopic training institute in the World.
Rankings are based on data from the QS World Association of Laparoscopic Surgeons University Rankings, in association with QS World Symonds. According to Dr. Ray Green, these unique super specialized institute rankings are based on our analysis of the collective wisdom of the 200 country's top minimal access surgery critics from media companies, consumer research organizations, and other sources. WALS has identified thousands of the nation's best doctors who have taken training from World Laparoscopy Hospital based on a peer nomination process.
World Laparoscopy Hospital focuses on postgraduate laparoscopic surgery education but grant fewer than half their degrees in endoscopic, SILS, NOTES and advanced da Vinci robotic surgery disciplines.
World Laparoscopy Hospital is only institute in Asia which provide Fellowship in da Vinci Robotic Surgery and this is the only institute where single incision robotic surgery is being performed by Prof. Dr. R.K. Mishra. This Centre of excellence in Minimal Access Surgery offers a full range of postgraduate programs and some master's programs and few doctoral programs in laparoscopic and robotic surgery. According to some of the student who has taken training from World Laparoscopy Hospital, the institute has high quality of the program and the lower cost, the better the deal is true "Hands On" Training.
Although World Laparoscopy Hospital is a private institution, that was founded in 2000. It has a total postgraduate enrollment till today of 6,657 and its setting is in Gurgaon, India. It utilizes a semester-based academic calendar and courses are every month from the first of the month. This institute offer state of the art Hands On training for almost all surgical specialty like, General Surgery, Gynecology, Urology, Pediatric surgery and Cosmetic and bariatric surgery. The school of World Laparoscopy Hospital has many unique student activities, including the semi-annual, school-wide trivia contest and the annual CME meeting in February when students hike admission.
The World Laparoscopy Hospital Institute is home to many firsts, including the world's first Fellowship in Robotic Surgery, Prof. Dr. R.K. Mishra is the first to wear caps and gowns at graduation, being the first Master Minimal Access Surgeon of India and the first to host an international World Congress of Minimal Access Surgery. From all over world highly motivated laparoscopic surgeon and gynecologists as students and faculty from across the country and abroad gather in the natural beauty of Gurgaon to create a community of Minimal Access Surgeon.
Read Complete Press Release
1 COMMENTS
Top