Dr. R.K. Mishra received super idol award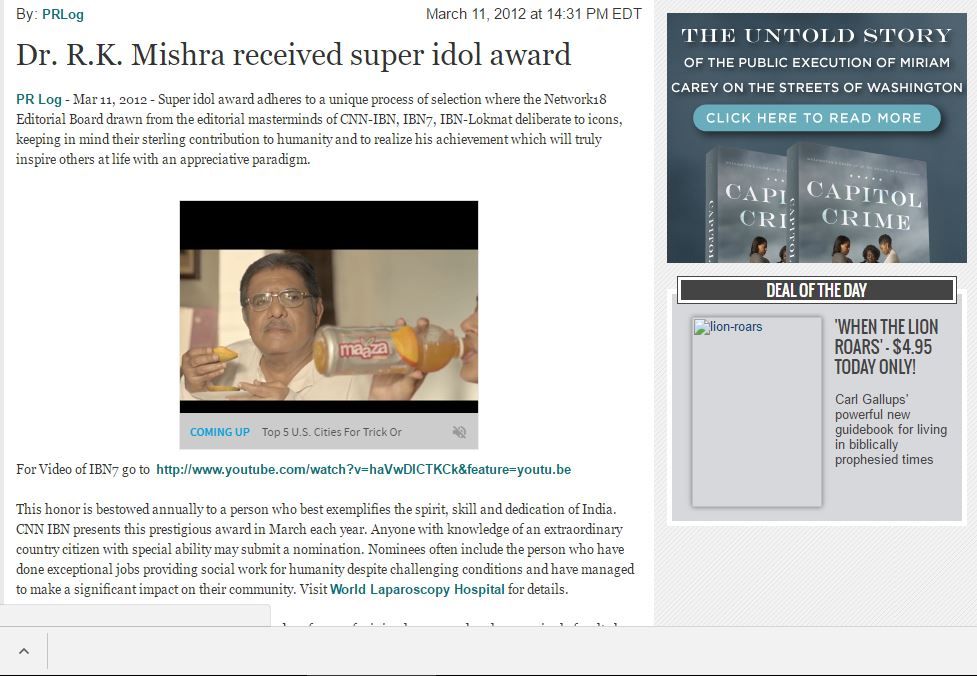 Dr. R.K. Mishra received super idol award
PR Log - Mar 11, 2012 - Super idol award adheres to a unique process of selection where the Network18 Editorial Board drawn from the editorial masterminds of CNN-IBN, IBN7, IBN-Lokmat deliberate to icons, keeping in mind their sterling contribution to humanity and to realize his achievement which will truly inspire others at life with an appreciative paradigm.
This honor is bestowed annually to a person who best exemplifies the spirit, skill and dedication of India. CNN IBN presents this prestigious award in March each year. Anyone with knowledge of an extraordinary country citizen with special ability may submit a nomination. Nominees often include the person who have done exceptional jobs providing social work for humanity despite challenging conditions and have managed to make a significant impact on their community. Visit World Laparoscopy Hospital for details.
Dr. R. K. Mishra is one of the most experienced professor of minimal surgery who alone as single faculty has trained more than 3500 surgeon and gynaecologist from more than 108 countries. He is Professor of Minimal Access Surgery in TGO University and his endeavor of starting unique university program was started in Ninewells Hospital and Medical School, U. K. with Professor Sir Alfred Cuschieri. He did his Master degree in Minimal Access Surgery (M.MAS) from United Kingdom. Visit World Laparoscopy Hospital for details.
During his work in United Kingdom Dr. Mishra has discovered the optimum shadow casting illumination technique to improve the task performance of laparoscopic surgery and his research is now used by eleven laparoscopic instrument companies to make ideal shadow casting telescope. This original research of shadow in laparoscopy was published in Archive of Surgery.
Prof. Mishra is among few fortunate who has been conferred degree of Master in Minimal Access Surgery by Sir James Whyte Black Nobel Prize Winner in Medicine and the most prestigious Chancellor in the history of University of Dundee, United Kingdom. After Mastering Laparoscopic Surgery, Dr. Mishra has further refined his robotic surgery training at Harvard Medical School, Boston, USA. He has completed his Ph.D. in Minimal Access Surgery and his research and thesis for doctorate was on Ideal Port Positioning in Robotic Surgery.
After returning to India from U.K. in 2001 he worked at Indraprastha Apollo Hospital. New Delhi. Dr. Mishra could feel the pain and concern about commercialization of half cooked laparoscopic training of just 2 to 4 days, credentialing at an exorbitant cost. These training program were in the hand of industry who make laparoscopic instruments. Keeping in mind the need of time and being the first qualified Minimal Access Surgeon from United Kingdom, he started giving training of Minimal Access Surgery.
Dr. Mishra's way of providing real laparoscopic training had no parallel in the whole world and that convinced all the international organization that real laparoscopic training to young and practicing surgeons is possible if like-minded people join hands and work towards achieving this goal. Due to his dedication World Laparoscopy Hospital is now major pole of excellence in minimal access surgery. There is 200 hour live video lectures of Prof. Mishra on 86 topics from his eleven hundred hour lecture collection on 286 topics of Minimal Access Surgery.
- - -
Dr. Sadhana is working at New Delhi, New Delhi.
World Laparoscopy Hospital is the premier institute of minimal access surgery.
1 COMMENTS
Top