Ideal Laparoscopic Training Center of Global Repute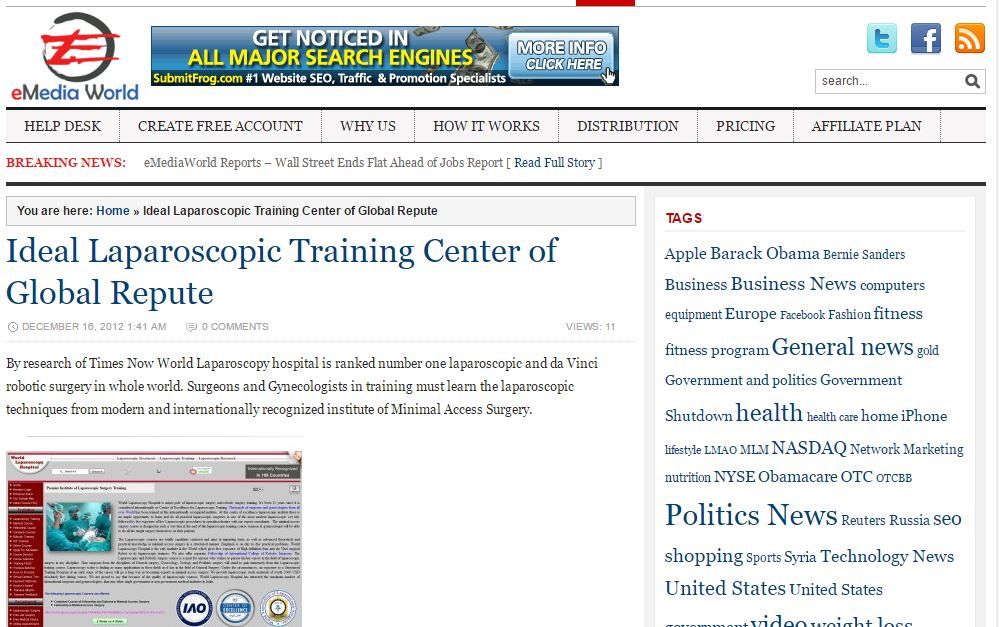 Ideal Laparoscopic Training Center of Global Repute
By research of Times Now World Laparoscopy hospital is ranked number one laparoscopic and da Vinci robotic surgery in whole world. Surgeons and Gynecologists in training must learn the laparoscopic techniques from modern and internationally recognized institute of Minimal Access Surgery.
Due to increasing a lack of time, cost, stress, and ethical considerations, the surgeons and gynecologists of present era cannot learn laparoscopy on their patients. Various simulators, live tissue and models for laparoscopic training in urology , gynecology and general surgery with different amounts of validity and reliability can be taken in some reputed and internationally recognized institute. Wide acceptance of laparoscopic training with the animal model has become hampered with the lack of standard and valid solutions to measure and certify competence in basic psychomotor skills.
Besides, it can be unclear if trainees plenty of use of these programmes and if they may be sufficient enough to build up the mandatory skills in laparoscopic surgery. Whether complex laparoscopic procedures can be by beginners without minimal access surgical expertise and whether experience with open surgical procedures are definitely required before mastering laparoscopic techniques remain matters of issue.
Having less a standardized, evaluated training procedure has to be overcome as surgeon and gynecologist will lead to wrong impact on the outcome of surgery. Structured training programmes and transference of gained experience into daily practice are essential to provide surgeons and gynecologists with expert laparoscopists. Experience strengthened and technical modifications developed, after laparoscopic training in a perfect institute to technically demanding reconstructive techniques. In the present era list of indications for laparoscopic treatment continues to grow day and night and patients more frequently demand a choice in minimal access surgical treatments. As minimally invasive laparoscopy will be established, increased emphasis has been added to training and education.
Nowadays various laparoscopic training programmes are available, however their efficiency is dubious. It can be unclear whether trainees have sufficient use of these programmes and whether these laparoscopic training programs are really honest and sufficient enough to formulate the necessary skills for surgeons and gynecologistsor not. Generally it is known fact that, laparoscopy techninique the ''gold standard'' treatment alternative for almost all the common open surgery. Attributes of minimally invasive approaches over conventional open surgery have been demonstrated for any plethora of other operations.
There is a consensus among surgeons and gynecologists that laparoscopic procedures with low and middle amount of difficulty are members of the overall surgical training. Procedures like laparoscopic cholecystectomy and laparoscopic hernia repair participate in the most commonly performed surgical procedures paving the best way for the widespread using laparoscopic approaches. Computer systems with VR are recently being offered as an alternative to conventional pelvitrainers. The lack of training procedures in postgraduate medical colleges should be overcome by structured training programmes (dry lab, animal lab), and also the gained experience should be transferred into daily clinical practice. In addition, we need to investigate whether complex laparoscopic procedures can be carried out by beginners without open/conventional surgical expertise or whether expertise in open surgical procedures are definitely required before mastering laparoscopic techniques.
One of the biggest challenges would be to ensure, given the relative lack of experienced laparoscopists, that enough mentors and mentoring programmes are available. We have done five year follow-up study to collect the scientific data and feedback from surgeons and gynecologists who has taken training in various institutes in whole world. Based upon these studies we found that World Laparoscopy Hospital, Gugaon is number one institute for learning laparoscopic and robotic surgery. It is more than obvious that that there is no international consensus of training facilities and that programmes are developed differently within different countries. In every country of the world here is a need for standardised, certified, and state of the art laparoscopic institute like World Laparoscopy Hospital.
For more information, visit http://www.laparoscopyhospital.com/SERV01.HTM
Name: Sadhana Mishra
Address: World Laparoscopy Hospital Cyber City, DLF Phase II, Gurgaon, NCR Delhi, 122 002, India
PHONES: For Training: +91(0)9811416838, 9999677788
No comments posted...
Top