World Association Of Laparoscopic Surgeons Unveils Remarkable Achievement As Dr. Mishra Trains Many Surgeons, Gynecs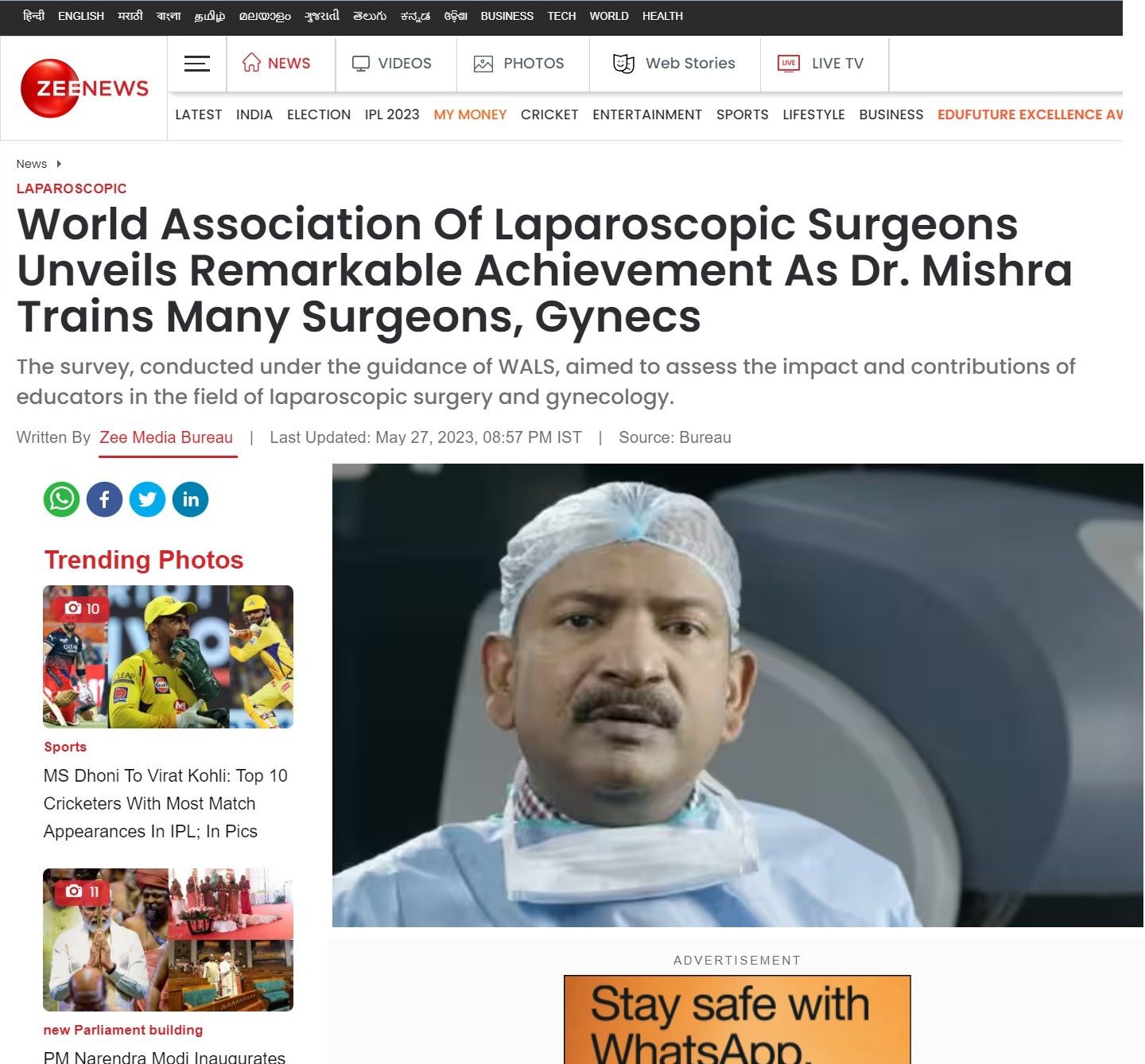 News Published at Zee News
Dr. R. K. Mishra, a renowned laparoscopic surgeon and pioneer in the field of minimally invasive surgery, has set a remarkable world record by training an astounding 15,000 surgeons and gynecologists in laparoscopic surgery since the year 2001. This achievement highlights his unwavering dedication to advancing surgical techniques and improving patient outcomes.
The survey, conducted under the guidance of WALS, aimed to assess the impact and contributions of educators in the field of laparoscopic surgery and gynecology. The findings astonished the medical community as Dr. Mishra emerged as the unparalleled leader in training aspiring surgeons and gynecologists worldwide.
Speaking on this exceptional accomplishment, Ray Green, President of WALS, expressed his admiration, saying, "It is with great pride that we announce Dr. Mishra's remarkable achievement. The global survey conducted by WALS has confirmed that he has trained an unparalleled number of surgeons and gynecologists. This accomplishment is a testament to Dr. Mishra's exceptional skills, dedication, and unwavering commitment to advancing medical education."
Laparoscopic surgery, also known as keyhole surgery, revolutionized the medical field by introducing minimally invasive techniques that minimize patient trauma, reduce recovery times, and enhance overall surgical outcomes. Dr. R. K. Mishra recognized the immense potential of this approach early on and dedicated himself to educating medical professionals worldwide on its benefits and proper implementation.
World Laparoscopy Hospital, a renowned leader in minimally invasive surgery and laparoscopic training, is delighted to announce the opening of three new branches in prominent locations worldwide. With the inauguration of these branches in Gurugram, India, Dubai Healthcare City, Dubai, and Orlando, Florida, USA, World Laparoscopy Hospital expands its global footprint and brings its cutting-edge medical services and training programs closer to a wider audience.
The decision to establish these new branches is driven by the hospital's commitment to providing accessible and high-quality medical care to patients while fostering excellence in surgical education and training. Each new branch will operate as a fully functional center, equipped with state-of-the-art infrastructure, advanced surgical technology, and a team of highly skilled medical professionals.
The Gurugram branch, situated in the bustling medical hub of India, will serve as a comprehensive center for laparoscopic surgery and training. With a focus on patient-centered care, this branch aims to provide innovative minimally invasive surgical procedures across a wide range of specialties.
Dubai Healthcare City (DHCC), a globally renowned international medical destination, is proud to announce the establishment of the World Laparoscopy Hospital's dedicated laparoscopic training institute. Known for its exceptional healthcare facilities and services, this branch will provide comprehensive training to surgeons and gynecologists in advanced laparoscopic surgery techniques, ensuring they are equipped to deliver the highest standards of care and patient satisfaction.
DHCC, the world's largest integrated healthcare Free Zone, attracts over 1.2 million patients annually. The addition of the World Laparoscopy Training Institute further enhances its reputation as a leading destination for medical education and training. Strategically located within Dubai Healthcare City, the institute holds an educational license from the Dubai Health Care Regulatory to guarantee adherence to and enforcement of international quality standards.
Participants of the training program offered by the World Laparoscopy Training Institute will undergo rigorous and comprehensive coursework, ensuring they acquire the necessary skills and expertise in the field of laparoscopic surgery. The institute's curriculum covers a wide range of specialties, enabling surgeons and gynecologists to enhance their knowledge and proficiency in minimally invasive surgical techniques.
The World Laparoscopy Training Institute proudly organizes the Minimal Access Surgery Fellowship Course in Celebration, Florida, USA. This comprehensive educational program is specifically designed for general surgeons, gynecologists, pediatric surgeons, and urologists seeking to enhance their skills and knowledge in the field of laparoscopic surgery.
Situated in Celebration, a master-planned suburb of Orlando, Florida, our institute offers a prime location for participants to immerse themselves in this transformative learning experience. With Orlando being home to the renowned Walt Disney World, participants can also enjoy the magical atmosphere of the World's Most Magical Celebration Place during their stay. Conveniently located, our institute at AdventHealth Nicholson Center is just a 9-minute drive from Walt Disney World and a mere 15 minutes from Orlando International Airport.
The Minimal Access Surgery Fellowship Course provides hands-on training in state-of-the-art animal labs, specifically designed to cultivate efficient and safe laparoscopic surgical techniques. Surgeons and gynecologists will have the unique opportunity to learn and practice the surgical skills of their choice under the guidance of experienced instructors.
Throughout the course, participants will have access to a dedicated laparoscopic suturing lab, enabling them to refine their suturing and knot-tying skills in a supportive environment. The curriculum also encompasses a wide range of topics, including laparoscopic surgical dissection, the effective use of laparoscopic instrumentation, electro surgery techniques, valuable laparoscopic surgical tips and tricks, as well as the prevention and repair of incidental bladder and bowel injuries.
The Minimal Access Surgery Fellowship Course adheres to the guidelines established in the "Framework for Post-Residency Surgical Education and Training" and has garnered endorsements from renowned international organizations, including the World Association of Laparoscopic Surgeons (WALS) and the International College of Robotic Surgeons (ICRS).
Over the past two decades, Dr. Mishra has tirelessly conducted numerous training programs, workshops, and seminars, spreading his expertise and knowledge to aspiring surgeons and gynecologists across the globe. With an unwavering commitment to excellence, he has successfully trained an extraordinary 15,000 medical professionals, equipping them with the skills and knowledge required to perform laparoscopic surgery effectively and safely.
Dr. Mishra's training programs have covered a wide range of laparoscopic procedures, including cholecystectomy, hernia repair, hysterectomy, and various other complex surgeries. His teaching methodology combines theoretical lectures, hands-on practice, and live surgical demonstrations, allowing participants to gain a comprehensive understanding of laparoscopic techniques.
No comments posted...
Top