World Laparoscopy Hospital Invites Surgeons and Gynecologists Apply for full Scholarship on Laparoscopic Training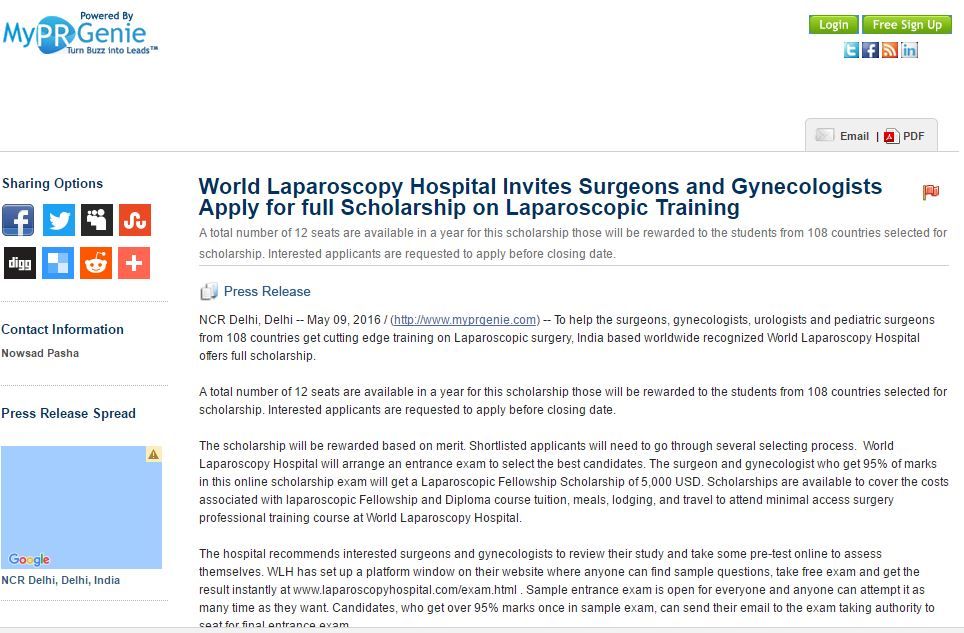 World Laparoscopy Hospital Invites Surgeons and Gynecologists Apply for full Scholarship on Laparoscopic Training
NCR Delhi, Delhi -- May 09, 2016 / (http://www.myprgenie.com) -- To help the surgeons, gynecologists, urologists and pediatric surgeons from 108 countries get cutting edge training on Laparoscopic surgery, India based worldwide recognized World Laparoscopy Hospital offers full scholarship.
A total number of 12 seats are available in a year for this scholarship those will be rewarded to the students from 108 countries selected for scholarship. Interested applicants are requested to apply before closing date.
The scholarship will be rewarded based on merit. Shortlisted applicants will need to go through several selecting process. World Laparoscopy Hospital will arrange an entrance exam to select the best candidates. The surgeon and gynecologist who get 95% of marks in this online scholarship exam will get a Laparoscopic Fellowship Scholarship of 5,000 USD. Scholarships are available to cover the costs associated with laparoscopic Fellowship and Diploma course tuition, meals, lodging, and travel to attend minimal access surgery professional training course at World Laparoscopy Hospital.
The hospital recommends interested surgeons and gynecologists to review their study and take some pre-test online to assess themselves. WLH has set up a platform window on their website where anyone can find sample questions, take free exam and get the result instantly at www.laparoscopyhospital.com/exam.html . Sample entrance exam is open for everyone and anyone can attempt it as many time as they want. Candidates, who get over 95% marks once in sample exam, can send their email to the exam taking authority to seat for final entrance exam. .
Prof. R. K. Mishra said, "Our aim is to create opportunities for the brightest and keenest surgeons, gynecologists, urologists and pediatric surgeons getting this world class training from this hospital and let them serve more people around the world after finishing their course."
For further information, please contact at +91 124 2351555, +91 9811416838, contact@laparoscopyhospital.com. All the information about this scholarship is available at https://www.laparoscopyhospital.com/laparoscopictrainingscholorship.html.
About World Laparoscopy Hospital
WLH was established in 2001 in NCR Delhi as a center of excellence to provide advanced surgical treatment through minimal access surgery. World Laparoscopy Hospital is a nonprofit super specialty academic medical institute that integrates clinical and hospital care with research and education in Minimal Access Surgery. This Center of excellence provide world class health care for patients as well as education and training programs in Laparoscopic, Various Endoscopic and da Vinci Robotic Surgery.
Contact: Prof. R. K. Mishra, contact@laparoscopyhospital.com, +91 124 2351555
1 COMMENTS
Top