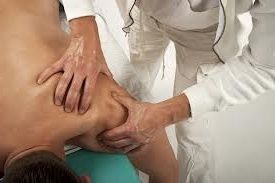 For a few days after the laparoscopic surgical procedure, many patients likely to feel some pain and discomfort, which in turn can irritate the nerve endings in the diaphragm resulting in referred pain in shoulder.
Pain after laparoscopic surgery can be divided into:
parietal pain
visceral pain
shoulder pain
There is marked interindividual variability of post-operative shoulder-tip pain following laparoscopic surgery.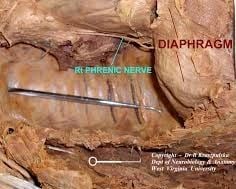 Mechanism of pain:
The hypothesis of post-operative shoulder-tip pain is that carbon dioxide induced phrenic nerve irritation causes referred pain to C4. Some of the gas used to inflate your abdomen can remain inside your abdomen after the procedure, which can cause:
bloating
cramps
shoulder pain, as the gas can irritate your diaphragm (the muscle you use to breathe), which in turn can irritate nerve endings in your shoulder
These symptoms are nothing to worry about and should pass after a day or so, once the patient body has absorbed the remaining CO2 gas. The prolonged presence of shoulder tip pain suggests excitation of the phrenic nerve due to irritation of diaphragm by CO2. This pain is present often after laparotomy and both laparotomy and laparoscopy are associated with persistent pneumoperitoneum, sometimes for 3 days. There is a statistically significant correlation between the width of the gas bubble and pain score and this pain can be reduced by aspiration of the gas under the diaphragm by "active aspiration", that is repeated suction and manipulation, by the use of a gas drain or by application of local anaesthesia under the diaphragm under direct vision or through a sub-phrenic catheter.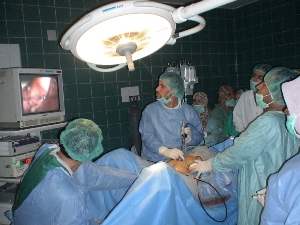 Management:
Shoulder pain after pelvic peritonoscopy can be reduced by both lignocaine or bupivacaine i.p., and the addition of adrenaline permitted a large volume to be used without approaching systemic toxicity.
If the pain perceived in the tips of the shoulders is related to inflammation of the peritoneal reflections supplied by the phrenic nerve, this may also be reduced by anti-inflammatory analgesics.
intraperitoneal drainage
Pulmonary recruitment manoeuvre: Recruitment manoeuvres (RM) can be defined as a voluntary strategy to increase the transpulmonary pressure (PL) transiently with the goal to reopen those alveolar units that are not aerated or poorly aerated but reopenable. Recruitment manoeuvres (RM) consist of a ventilatory strategy that increases the transpulmonary pressure transiently to reopen the recruitable lung units in acute respiratory distress syndrome (ARDS). Based on the current evidence, safety and possibility to implement the technique in daily practice, pulmonary recruitment manoeuvre can be recommended to reduce both the incidence and severity of shoulder pain.
For more information:
World Laparoscopy Hospital, Cyber City, DLF Phase II, Gurugram, NCR Delhi, 122 002, India
PHONES:
For Training: +919811416838
For Treatment: +919811912768
For General Enquiry: +91(0)124 - 2351555
Email: contact@laparoscopyhospital.com