On 13 November 2007, the World Laparoscopy Hospital organised a function at the India Habitat Centre to release Prof. Dr. R. K. Mishra's latest book titled 'Textbook of Practical Laparoscopic Surgery'. A galaxy of doctor's from all over world were present to celebrate this auspicious occasion. Prof. Dr. P.R. Trivedi Pro-Chancellor, TGO University inaugurated the book. The President of CAPF Mr. H.L. Atri and DDA member and MLA Mahabal Mishra, Dr. U.N. Shahi, Dr. Arun Pranveer, Dr. Chauhan, Mr. Vij and Prof. Maleywar constituted the panel of speakers who addressed the gathering.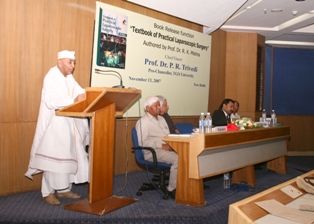 "This excellent publication is definitely a very successful contribution which should significantly contribute to our knowledge in the field of laparoscopic surgery".
-Pro- Chancellor Prof. Dr. P.R. Trivedi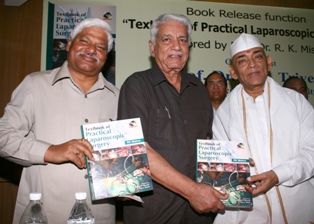 "This handsome book in laparoscopic surgery, gives a full description of all tricks and tips in performing a variety laparoscopic procedures".
-Prof. Dr. Maleywar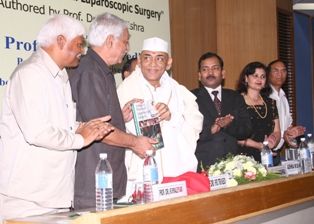 "This impressive textbook is recommended reading for all physicians involved in the minimal access surgical treatment ". Release of Book "Textbook of Practical Laparoscopic Surgery"
-Mr. Mahabal Mishra, MLA
Textbook of Practical Laparoscopic Surgery is an excellent source of practical laparoscopy for all practitioners, especially those who are involved in any surgical field.
-Chancellor Prof. Trivedi Congratulating Prof. Mishra.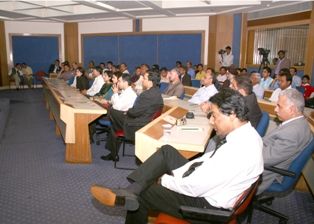 All the participants of this function were having opinion that, at present, this may well be one of the most complete and useful books on laparoscopic surgery and practitioners should be able to find many answers to their questions in this publication.
Hundreds of Doctors Celebrationg Release of Book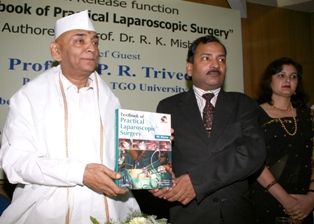 The authors, recognized all over the world for their expertise in laparoscopic surgery, must be congratulated with this helpful publication. In conclusion, this book can't be ignored by any Minimal Access Surgeon of World.
World's most comprehensive Textbook of Laparoscopy
For research sponsors, it may prove valuable to consider clinical applications before research is done rather than ex post facto. This is a must-read book for all surgeon and gynecologist.
-Without this books MAS is without a soul.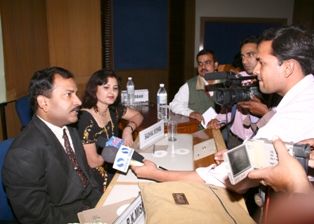 Media taking interview of Prof. Mishra on release of his book. This textbook should, however, be present in all medical libraries and certainly in all medical laparoscopic departments.
-Book Release in all Newspapers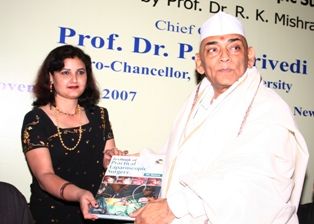 This excellent book summarizes the management of laparoscopic complication and emergencies in clinical practise. All practitioners involved in general surgery gynecology, urology and pediatric surgery, certified or in training, will find this book a valuable asset.
Readers are plentiful, thinkers are rare
Also exhaustive information on the diagnosis and management of newer surgical diseases, including Robotics, Natural Orifices Trans-vaginal and Trans-gastric surgeries and surgical strategies and procedures can be consulted in this publication.
Some books leave us free and some books make us free